Abstract And Empowering, Medford Utility Boxes Feature New Inclusive Artwork
On the corner of Willis Avenue and Harvard Street in Medford, a bold mini mural exclaims we're "Better Together." These words rest just below the chin of a woman whose image is tucked inside of generous green, orange and purple lines in the painting. The artwork, which covers a utility box, is one of more than a dozen boxes getting a makeover from two artists of color, Amanda Beard Garcia and Destiny Palmer.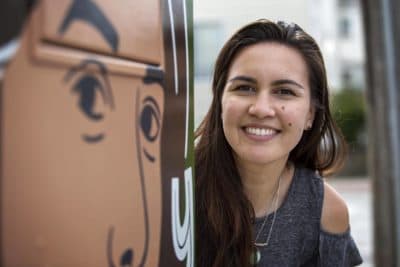 Commissioned by the Medford Arts Council (MAC), Palmer — a painter recently tapped by the city of Boston for a public art project in Roxbury and winner of a mural contest in Newton — is covering between five and seven boxes with abstract art. Garcia — muralist and co-founder of Likemind Design — is behind the empowering messages and faces on 10 boxes.
On a temperate, but overcast Monday afternoon in late August, I met Garcia and Sophy Tuttle, a painter and co-secretary of the council, to see more of Garcia's work. Tuttle painted several utility boxes near Medford Square last year and has been instrumental in shaping this year's process.
When the council was reviewing proposals, Tuttle says what stood out about both artists' work "was the [use of] color. The really bright, bold colors." The council also loved the positive messages and the representation of different kinds of people with Garcia's work. For Palmer's proposal, the group was excited about the beauty of her work and a possible community engagement piece, which didn't work out due to complications caused by the pandemic.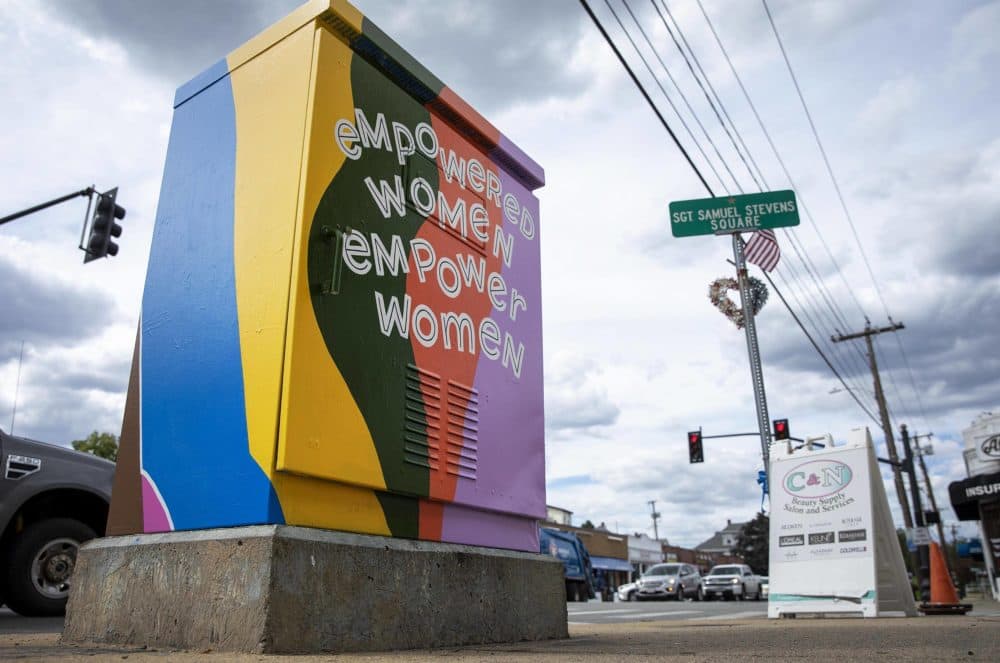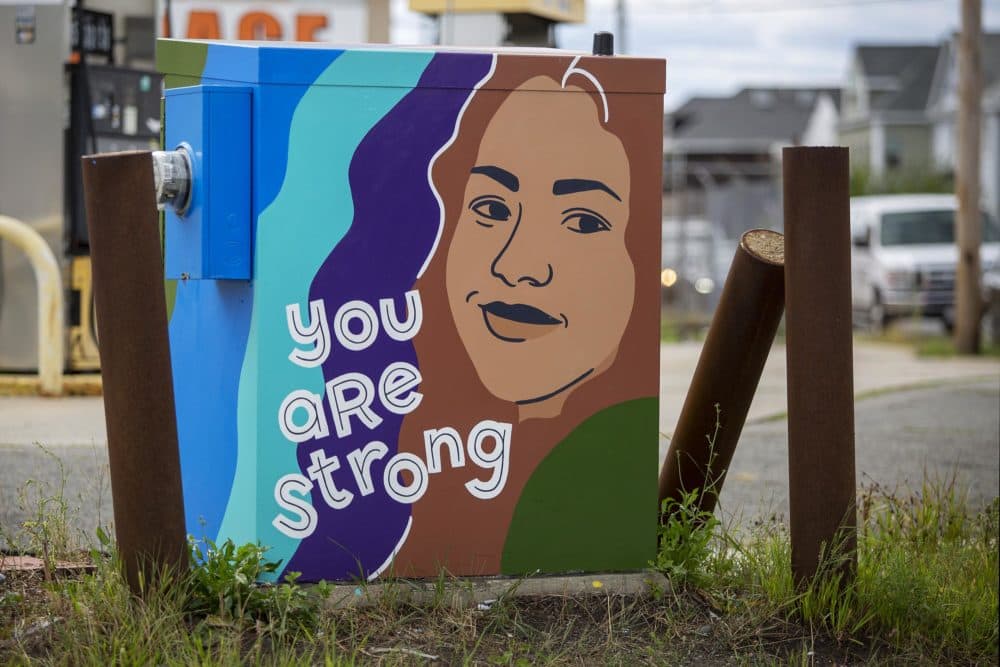 Before Garcia led us through the busy streets to see more of her pieces, she talked about how she transfers her work to these tiny boxes around town. She starts with a digital sketch on her iPad that she prints to scale and tiles together. Then, she transfers it "using graphite transfer paper. Essentially, it's a paper I put underneath the sketch and use a pen. And when I draw, the pressure transfers it onto the surface," Garcia explains.
"Empowered Women, Empower Women," "Your Voice Matters" and "Together We Are Resilient" are just a few of the messages that dot South Medford. The faces on the boxes run from beige to deep brown in skin color, each with their own allure. "They're meant to be ambiguous and not really individual personalities, or to be identifiable," Garcia says. Still, it's nice to encounter an image that resembles one's self. That happens to me when I discover a brown-skinned woman with dreadlocks next to the message, "Hold Each Other Up."
When faced with the possibility of this project, it took Garcia — best known for her spirited pet portraits and lettering work — a while to determine which path to take. "I put a lot of pressure on myself to really use the opportunity to do something that I was going to be excited about, emotionally invested in, and… use my voice as an individual and a creative," she says.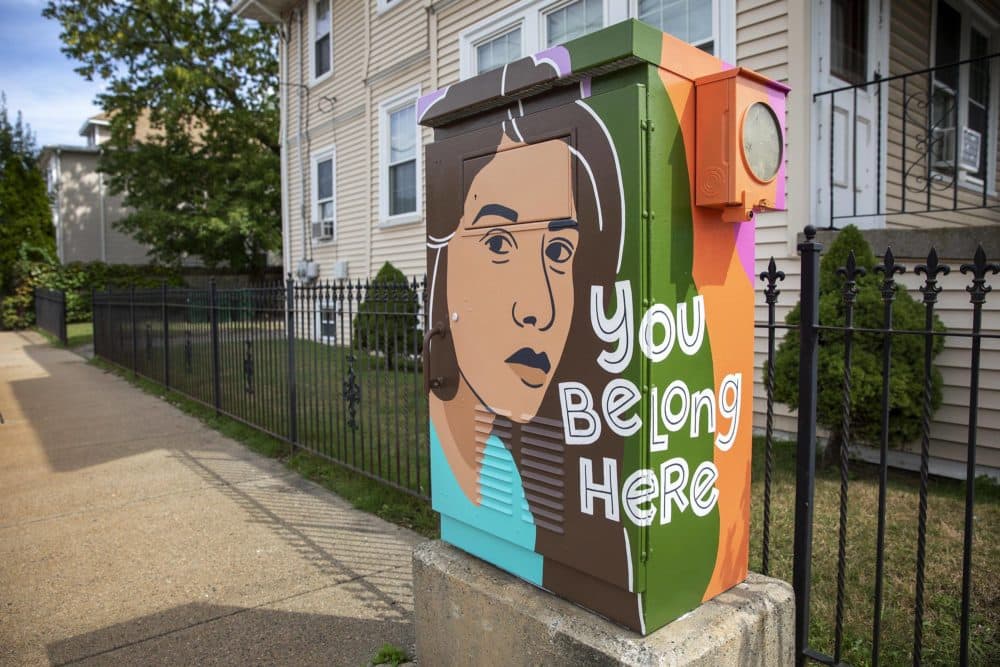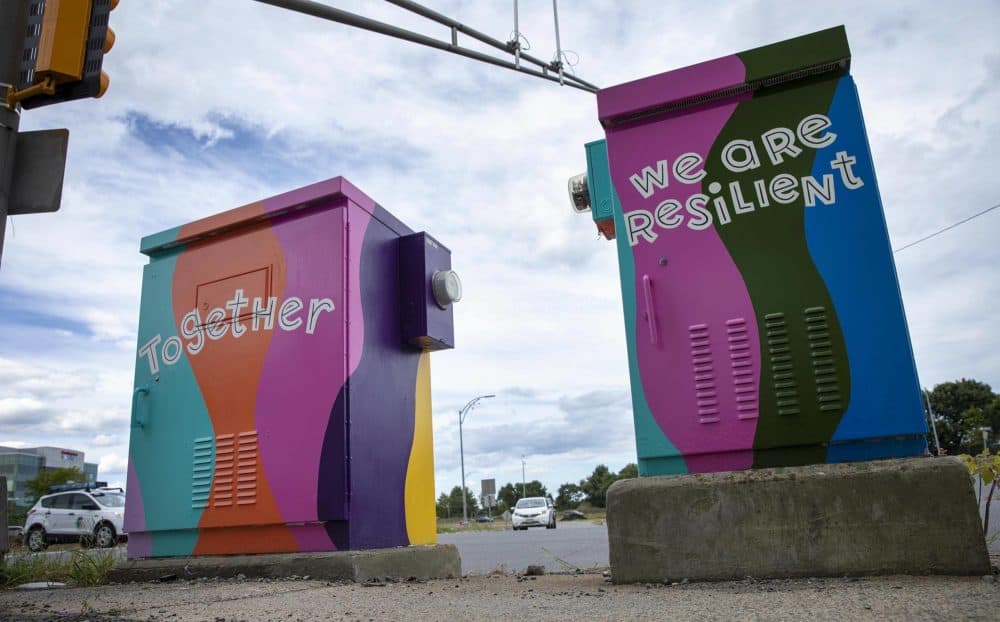 So much has happened this year. "It's been very challenging for so many people for all kinds of reasons, including the pandemic, police brutality and the black lives matter [movement], anti-Black and anti-Asian racism," Garcia tells me.
Garcia — who is Italian, Welsh and Chinese — thought acknowledging women of color, who are often underrepresented, would be perfect for this public art project. She hopes the work positively influences and brightens other people's days in some way.
It's working thus far. A bus driver stopped by to say her work isn't going unnoticed and that it's beautiful. Medford resident Scott Rodolico sent an email to Garcia praising her work. Rodolico writes, "your murals have such a strong presence in our neighborhood…I imagine the dozens of young women of color that walk by your utility boxes every day and feel welcomed in the community."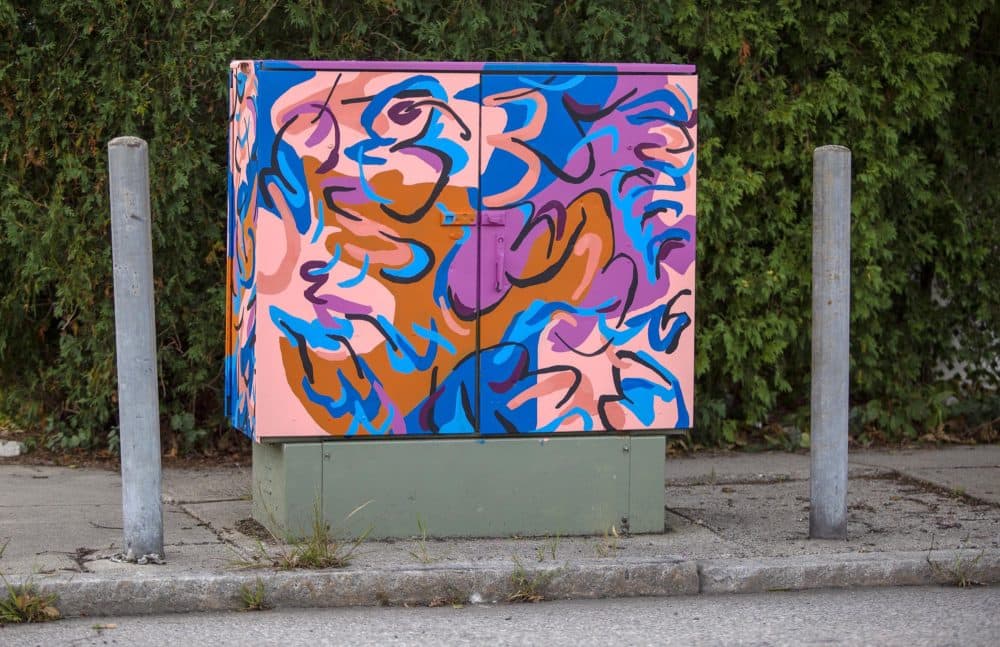 The Medford community embraces Palmer's work too with the exception of one tough encounter where the artist was harassed by a local business owner. After she posted about the run-in, she received "a tremendous amount of support and love from so many people," Palmer shares over the phone.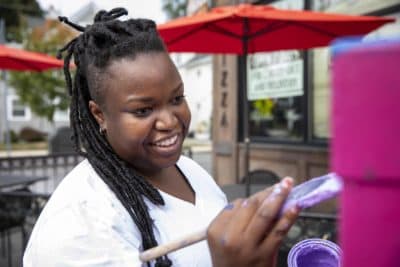 Her work is located about a 5-minute drive from the utility boxes Garcia painted. Palmer was originally assigned seven boxes, but two of the boxes have artwork on them that residents hold dear. At a recent council meeting, its members decided to find a few alternatives. So far, Palmer's completed pieces have dynamic color palettes: green, blue, red and black dance and swirl on the surfaces. The paintings deliver vibrancy to the spaces her work occupies.
The utility boxes were "hard pieces for me… my biggest challenge was… to try to translate to these paintings gesturally on a small three-dimensional object. It's more challenging than one might think," Palmer explains.
In all of her work, Palmer aims to reclaim space. As an audience member though, it's easy to become captivated by the aesthetic and possibly miss the message. For example, a recent work by Palmer centers on the women previously enslaved in East Boston (formerly Noddle's Island) who were owned by Samuel Maverick. That could be difficult to decipher without the accompanying text, even if you can feel the emotion. According to an Instagram post, Palmer's always thinking about "the histories of women in my community, their resilience, independence and excellence."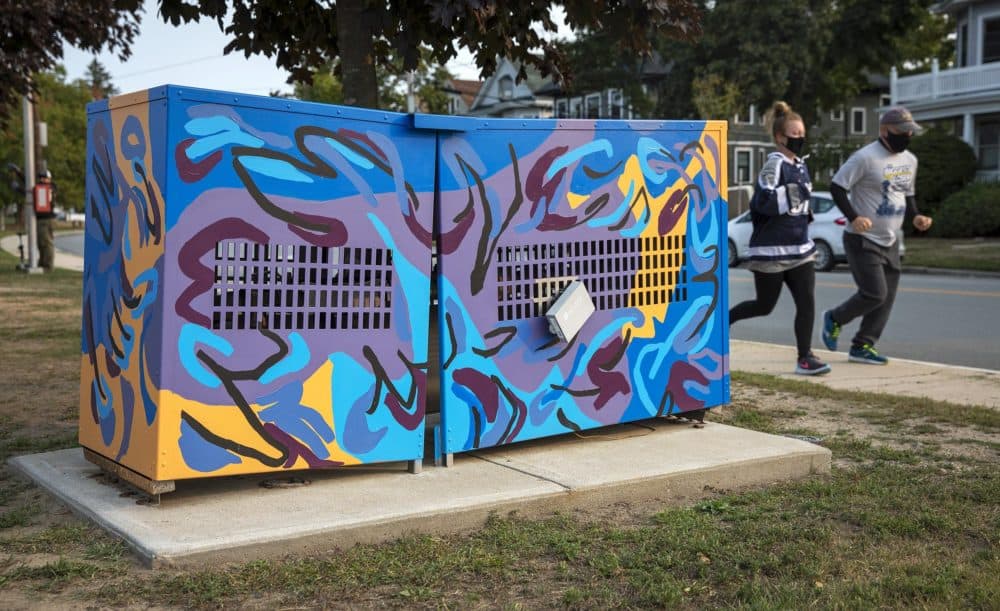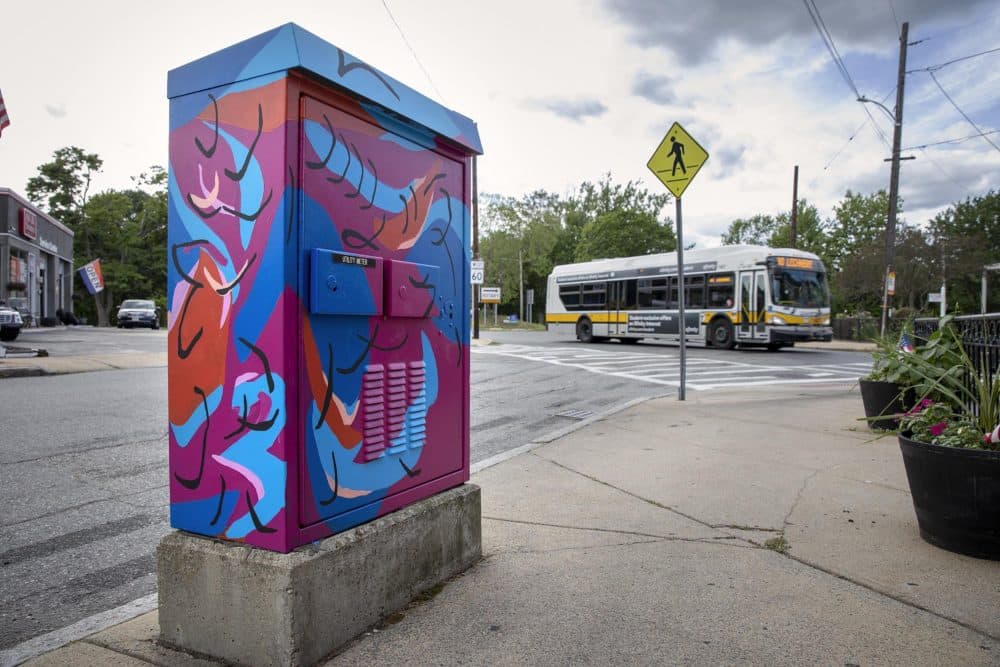 She's also working to empower the next generation. Palmer is a middle school art teacher at Thayer Academy. Whenever she's working on a project, she brings a prior student along from her time at Boston Arts Academy. "I need my students to see me. I need my students to understand this is the thing that they can be doing," Palmer says. She also wants them to consider "what does it mean to reclaim space in a neighborhood and beautify it? All of those things are really important."
Both Palmer and Garcia are part of a growing group of artists painting public spaces with breathtaking art, including Cedric Douglas, an artist and designer inspired by everyday life idioms and the subculture of street art; Sneha Shrestha, aka IMAGINE, a Nepali street artist meshing the Nepali alphabet and the Boston graffiti scene, also one of The ARTery 25; and celebrated artist, Rob "ProBlak" Gibbs, whose most recent works include the murals "Breathe Life" and "Breathe Life 2."
Whether it's clear messaging and portraits or abstraction that passersby come across, Tuttle says, "It's nice to be able to show people that pubic art can be this [like Garcia's] or that [abstract like Palmer's] and they're equally as valuable."
Amanda Beard Garcia and Destiny Palmer's work are on display now. Check out this map for the locations of Garcia's boxes and follow this link to see Palmer's.