Statewide Opioid Screening Day To Help People Assess Their Risk And Find Treatment
Hospitals and clinics around Massachusetts are gearing up to help people access treatment for opioid use disorder, as part of a statewide event aimed at increasing awareness of the disease.
The Sept. 22 event, called Massachusetts Opioid Screening and Awareness Day, will feature a free virtual panel discussion with experts in opioid use disorder and people with lived experience. The event is open to the general public.
A website for the initiative has an anonymous screening tool, which people can access 24 hours a day to help them determine if they or a loved one have symptoms of the disease. The virtual event will direct people to the screening site.
Psychiatrist Douglas Jacobs organized the event and developed the screening tool. He points out upwards of  300,000 Massachusetts residents are believed to have opioid use disorder.
"But unfortunately only about 10% get treatment," Jacobs said. "We need to get people into treatment, to let people know that treatment's available, [and that] it's accessible."
Dozens of medical facilities around the state are participating in the initiative. The online assessment tool will point people to those hospitals and health centers for help.
"The screening is actually done online, but it's the follow-up evaluation with a medical facility that can evaluate for opioid [use] disorder," Jacobs explained.
Thirty years ago, Jacobs founded National Depression Screening Day. More recently, he developed a screening tool for suicide risk.
Dr. Scott Weiner, an attending physician in emergency medicine at Brigham and Women's Hospital and director of Brigham Comprehensive Opioid Response and Education Program, partnered with Jacobs to spearhead the event.
Jacobs' idea to employ widespread screening for opioid misuse is "brilliant," Weiner said, because Massachusetts is still in the throes of the opioid epidemic.
"We're losing about 2,000 people just in this state every year," he said. "And the numbers, unfortunately, despite everything we're doing, are just not budging very much. And so we want people just to be aware of it. We want to address stigma, show that it's a medical disease, and also, particularly, identify people that are at risk that don't know they're at risk."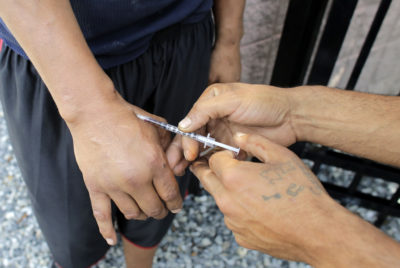 State data for the first quarter of the year showed an overall decrease in opioid overdose deaths compared to the same quarter in 2019, but increases in certain communities. The state hasn't released data for the second quarter — the time period covering the surge in the coronavirus pandemic — but preliminary data suggest an uptick in overdose deaths, according to Weiner. He and colleagues reviewed records for ambulance transports involving overdoses, and though those transports dropped at the very beginning of the pandemic, he said, they started increasing in April. That research is not yet published, but Weiner said the data is very similar to what researchers in Kentucky recently found.
This month the American Medical Association issued a brief urging states to take increased action on the issue of opioid overdoses, saying 40 states have reported increases in opioid-related mortality during the COVID-19 pandemic.
Access to inpatient treatment beds and doctors who prescribe medication assisted treatment has traditionally had many barriers, including bed shortages. A recent study found the majority of residential treatment facilities in the U.S. don't prescribe the medications known to successfully treat opioid use disorder.
But Weiner said he's "cautiously optimistic" that people who take part in the opioid screening event will be able to access outpatient treatment.
Treatment with the drug buprenorphine can now be prescribed via telehealth. And though there's traditionally been a shortage of doctors who can prescribe it and other addiction treatments, Weiner said most emergency physicians and an increasing number of primary care physicians now have the required training and waiver to prescribe the medication. And, he added, many hospitals are setting up so-called "bridge clinics" to get people started on treatment — the goal then being to transition them to a long-term treatment plan or program.
"That model seems to really work well," Weiner said. "There's a lot of recent studies that are coming out that show that it really can be transformational."