Middleton Jail In Essex County Closes To Visitors Amid Outbreak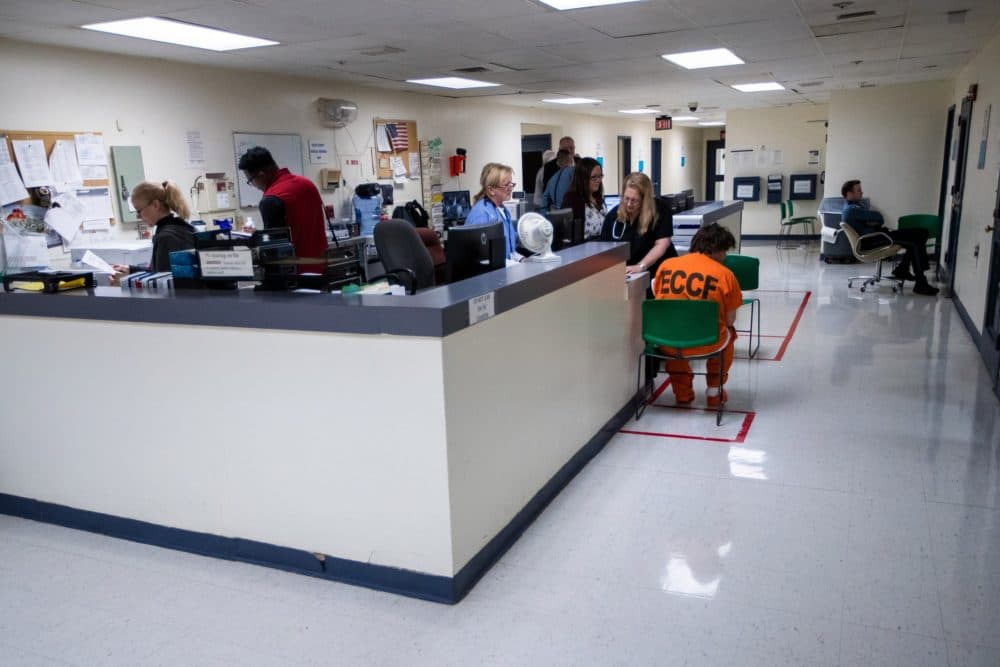 This article is more than 2 years old.
The Essex County Sheriff has closed the Middleton jail to the public because of an outbreak of the coronavirus.
This news comes after the Mass. Department of Correction (DOC) said Friday it is no longer admitting men to the Massachusetts Alcohol and Substance Abuse Center in Plymouth because of a coronavirus outbreak there.
The DOC said 28 of the 97 men at MASAC tested positive for the virus. MASAC houses men who are involuntarily committed to addiction treatment by the courts. Men who are committed will be sent to a facility in the Hampden County Jail for the time being.
A statement from Essex County Sheriff Kevin Coppinger says 25 positive cases among prisoners were reported at the Middleton jail Saturday, along with 21 positive results among employees and two positive cases among contractors. The statement describes each case as mild and says no one has required hospitalization. He says all prisoners and staff are being tested for the virus.
"Like with so many other areas across the state, we are seeing a surge in this highly-contagious illness and this is despite having the most rigorous of health and safety protocols in place," Coppinger's statement said. "We continue to work around the clock to fight back against this virus and to ensure the health and safety of all who live and work at our Middleton facility."
The Middleton jail is closed to the public. Last week in-person visists were suspended there after 14 prisoners tested positive.
Sheriff Coppinger says no positive cases are reported at the Essex Pre-Release Center in Lawrence and the Women in Transition Program in Salisbury.
A state Supreme Judicial Court report says as of last week, there had been 99 confirmed cases of the virus among prisoners at that jail since the pandemic began. One Essex County prisoner has died from covid-19.
Sheriff Coppinger says the jail continues to take steps to prevent transmission of the virus — including cleaning and sanitizing the facility, making masks mandatory and enforcing social distancing.