With State's New Coronavirus Risk Metrics, Only 16 Communities Labeled High-Risk
The Baker administration is changing how the state calculates community risk levels for coronavirus, and moving away from the color-coded map to more of a list format.
The new measurement system raises the cases required per 100,000 threshold for the "red" designation while adding variables for community size and positive test rate. An administration official says the calculation updates will provide a more nuanced picture of risk level.
Under the new methodology 16 communities will be in the red, or considered high risk, 91 will get a yellow designation, 79 will be in the green, and 165 will be grey, based on this week's COVID-19 data.
Last week, 121 municipalities — more than a third of those in the state — landed in the red with an average daily incidence rate of 8 cases per 100,000 or higher over the prior two weeks.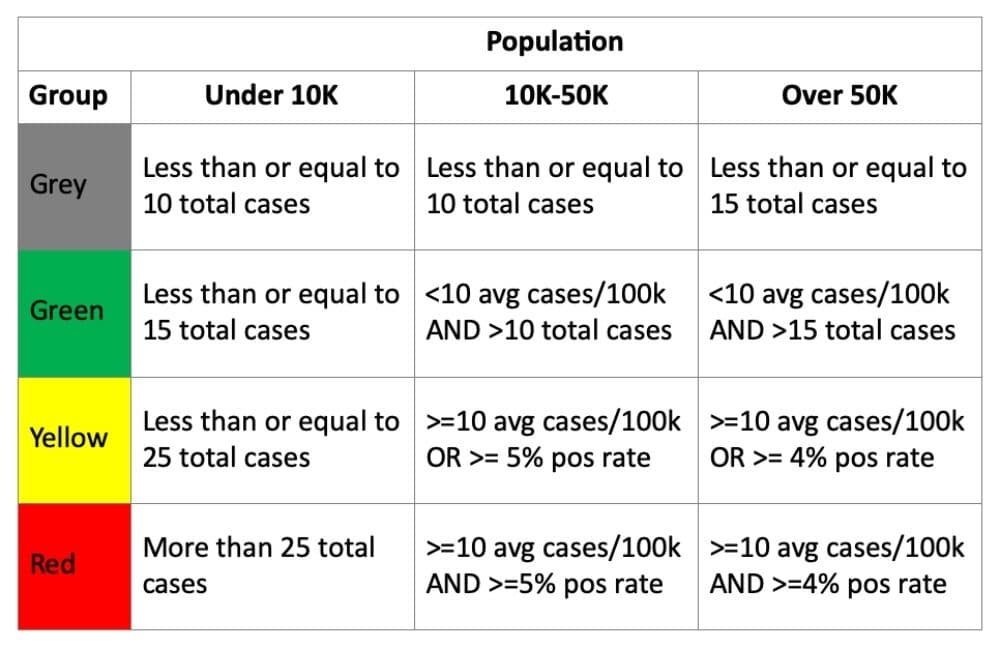 The changes will inform a new set of guidance from the state Department of Elementary and Secondary Education aimed at providing data to help municipalities and school committees restart or maintain in-person learning.
They could also significantly shift the risk designations assigned to each community, which carry implications for business restrictions.
While the threshold is slightly higher under the new metrics, the official said the change brings Massachusetts more in line with peer states and better captures the nuances of COVID-19 transmission at the municipal level.
Now, the risk level thresholds will vary based on a community's size, making distinctions between municipalities that have a population of less than 10,000 people, between 10,000 and 50,000 people, and more than 50,000.
Those among the smallest population category will have their ratings decided based solely on total case counts rather than on case or testing rates. Ten or fewer cases will deem a community gray, above that up to 15 will earn it green, above that up to 25 will result in yellow, and more than 25 will prompt the highest-risk red designation.
With additional reporting from State House News Service's Chris Lisinski.