Another Day, Another Data Dump: How To Read The Official COVID-19 Numbers
This article is more than 2 years old.
Every day and every week, state and local health departments post new caches of coronavirus case numbers and metrics online. This data is used by state officials to determine whether it's safe to loosen COVID-19 restrictions and let businesses, entertainment venues and restaurants remain open, or if they need more interventions to clamp down on the virus' spread. The numbers are public, presumably so everyone else can make the same decisions about their personal lives.
"We share the data with you so that you can be armed with the knowledge to keep yourself safe, your families and your community safe," Boston Mayor Marty Walsh said at a press briefing this week.
The data that health officials generate can provide a general sense of the epidemic, but how residents should apply that information isn't always straightforward, says Dr. Benjamin Linas, an epidemiologist at Boston Medical Center. The numbers alone don't tell you when it's time to start booting people from your coronavirus bubble, for example.
"I understand how to interpret the data, but what you do with that knowledge is a much more difficult discussion," Linas says. "There's no threshold for when you're supposed to not see your friends."
To get the same overview of COVID-19 your state and area officials use to guide policies, Linas says you should first look at three main numbers.
Total Number Of Tests Performed
Here's why this matters. If the number of tests being performed is high and growing, you can have a little more confidence in the other numbers you're seeing because the sample size is larger. If the number of tests is trending up or down, that may also influence trends in other metrics.
Cases Per 100,000 People
Massachusetts publishes the average number of cases per 100,000 people over the last two weeks for every city and town in its weekly public health report. You can check to see if this number is rising over time by looking at past reports. Linas has also worked on a more sophisticated metric that uses average number of cases, total testing and other pieces of data to calculate how quickly the coronavirus seems to be spreading.
Just remember, if cases per 100,000 people are going up, but the number of tests is also trending up, COVID may not actually be spreading more rapidly. A greater number of tests casts a wider net and thus will find more cases, even if COVID isn't accelerating.
"In isolation, it can be a little bit deceiving. Because you're testing more and more people, that's how you're finding more cases," Linas says. "If you combine this with the next metric though, the test positivity percentage, those two things integrate and work nicely together."
Test Positivity Percentage
This figure is the percentage of positive tests in the entire pool of coronavirus tests each day. If cases per 100,000 are going down and the test positivity percentage is also going down, that's a good sign. If cases per 100,000 are going up, but test positivity percentage is going down, then you shouldn't panic just yet. It could reflect an increase in testing.
"If [test positivity percentage and cases per 100,000] are going in opposite directions, that might be a good sign that you actually don't have more COVID," Linas says. "Those three metrics together are really helpful to get a better sense of the true epidemic, and it's what I look at to give my hundred-thousand-foot view of like how it's going."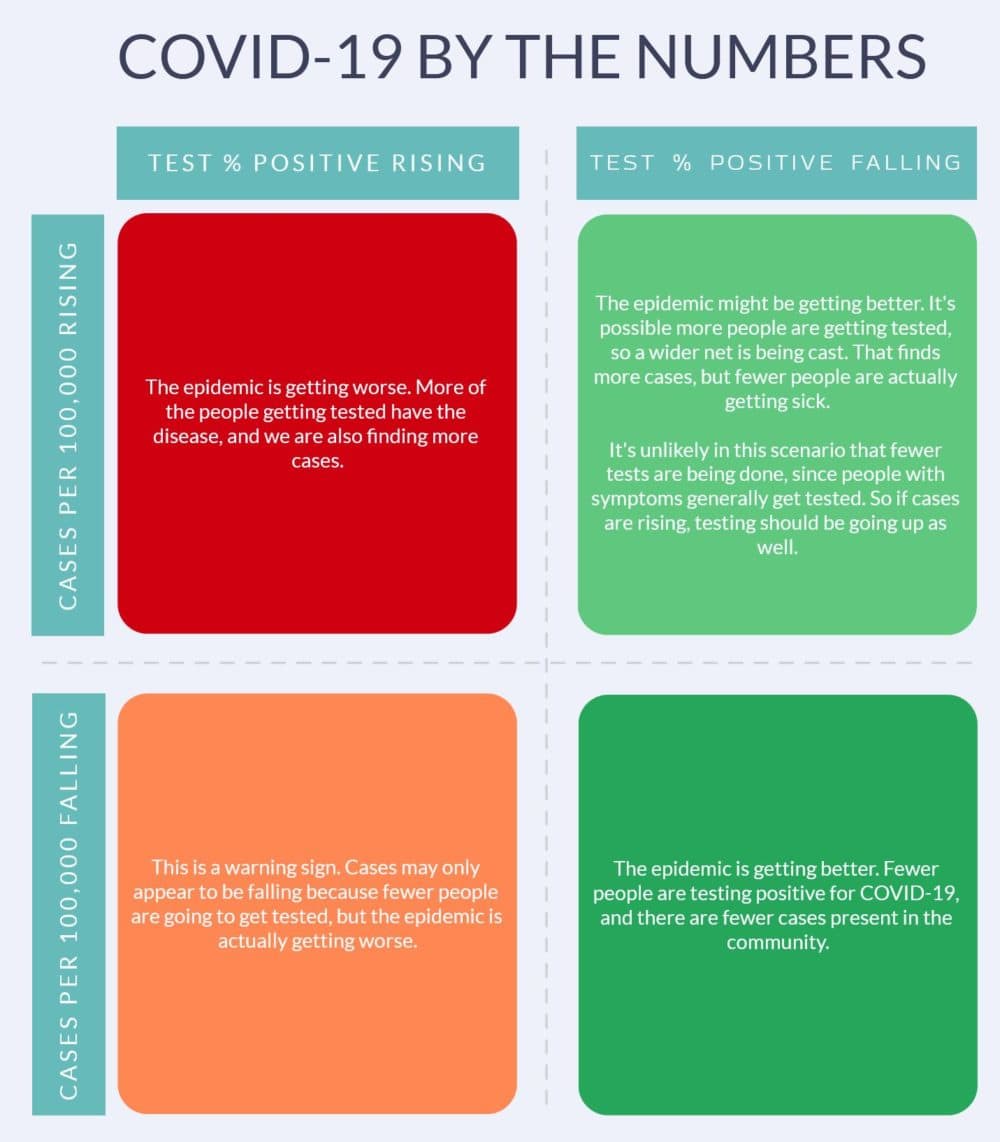 General Weaknesses In The Data
The official numbers are still limited, points out Caroline Buckee, an epidemiologist at Harvard University. While the state is doing far more daily testing now than last spring, for example, the overwhelming majority of people are not being tested regularly. Without regular, widespread testing and more extensive contact tracing, it's nearly impossible to pinpoint specific settings where transmission is most common.
Some of that data is becoming available, but Buckee says there isn't enough to say definitively which types of places, businesses and industries people ought to avoid.
"We know there are certain high-risk settings like indoor dining and so on. Trying to get a handle on where clusters of cases are occurring is really important," Buckee says. "It would be nice to see more detailed data broken down demographically and geographically [as well]. That will help us live life more normally through this winter because we'll be able to hone in on the riskiest places and protect the most vulnerable communities and people."
So far, state data shows the vast majority of coronavirus clusters have been identified among people who live in the same household. But contact tracers have also identified clusters at schools and daycare facilities, sports activities and industrial settings.
So, What Should You Do?
It may seem like avoiding the question, but there are no perfect answers.
At the moment, there isn't any specific guidance from the state that says if cases per 100,000 hit a certain point and test positivity reaches a certain point, it's time to restrict your social circle or avoid friends' backyards. This means everyone is looking at the data and evaluating how much risk they're willing to take with activities like socializing or restaurant dining.
That's tough to do even if you understand all the numbers coming from health officials, Linas says.
"Our Thanksgiving plan was what we usually do – that's a gathering of 11. But then I was involved with the school Thanksgiving policy and realized, 'I'm making this policy. At the same time, our plan would be in violation of this policy.' So, I canceled all of our plans," Linas says. "There's no secret cabal of health professionals with exactly the right answer. All of us are casting around because it's confusing, and the guidance is not crystal clear."
Linas says it might help if the state did issue specific thresholds for behavior. He says with everyone making their own decisions, having different holiday plans or socializing, we aren't fighting the virus as effectively as we could.
"I don't know if there's an objectively true threshold or number that makes us step back. But even if ultimately a threshold is somewhat arbitrary, having that clear is important so that we can all be pulling the oars at the same time," he says.
And, he adds, no matter what you decide to do – wearing a mask, keeping physical distance and hand-washing are still paramount.