Get And Give Help: Your Guide To Navigating Coronavirus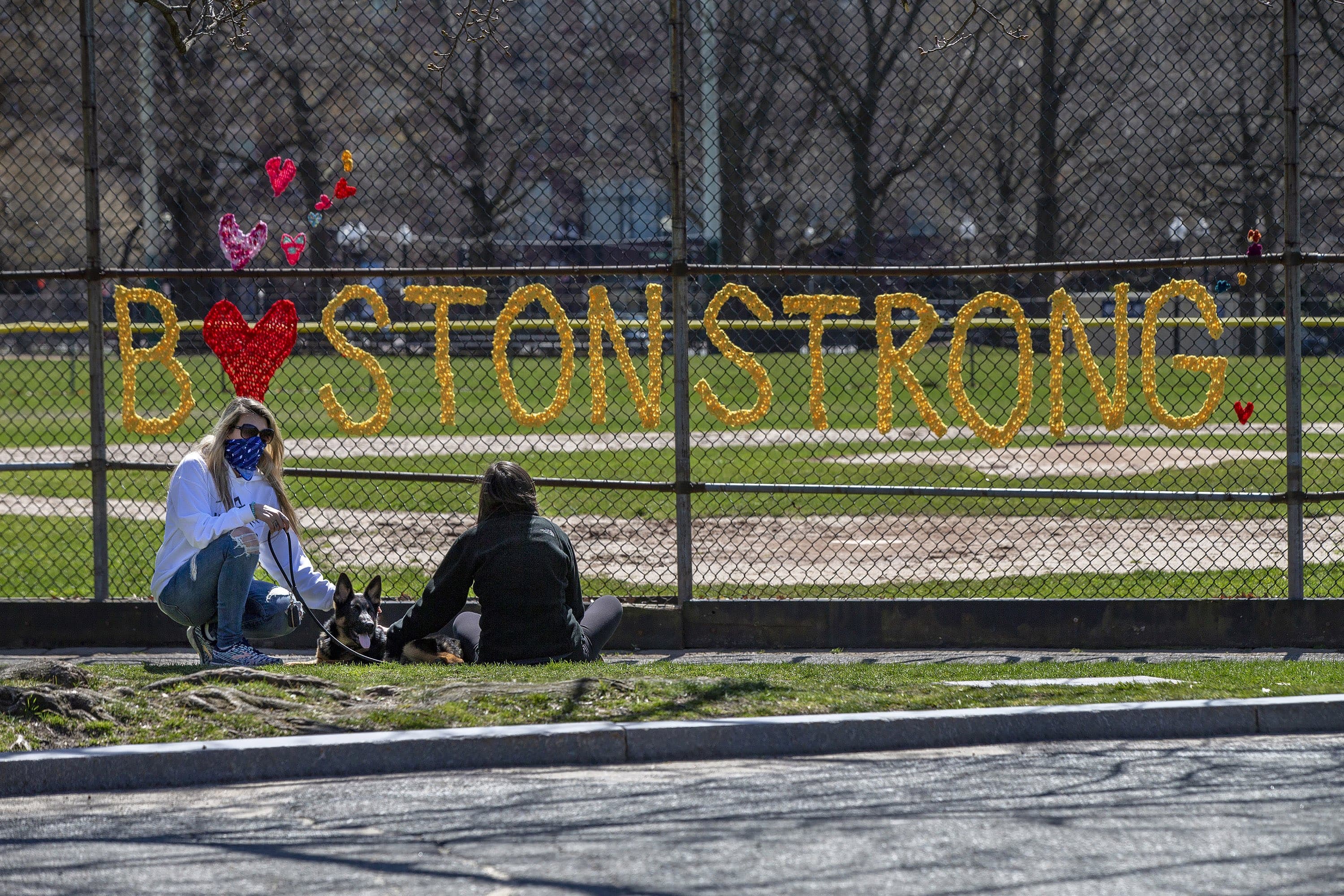 This article is more than 1 year old.
The coronavirus pandemic has upended our world and fundamentally changed the way we live.
Managing life right now is hard for a lot of us. Some of us have lost our jobs. Others are figuring out how to work and take care of our kids. And for those of us lucky enough to be safe and at home, we're looking for ways to help others.
We've compiled a list of resources from federal, state, city and private sources — along with expertise and ideas gathered by WBUR — to help you weather the slow-moving crisis.
We'll keep updating this post as we find more helpful tools and resources.
The Basics | Health & Safety | Financial Help | Education & Kids | Living & Entertainment
The Basics
State and local updates:
COVID-19 printable fact sheets from the DPH. They are also available in Spanish, Simplified and Traditional Chinese, Portuguese, Haitian Creole and Vietnamese.
Get text updates from Boston by texting the following to 99411, depending on your language preference:

Text BOSCOVID for English
Text BOSEspanol for Spanish
Text BOSKreyol for Haitian Creole
Text BOSFrancais for French
Text BOSKriolu for Cabo Verdean Creole
Text BOSPortugues for Portuguese
Get text updates from Massachusetts by texting the following to 888777, depending on your language preference:
Text COVIDMA for English
Text COVIDMAESP for Spanish
Back to top
Health & Safety
Coronavirus assessment tool: Massachusetts has partnered with Buoy Health to create an online assessment tool that uses artificial intelligence to match people with the health services they need. You can learn more about the company and how the tool works here.
Caring For A Coronavirus Patient At Home: The grim reality of this pandemic is that people who would normally go to a hospital for treatment are being asked to stay at home to try and keep hospital beds open for the most dire cases. Here's some guidance to help treat someone who is ill in your home.
The Boston Public Health Commission has created a map of COVID-19 testing sites. Please read and follow the instructions on the site before going to a testing site.
There are several crisis hotlines and websites available if you or someone you know is in immediate danger:
The Massachusetts 211 hotline connects residents with essential services, like food banks, help with child and elder care, and other areas of need. On April 9, Gov. Charlie Baker announced the state would expand 211 to include information on domestic violence resources. If your phone provider doesn't recognize 211 as a valid number, you can reach the hotline at 1-877-211-MASS (6277).
The state's Nursing Home Family Resource Line can be reached for questions about nursing home or rest home care. You can call the hotline at 617-660-5399.
Help for frontline health care workers: Nurses, doctors and other medical staff battling the pandemic can find a number of resources, from free and discounted meals to priority testing, at this site set up by the state attorney general's office.
Financial Help
Key ways to give or receive help: As the pace of the outbreak has quickened, so has the pace of people trying to provide each other support. If you need financial, housing or food help, or if you're in a position to offer help, you can find several options here.
How to keep your utility bills manageable: It's been an unseasonably cool spring, so lots of people are still heating their homes. But did you know you cold save 3% on your heating bill if you lower the thermostat by a single degree? Here & Now has more tips for keeping your bills in line while staying at home.
Direct support:
File for unemployment: The state's unemployment call centers has received a massive increase in inquiries, so getting through has been difficult for lots of people. To alleviate the pressure on the call center and get answers out to the public, the state is now hosting daily online town hall meetings to help people get through the registration process. You can view the town hall materials here.
The state Department of Unemployment Assistance has also released a Spanish-language site, with multilingual guidelines and a new unemployment application form in Spanish.
Gig economy unemployment: Massachusetts created a separate website to manage unemployment requests for gig economy workers. The site also has a Spanish language option. Normally, these workers aren't able to collect when they're out of work because they're contractors, but COVID-19 relief legislation has extended benefits to them.
The Massachusetts COVID-19 Relief Fund was established in early April, and will support "frontline healthcare professionals and vulnerable populations including Massachusetts residents and immigrants facing homelessness, food insecurity and loss of critical services as a result of the COVID-19 public health crisis."
The Red Sox foundation has set up an emergency hardship fund to support low income people buy food. Those who demonstrate financial need can apply for a $250 grocery store gift card.
Boston homeowners affected by COVID-19 may be able to get a three-month deferral on mortgage payments. Mayor Marty Walsh announced a deal with 12 banks to remove late fees, not report missed payments to credit agencies, and not force lump-sum payments of missed installments. Contact your bank directly or reach out to the Boston Home Center for more information.
Donate personal protective equipment, like gloves and masks, for use by medical and public health workers.
Donate personal protective gear to state nursing homes.
Sell personal protective equipment to the state for use by medical and public health workers.
Education & Kids
The WGBH Distance Learning Center: WGBH is offering daily educational TV programming between noon and 5 p.m., in partnership with the Massachusetts Department of Elementary and Secondary Education.
Schools across the state are still expected to help with remote learning, with a focus on keeping everyone healthy. State education officials sent a letter to parents about remote learning. Learn more about the state's plans here.
Six home schooling ideas for parents: Kerry McDonald, who has homeschooled her four children for years, has some helpful tips for parents struggling to keep pace with their kids' educational need.
Talking to your kids about coronavirus: Adults are having their own difficulties trying to process everything that's happening during this pandemic, making this an especially confusing time for children. Finding age-appropriate ways to talk to kids and addressing their direct concerns are important starting points.
Living & Entertainment
The city of Boston has a map of food resource locations, which includes places to pick up meals for students, sites for adults, soup kitchens, and food pantries.
How to make great meals from pantry staples: Just because you're eating lots of beans and eggs doesn't mean you can't enjoy what you eat. James Beard Award-winning journalist Kathy Gunst has a few ideas to help you zhuzh up your pantry staples while staying healthy.
Residents in Greater Boston can take advantage of the Good Neighbor program, a partnership between Nesterly and the City Of Boston that connects volunteers with people in need or who are at an enhanced risk of the coronavirus. You can volunteer to deliver food or even just communicate by phone or email as a check-in. Learn more here.
Tips to help keep sane while working from home: The thing about working from home is you're still working. That means you need boundaries and space to focus, even if having your spouse and kids at home means it won't be the same as your set-up back at the office.
Free online art classes: You don't need fancy equipment to create a little art (and reduce your stress). Grab a pencil and piece of paper and give it a try.
10 Endless Thread episodes to take your mind off of things: Far be it from us at WBUR, Boston's NPR news station, to tell you when you need a break from current events, but you do. We all do. To help you with your counter-programming needs, our friends at Endless Thread have compiled a list of non-coronavirus-related podcast episodes to enjoy.
Listen to a playlist of local music: There are plenty of local musicians working hard to provide you with something new to discover. WBUR's The ARTery has been creating weekly playlists to help you find a new artist to obsess over. If the previous link is too upbeat, try this collection of mellow tunes instead.
Concerts you can stream from home: There are several upcoming concerts being streamed live, and then there are classic shows and documentaries available to watch online.
TV shows to binge while you're stuck at home: It seems like everyone has watched, is watching, or will watch Tiger King on Netflix. Once you're done exploring the world of Joe Exotic and Carole Baskin, try some of these other binge-worthy shows.
Virtual events to attend: The ARTery is collecting virtual events you can attend since heading out to your favorite venue isn't possible right now. You can also submit events for possible inclusion on this list by filling out this form.
The ReelAbilities (Online) Film Festival: Boston Jewish Film has hosted this festival, which focuses on films by and about the disability community, since 2011. They've worked to make sure that this year's edition will be available online, giving you a chance to see work from these remarkable filmmakers.
The Basics | Health & Safety | Financial | Education & Kids | Living & Entertainment | Entertainment | Extra
This article was originally published on April 07, 2020.