As Virus Surges, Mass. Residents Support Pandemic Restrictions Across Race and Party Lines, Survey Shows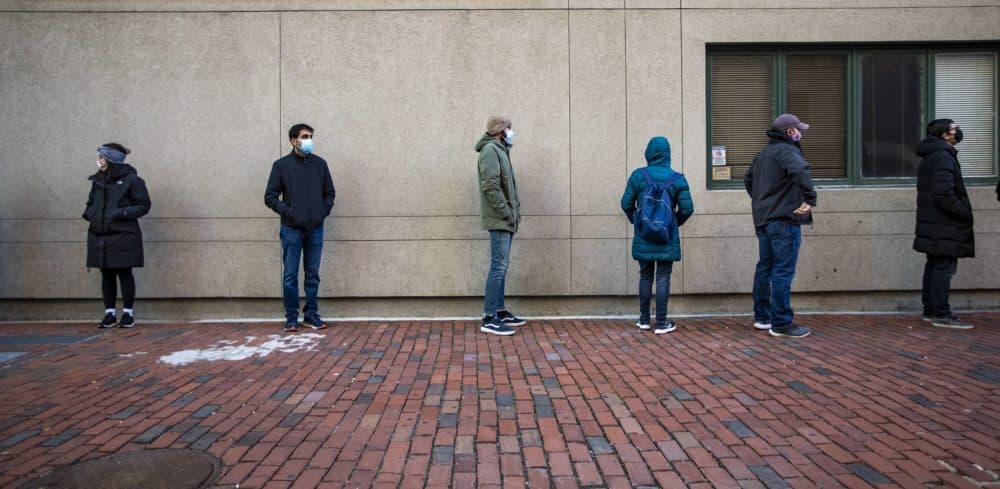 A recent survey suggests that a large majority of Massachusetts residents are in favor of federal, state or local governments imposing additional measures to slow the spread of the coronavirus.
In the survey of 919 Massachusetts residents, conducted between Oct. 1 and Nov. 28, researchers asked respondents whether they approved or disapproved of the following measures that governments might take to combat the COVID-19 surge:
Asking people to stay at home and avoid gathering in large groups;
Requiring most businesses other than grocery stores and pharmacies to close;
Canceling major sports and entertainment events;
Prohibiting K-12 schools from teaching in person;
Limiting restaurants to carry-out only;
Restricting international travel to the U.S.;
Restricting travel within the U.S.
After weighting the data to approximate the demographic makeup of Massachusetts, researchers found broad support for all seven measures. Close to 90% of respondents said they approved of advisories to stay at home and avoid large gatherings, and limits on international travel to the U.S.; around 80% favored canceling major events, restricting domestic travel, and limiting restaurants to carry-out only; 71% supported prohibitions on in-person schooling; and 63% supported closing most businesses.
The findings come from the latest installment of The COVID States Project, an ongoing effort by researchers at Northeastern University, Harvard, Rutgers and Northwestern University to document behaviors and attitudes around COVID-19 precautions.
"The almost overwhelming support for most of these measures was certainly a surprise," said Matt Baum, lead author of a report summarizing the survey results and a professor of public policy at the Harvard Kennedy School.
"It seems to me that if Gov. [Charlie] Baker wanted to go down some of these roads, he would have stronger support than maybe he thinks he does," said Baum.
Last week, the seven-day rolling average of daily COVID-19 cases breached 3,900 — more than triple what it was on Nov. 2, and about 70% higher than its peak during the first surge this past Spring.
During a COVID-19 surge that many health experts expect will get worse in the coming weeks, some people are calling on the state to do more. In a tweet, Dr. Ashish Jha, dean of the Brown University School of Public Health, said he was "aghast" at what he called an "incomprehensible" lack of action by Gov. Baker.
For the past couple of weeks, Baker has tamped down rumors of additional restrictions, specifically about closing restaurants. But speaking on Monday, Baker appeared to shift his stance, saying his administration was reviewing post-Thanksgiving infection data and considering whether additional restrictions are necessary.
"Every option is on the table if infections and hospitalizations continue to climb," Baker said.
Although the data does suggest most residents wold be in favor of more pandemic containment measures, there were some significant differences among demographic groups, such as ethnicity and race.
For instance, non-white respondents were generally more likely to support restrictions than white respondents. When asked whether they would support closing most businesses other than groceries and pharmacies, 86% of respondents who identified as Hispanic or Latino, and 77% of Black/African American and Asian/Asian American respondents said they would approve of such a measure. By contrast, only 61% of white respondents said they would approve.
Asked whether they would support limiting restaurants to takeout-only, 98% of Hispanic or Latino respondents approved, compared with 76% of white respondents.
Political affiliation was another category where researchers noted significant differences. Over 90% of Democrats supported cancelling major events and limiting restaurants to takeout, while about 70% of Republicans approved of those measures. Meanwhile, the prospect of closing most businesses was least popular with Republicans, with just 41% supporting that, compared to 59% of Independents and 81% of Democrats.
Despite these gaps, Baum said the overall differences between groups were "not huge."
A breakdown by gender showed that women were only slightly more supportive of restrictions than men.
Similarly, support for restrictive measures varied little whether residents had young children or no children — the exception being that those without children were less likely to support closing most businesses.
"While there are differences," Baum said, "the bigger-picture story is pretty strong support for taking proactive measures to counter the surge.
"Gov. Baker's seeming hesitance to step on the breaks any harder, seems to some extent fly in the face of a public that seems willing to have those brakes hit harder."