Boston Pops Go To Fenway To Bring Their Big Holiday Concert To The Screen
05:27
Play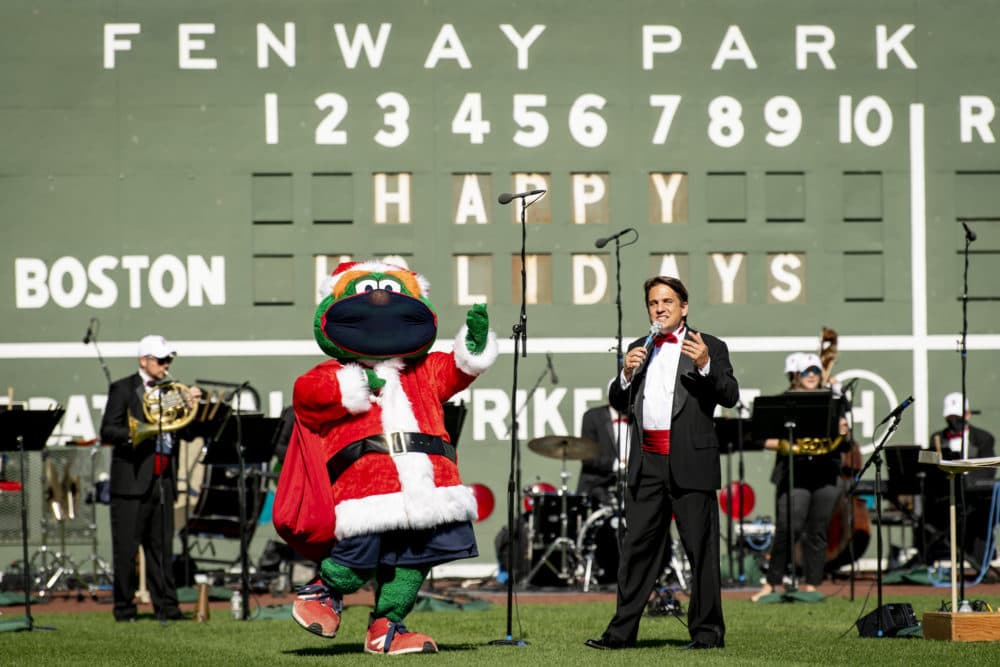 During the three to four weeks leading up to Christmas conductor Keith Lockhart and the Holiday Pops musicians usually work non-stop to perform about 40 concerts. "I normally just live at the hall for the entire month of December," Lockhart said less than half-jokingly.
But this year – which is his 25th at the podium – Lockhart has actually been able to spend time with his family at home while preparing to take the orchestra's chestnut-filled celebration beyond the walls of Symphony Hall.
The concert series has been a festive tradition for the Boston Symphony Orchestra and families since 1973. Now Lockhart, his musicians and the BSO's creative team have produced a new, socially-distanced way to channel the season's spirit without being able to perform for live audiences. This season's program is available Dec. 10 until Jan. 9.
When it became clear the annual events definitely couldn't happen the way they always have,  the BSO started brainstorming how and where to record videos for an online alternative.
"We realized that one of the most important things was preserving that relationship with the nearly 100,000 people who walk through the doors of Symphony Hall in a three-and-a-half week period of time," Lockhart recalled.
In the fall he said they still weren't sure if the musicians – especially the wind and brass players – would be allowed back inside the hall to film. Then another Boston institution stepped up with an idea for an outdoor venue with plenty of fresh air and space: Fenway Park.
"When the Red Sox first offered this to us, I started thinking, wow, an iconic space for our Boston fans that really says Boston, that's instantly recognizable," Lockhart said.
So members of the orchestra spent two sunny October days at the ballpark playing for the mics and cameras.
"We did a wonderful originally Stan Kenton version of 'Good King Wenceslas' as kind of a fanfare to put at the top of the holiday concert that has all of the brass players standing on the top of the green monster silhouetted against the Boston skyline," Lockhart recounted, "which is really, really cool."
The musicians themselves looked pretty hip in their sunglasses while playing under the blue sky.
Other instrumentalists took to center field and performed in a V-shaped formation with a masked Lockhart conducting. Lockhart said some smaller groups also recorded in the dugout and in front of the scoreboard and grandstand. Red Sox mascot Wally the Green Monster made a cameo appearance for "Must Be Santa" while Lockhart and the orchestra members sang along.
The conductor said the sessions at Fenway marked the first time he was able to lead an in-the-flesh group of his musicians since March.
"It felt like a very new experience, even to us grizzled veterans," Lockhart remembers, "And it was a lot of fun. And one of the things that's been most interesting to me is how joyously the orchestra has reassembled."
Lockhart said a collective feeling of gratitude carried through to when the musicians got the green light to record inside Symphony Hall. As you'd expect there was a long list of Covid-19 protocols, including testing and aerosol producing players needing to be 10 feet apart.
But the vocalists that usually join the merry-making weren't able to sing inside the hall. So 156 members of the Tanglewood Festival Orchestra and 58 from the Boston Symphony Children's Choir recorded remotely and individually for virtual presentations of songs including "Home for the Holidays" and "Christmas Time Is Here."
"Twas the Night Before Christmas" includes video narration from a slew of guests – BSO music director Andris Nelsons, chef Ming Tsai, composer and Pops conductor laureate John Williams and Mayor Marty Walsh to name a few. Of course Santa also makes his annual appearance.
All of this new material has been edited together with footage from the past to create a holiday mix.
Lockhart hopes the on-demand program will lift the audiences' spirits as well as the musicians'. He said not being able to play together for more than six months has been existentially hard for career performers who've spent their lives on stage.
"It's kind of who you are. To take that away or to challenge it is really tough for all of us," he explained. "So what we hope with this is that people can at least get some sense of the energy – and what they would have received from us – if we were able to give it to them in person."
Their goal, Lockhart added, is to channel a feeling of comfort, celebration and community.
"Which is a very, very hard thing to make people feel these days when we're also so terribly separated," he said, "and I think we have a concert that does that."
Lockhart says he's been holding onto a vision of audiences everywhere standing with their loved ones – around their TVs or computers – singing along to the Holiday Pops with cups of eggnog in their hands.
This segment aired on December 10, 2020.