First Coronavirus Vaccines Arrive In Mass.
Play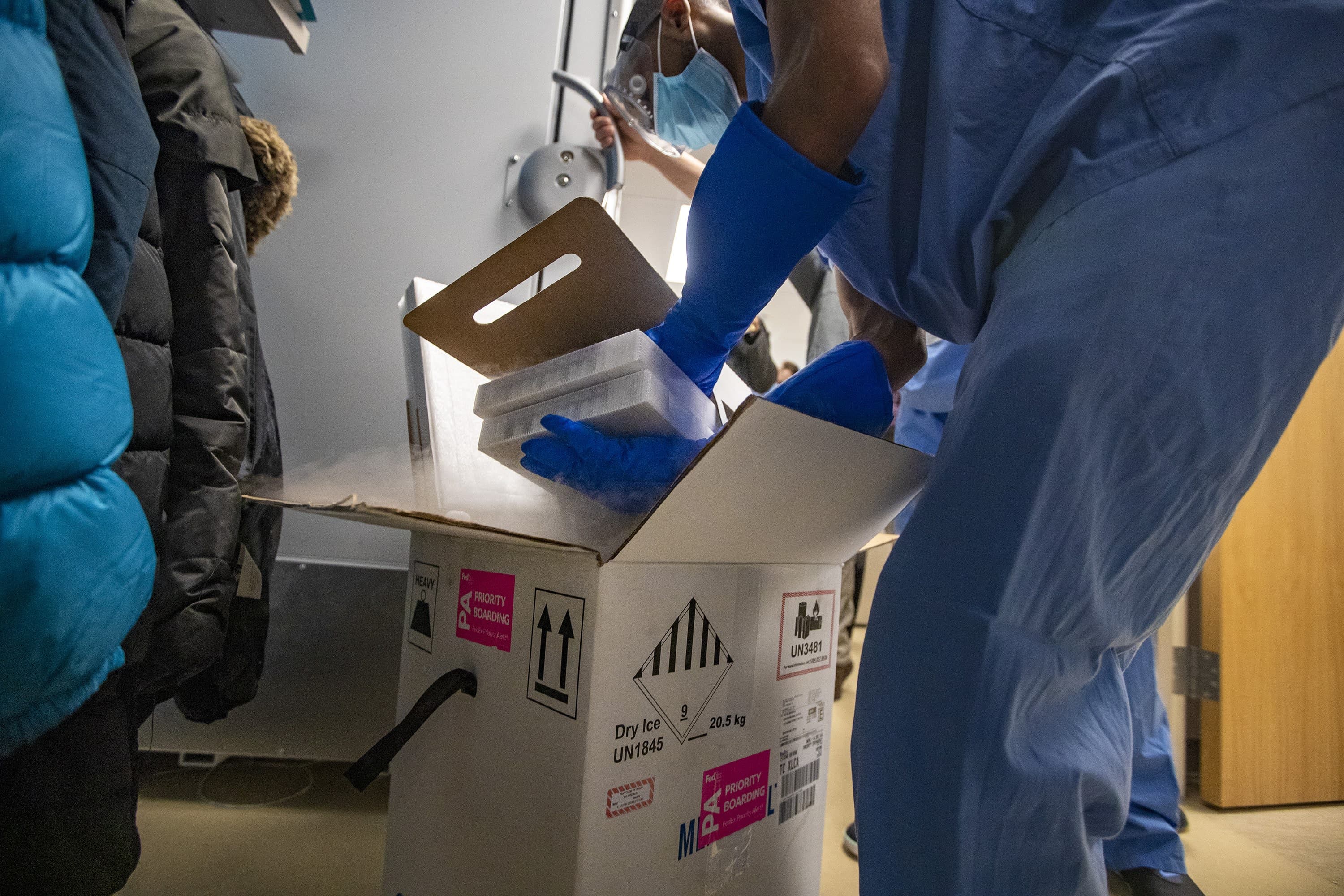 This article is more than 2 years old.
The box containing nearly 2,000 doses of a powdered vaccine that could reverse the course of the coronavirus pandemic arrived at the Boston Medical Center loading dock at 5:45 on Monday morning.
Over the weekend, the day and time of the first coronavirus vaccine deliveries to Massachusetts kept changing. As of late Sunday night, FedEx told the hospital to expect the historic arrival at 10:30 a.m. Monday. Good thing the warehouse supply manager, Victor Ruiz, was already on his way to work when the truck pulled into a hospital loading dock before sunrise.
Ruiz signed for the delivery, hoisted the roughly 35-pound box onto a cart and rolled it to an office, where he met the folks who run the pharmacy department. Two pharmacy technicians, Victor Mendoza and William Senior, kneeled to slice open the box. Wearing insulated gloves, they lifted out two trays about the size of small pizza boxes, and slid them into a freezer subcompartment.
"It went exactly as planned," said Senior with palpable relief.
Nine months after it became one of the first states to be hardest hit by COVID-19, Massachusetts has begun to receive doses of a newly authorized coronavirus vaccine from Pfizer that it is widely hoped will help end the pandemic.
The Baker administration says three other hospitals received shipments on Monday: Brockton Hospital, Cape Cod Hospital and Falmouth Hospital. Other area hospitals are also expecting deliveries early this week.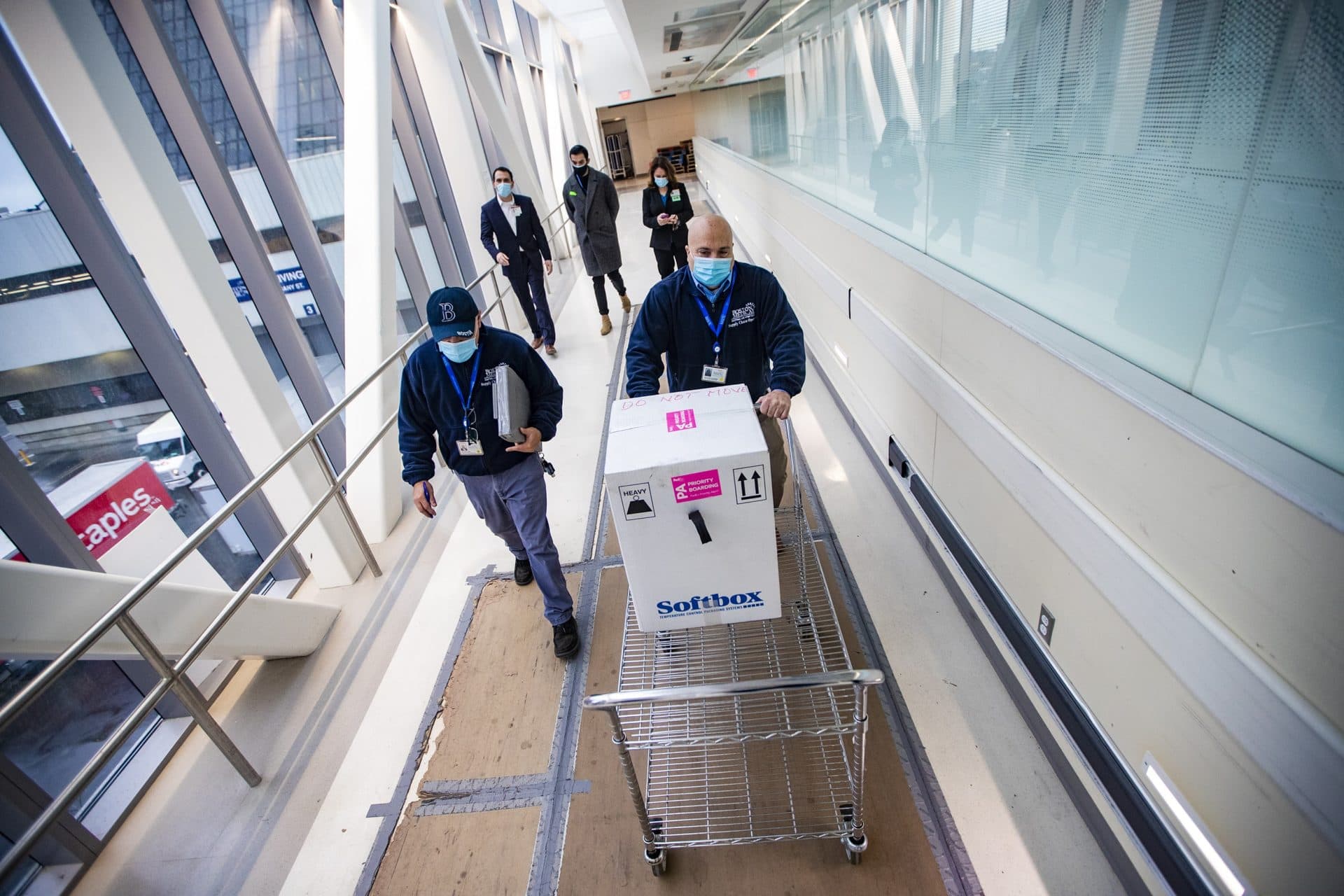 Hospital workers are among the first to receive shots of the vaccine, developed by Pfizer and BioNTech, which received an emergency use authorization from federal regulators on Friday. Those workers have expressed a range of emotions about being the first in line for the vaccine.
The state expects a total of 59,475 doses to arrive in Massachusetts sometime this week, at Boston Medical Center and 74 other hospitals. Another 40,000 doses will come in a second delivery to the state, earmarked for nursing home and assisted living residents and staff.
By the end of December, the state expects a total of some 300,000 doses.
At Boston Medical Center, staffers in the emergency room, ICUs and COVID patient units began receiving emails Monday asking them to sign up for vaccination appointments that start on Wednesday. The schedule will be staggered across departments, 300 employees a day, for the next few weeks.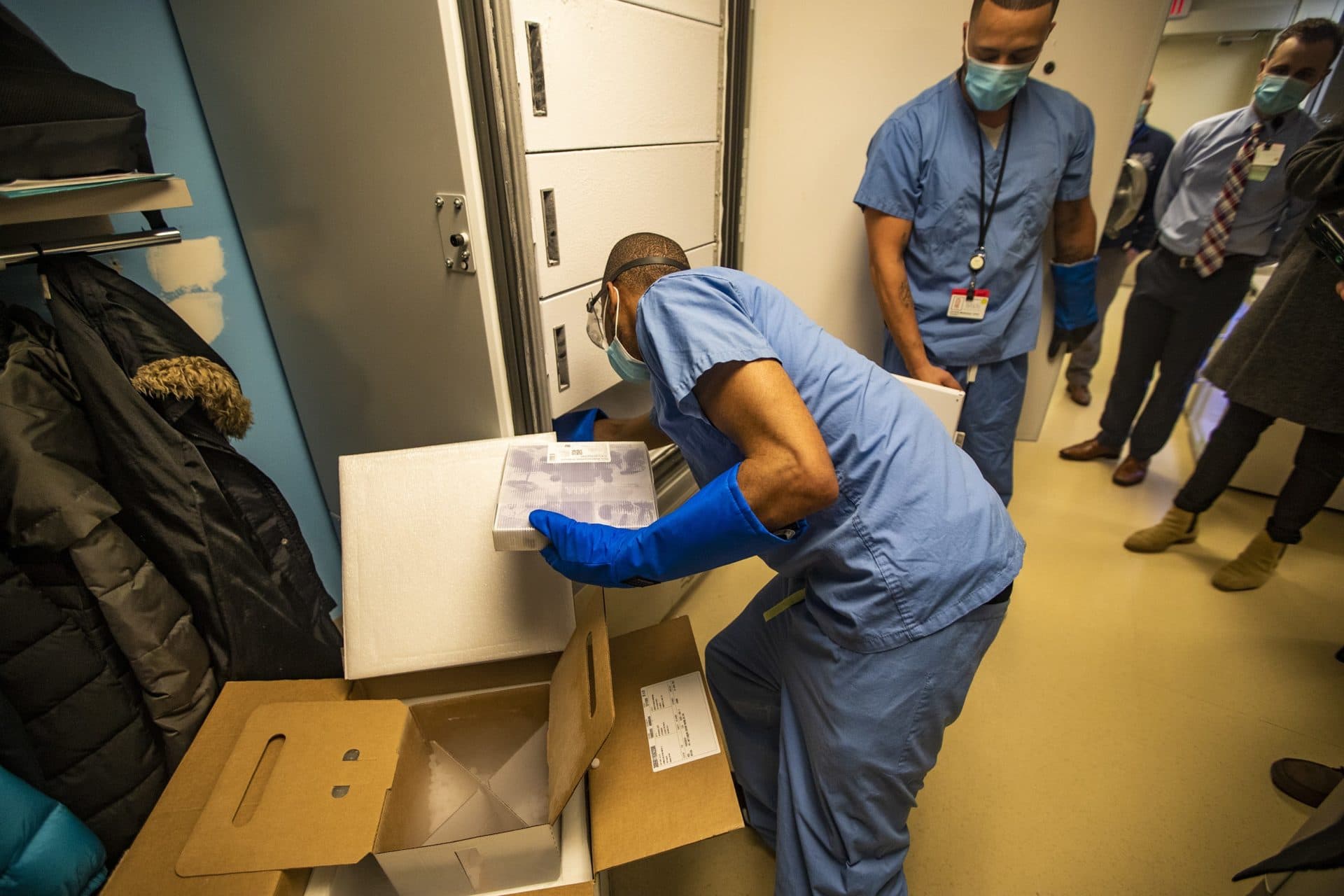 David Twitchell, the hospital's chief pharmacy officer, says those who deal with COVID patients daily are first. "For us, everyone is really in priority group one," he said. "To us, it's a difference of a week or two, because our next shipment we anticipate may be as soon as next week."
But this vaccine campaign will be more complicated than any BMC and other hospitals have carried out before. As the vaccination schedule fills up, for example, pharmacy techs will need to move the exact number of vials each day from the specialized freezer to a refrigerator.
"They can only really touch the vials for about three minutes and they have to be careful not to touch any they aren't taking out so they don't defrost," said associate pharmacy chief Joy Vreeland.
Each frozen vial contains enough powdered vaccine for five doses. Vreeland said BMC will keep careful track of what's defrosted, moved to the vaccination clinic and returned each day. The freezer is locked and access to the area is restricted. The hospital asked reporters not to reveal exactly where the vaccine is stored.
"There's a good amount of security, layers of keeping our vaccine safe," Vreeland said.
About 80% of staff who responded to a poll say they want the vaccine, according to the hospital.
Pharmacy technician William Senior is still a bit hesitant. "Only because it's the first batch, but I have more faith in it than I have doubt," he said.
And Victor Mendoza?
"I'm a little hesitant, I believe the timeline on it is a little historic," he said, "but I'm glad it was brought up quickly and we're excited to be part of history, so we're looking forward to it."
If all goes well, BMC expects to vaccinate 1,000 employees by the end of the day on Saturday.