'Definitely Brings Some Hope': A Snow Day In The Middle Of A Pandemic
Play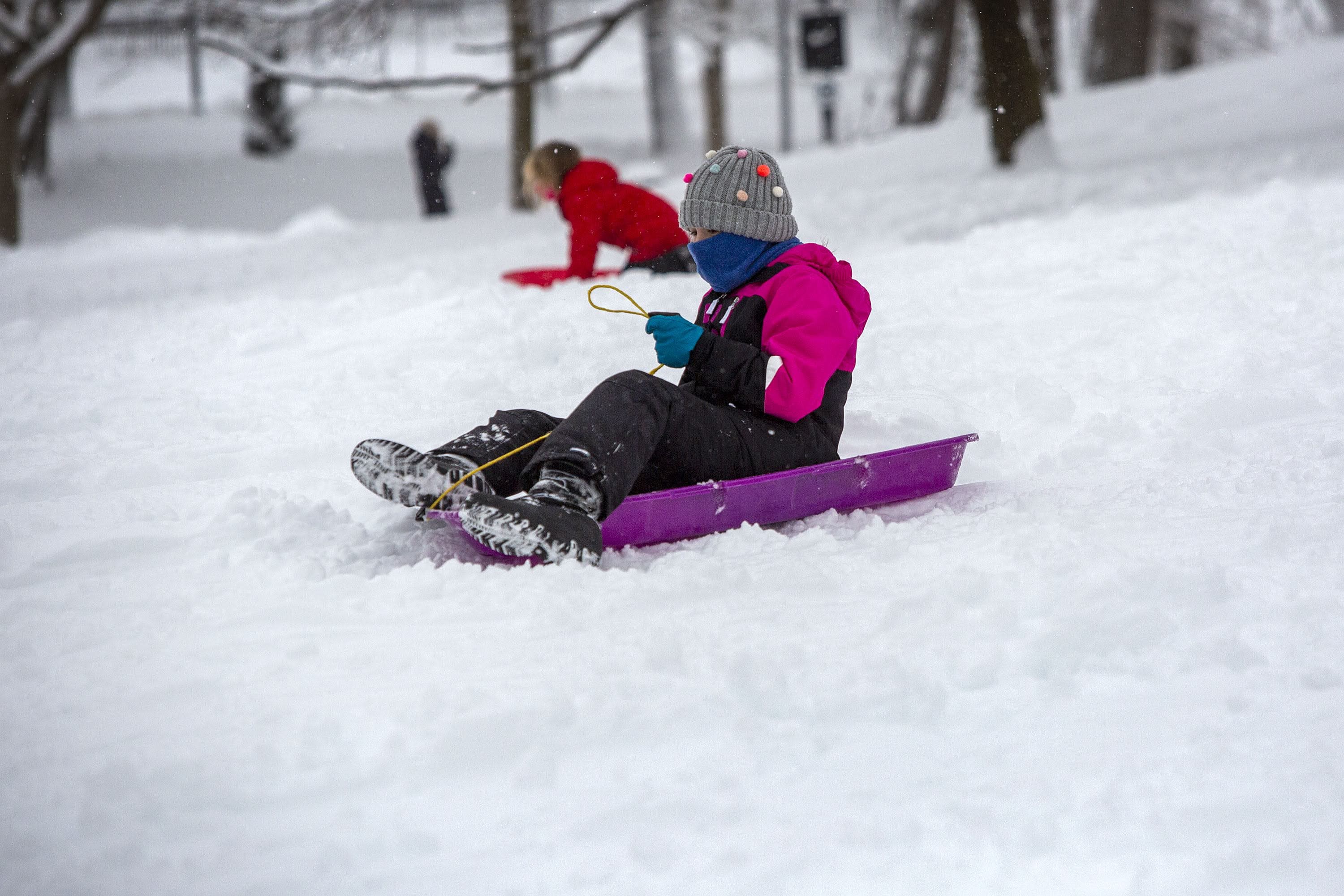 This article is more than 1 year old.
This morning, I ventured out to hunt for the proverbial ray of sunshine in the middle of a snow storm at the end of a tumultuous year. I was looking for a snowball fight or people sledding or doing anything fun. And in true 2020 fashion, it didn't come easy.
Sidewalks were stacked with at least 8 inches of snow. I had to call an Uber.
Manuel Medina picked me up. He was listening to Christmas music, occasionally singing along to "Rudolph the Red Nose Reindeer." He said it was a quiet day. I was his fifth passenger. As he drove us toward Ringer Park in Allston, we passed pedestrians who looked like they had the same dilemma I had: sidewalks packed with snow.
"Look at this guy in the middle of the road," Medina says.
"It's because the sidewalk's ... " I begin to say.
"Yeah, but it's very dangerous," he said. "You better use your brain."
Medina, who is originally from the Dominican Republic, has been in Boston for 35 years. He's used to the snow, but is still no fan of the weather.
"I like the snow in the mountains, not in the city," he says. "Not because I like to ski, but because I don't want to see the snow in the city."

When Medina drops me off at Ringer Park, I believe I've found a silver lining in the snow-covered landscape. A man with skis, sizing up a hill, walking up and skiing down, splashing in snow as he reached the bottom.
"It's hard because there's not a really good landing zone," says Clifton Allington, pointing out the landing zone in the park is a sidewalk. "That one was just there, so I'm just kind of figuring out how to do it. Most of the winters here in Boston have been very icy or rainy, so I appreciate seeing a lot of good snowpack. It's really fun."
Allington, who's originally from Colorado, was enjoying his day off from his graduate studies at MIT. Eventually, he had to give up finding the perfect hill to get to a Zoom meeting.
But a cute Corgi puppy named Henny (yes, a nod to the cognac), dashing through the snow in Ringer Park, had no obligations. His dad, Adrian Aleman, said the nor'easter was a glimmer of joy for his family.
"It got me in the Christmas spirit, definitely," Aleman says. "We baked some cookies last night, had some ice cream, watched some movies and stuff like that. Just nice and cozy. Definitely brings some hope."