As The Pandemic Amplifies Winter's Harshness, Artists Reflect On Loss And Depression
As autumn faded into winter, decay is settling in: the air gets colder, darkness envelops us and leaves fall to the ground revealing bare branches. The feelings of melancholy grow deeper and for many, seasonal depression sets in. New England winters are harsh, unrelenting and long. But there is beauty to be found. The season's stark nature fuels reflection and contemplation. With the COVID-19 pandemic amplifying the feelings of this time, artists and writers are finding creative ways to express their thoughts and emotions around loss, seasonal depression and coping.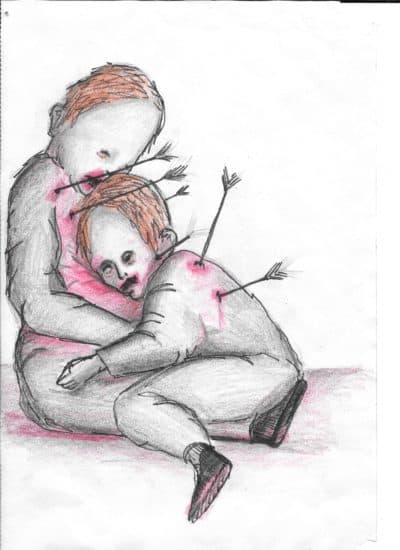 Painter and sculptor Brian Huntress' work revolves around those topics. "It started off as me just literally using art in almost a utilitarian way to try to process my feelings and to try to process my trauma. But these days, I have new ways of processing things better that I find more effective," they said. "My art that is about mental illness and trauma is mostly just me trying to improve my visual communication of that for others."
These themes manifest in their striking and heavy-handed paintings that incorporate mediums like oil and acrylic paints, enamel spray paints, watercolor, graphite, charcoal and anything that can make a mark. Similarly, their sculptures feature deformed figures made of self-hardening clay, brought to life by wire, paper and construction equipment like spackle and paint. Their work frequently features tortured subjects rendered in a decaying, ruined and weathered aesthetic. "As far as more visceral or metaphorical motifs, I use decay, death and generally just kind of exploring the ephemeral nature of our lives, our beliefs, our feelings and ourselves."
Early next year, Huntress is releasing a series of 10-15 cemetery-inspired paintings and cherub sculptures, reflecting on how winter interacts with visual memorials, pointing to how the snow and bitter cold decimate headstones made out of slate and quartz, materials more fragile than granite, steel and zinc. "I try to kind of pay homage to the decay we see in our New England graveyards, specifically the quartz graves and the way they're just completely white and soft and illegible and falling apart," Huntress said.
The works also explore grief and how people reconcile with death. "A lot of us in New England have lost people from the opioid epidemic. It's kind of just exploring those feelings, usually through morbid imagery, but trying to see those things in a more beautiful way and not just scary or macabre," they said.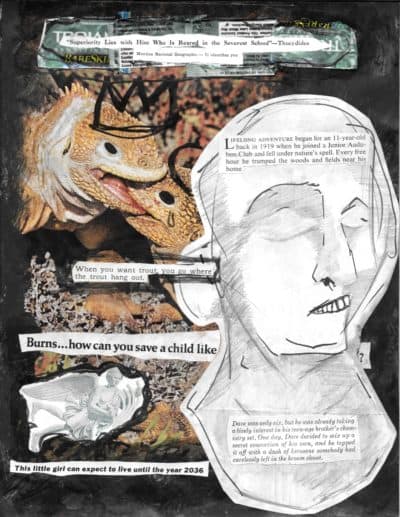 Huntress also pulls on their own feelings of loss in their cherub sculptures. "For me and my family growing up, there were cherub sculptures all around my home. The way I see [cherubs] is that they're little mementos of the dead or of someone we've lost or of a guardian angel," they said. "I think about [Sudden Infant Death Syndrome] a lot when I'm making them as well...which my older brother passed away from before I was born...I'm exploring my own feelings about that through the cherub pieces. But I'm also just trying to kind of capture the kind of horror and disbelief we feel and losing somebody that important to us and that suddenly."
The artist also learns how to let go in "The Letter Project," a book of drawings co-written by mixed media artist Theodora Earthwurms that the pair worked on during the COVID-19 pandemic lockdown in April. They created five drawings each, 10 in total, and exchanged the drawings in the mail. Upon receiving the drawings, they would scan them, alter the drawings and draw over each other's work, scan them again, and send them back to each other until the layers formed thick pieces of paper. "There wasn't really any sentimentality with the images as we received them. We would just dig right into them and just completely change them," Huntress said of the process.
They exchanged the drawings multiple times until they generated over 80 pieces of art and writing in the form of collage, ink illustrations, paintings and writing. The drawings functioned as a time capsule of a tumultuous and uncertain point in time. "A lot of it is about intimacy, loneliness and reconciling with the looming serious threat on ourselves and our community and our country...and also reconciling with all the s--- going on in our own lives simultaneously," Huntress said.
Much like Huntress and Earthwurms' work with "The Letter Project," illustrator and copywriter Clare Fuller is using this time of uncertainty to connect with others. Fuller has been providing a platform for people to submit art and writing about the pandemic and publishing these works in Saving Daylight Zine. The first issue was printed in Feb. 2020, incorporating poetry, visual art, fiction, comics and memoirs about seasonal depression and mental health. The zine was born out of conversations Fuller had about how changing seasons affects mental well-being.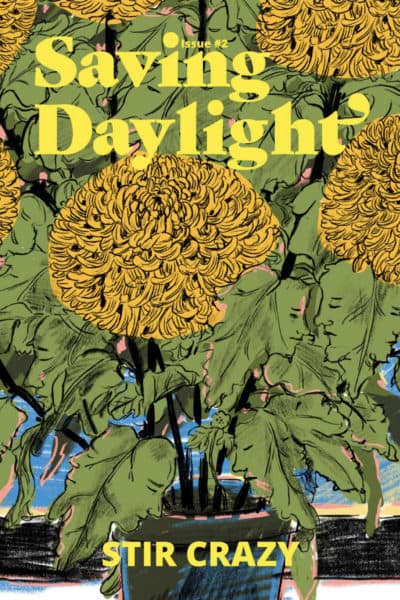 "There is this really unifying theme of even if you're not in the coldest weather ever, humanity kind of goes through this natural mood cycle throughout the year. I think [winter] affects your day-to-day more than you expect it to," Fuller said. "Growing up in Phoenix [it was] very, very mild...I think back on the blizzard that happened five years ago that totally shut the city down or these big climate crises that have been happening with extreme weather...Everyone bands together over here on this side of the country to fight the elements in this really tough Bostonian way that I think other parts of the country honestly don't."
The pandemic will exacerbate the toughest parts of winter, something the second issue of Fuller's zine, with the theme "Stir Crazy," touches on. "I wanted to tap into this unifying thing of people being stuck indoors and having to be a little more reflective than they normally would, which is the winter isolation experience magnified times 10." So far, submissions span a wide range of topics: dealing with isolation, grappling with grief and people's relationships with themselves changing, to name a few. (Pre-sale orders of the zine start Jan. 15.)
Fuller said she is encouraged by people opening up their emotions, thoughts and struggles in their submissions. "It's almost like people are better at expressing their negative emotions than they used to because I think with COVID, there's been this pulling back of the curtain about the fact that everyone has screwed up emotions," she said. "It's giving people permission to be a little more sharp and specific about the dark things they're going through."
With winter in full swing, Fuller hopes people who read the zine feel less alone during a year of loneliness. "I hope that they can kind of see it as a time capsule for a really particular period of time in global history, the different ways people coped with it, the ways we may not have coped with it super well...I think with any piece of art you want people to connect to it and know that they're not alone."