'Stop Being Silent': On MLK Day, Boston Rallies Call For Racial Justice And Police Accountability
At two rallies in Boston Monday, local activists called for action — not just words — to combat white supremacy and honor Martin Luther King Jr.
"This is a time when you are either a part of this movement or you are against this movement," organizer Monica Cannon-Grant told the crowd gathered at Madison Park High School. "But what we can't have is neutrality. And this thought of unity, please stop asking us to unify with people who would kill us dead."
Jared Hicks, of Dorchester, said after the event that it's long past time for change in this country.
"I just want freedom," he said. "I want us to get free. I want collective liberation, reparations. I want a lot of change in this country. And that's what Dr. King was really about."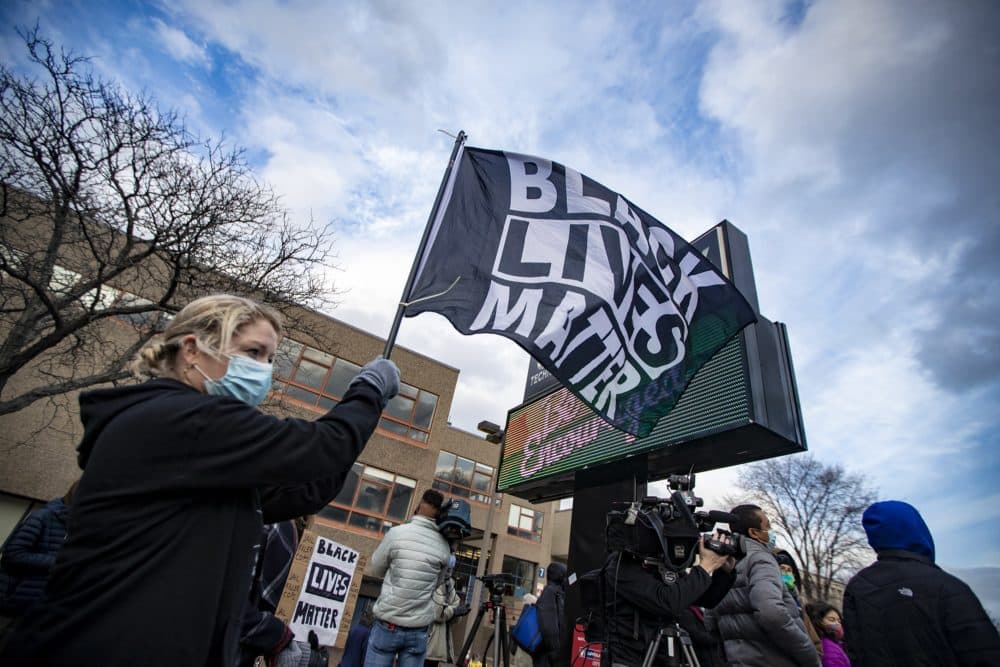 Earlier in the afternoon, the group Mass. Action Against Police Brutality held a separate rally and march beginning in Grove Hall. Participants called for the reopening of all local police brutality and police shooting cases.
Among those who spoke were Carla Sheffield, mother of Burrell Ramsey-White, who was shot and killed by Boston police in the South End in 2012, and Jennifer Root Bannon, whose brother Juston Root was shot 31 times by Boston police officers and a state trooper last year.
Officers in both shootings were cleared of any criminal wrongdoing by district attorneys' offices.
Sheffield told the crowd they can't be quiet, and have to run for public office.
"To my white counterparts, my white friends, you keep asking what can you do — open your mouth," she said. "Stop being silent."
Tensions this weekend, just a few days before President-elect Joe Biden's inauguration Wednesday, have run high all over the country. While threats of storming state Legislatures across the U.S. this weekend mostly proved to be overblown, authorities remain on high alert.
On Sunday, the Boston Police Department closed streets around the Massachusetts State House in the morning and reopened them in the afternoon without specifying if their actions were prompted by threats. Sunrise Boston, an environmental advocacy group, canceled a planned rally at the State House Sunday due to "possible unsafe happenings," according to a statement from the group.
Cannon-Grant announced Monday morning the event she organized would stay at the high school and become a rally instead of a march to the State House, "due to intel we have been gathering all week," she said on Twitter.
"I do not want my people harmed by law enforcement and/or white supremacists," she wrote.