Judge Dismisses Bulk Of Discrimination Lawsuit Led By Cambridge Whole Foods Employees
This article is more than 2 years old.
A federal trial judge last week dismissed the bulk of a discrimination lawsuit filed by former workers at the Whole Foods Market on Rivers Street in Cambridge.
The suit, brought last summer, alleged the Amazon-owned company illegally barred employees from wearing protective masks that read "Black Lives Matter" (BLM) during their shifts.
The dispute that led to the lawsuit began days after the Minneapolis police killing of George Floyd sparked protests for racial justice across the country and around Greater Boston. Whole Foods said the BLM masks violated company dress code, and when some employees continued to wear them, management sent them home without pay.
The plaintiffs argued Whole Foods' dress code was selectively enforced, and that employees had previously worn clothing with sports team logos, political messages and LGBTQ+ pride flags without facing discipline. As such, they argued, the company violated Title VII of the Civil Rights Act of 1964, which prohibits employers from discriminating against people because of race.
However, Boston federal court Judge Allison Burroughs issued a written opinion Friday that said there wasn't sufficient evidence that Whole Foods managers discriminated against employees based on race.
"At worst," the judge wrote "they were selectively enforcing a dress code to suppress certain speech in the workplace. However unappealing that might be, it is not conduct made unlawful by Title VII."
"At heart, this is a First Amendment claim that Plaintiffs are trying to shoehorn into Title VII in recognition of the fact that there is no right to free speech in a private workplace," she added.

Burroughs further stated that while Title VII prohibits racial discrimination, "it does not protect one's right to associate with a given social cause, even a race-related one, in the workplace."
The plaintiffs' attorney, Shannon Liss-Riordan, told WBUR that the decision takes an "overly-narrow" view of the law. "Unfortunately, I think the judge just got it wrong," she said.
"We believe she's wrong because the employees were advocating for their Black coworkers,"Liss-Riordan explained. "That's protected activity in the workplace, and that's a violation of Title VII to take action against them for advocating for their Black coworkers."
Liss-Riordan said her clients may file an appeal.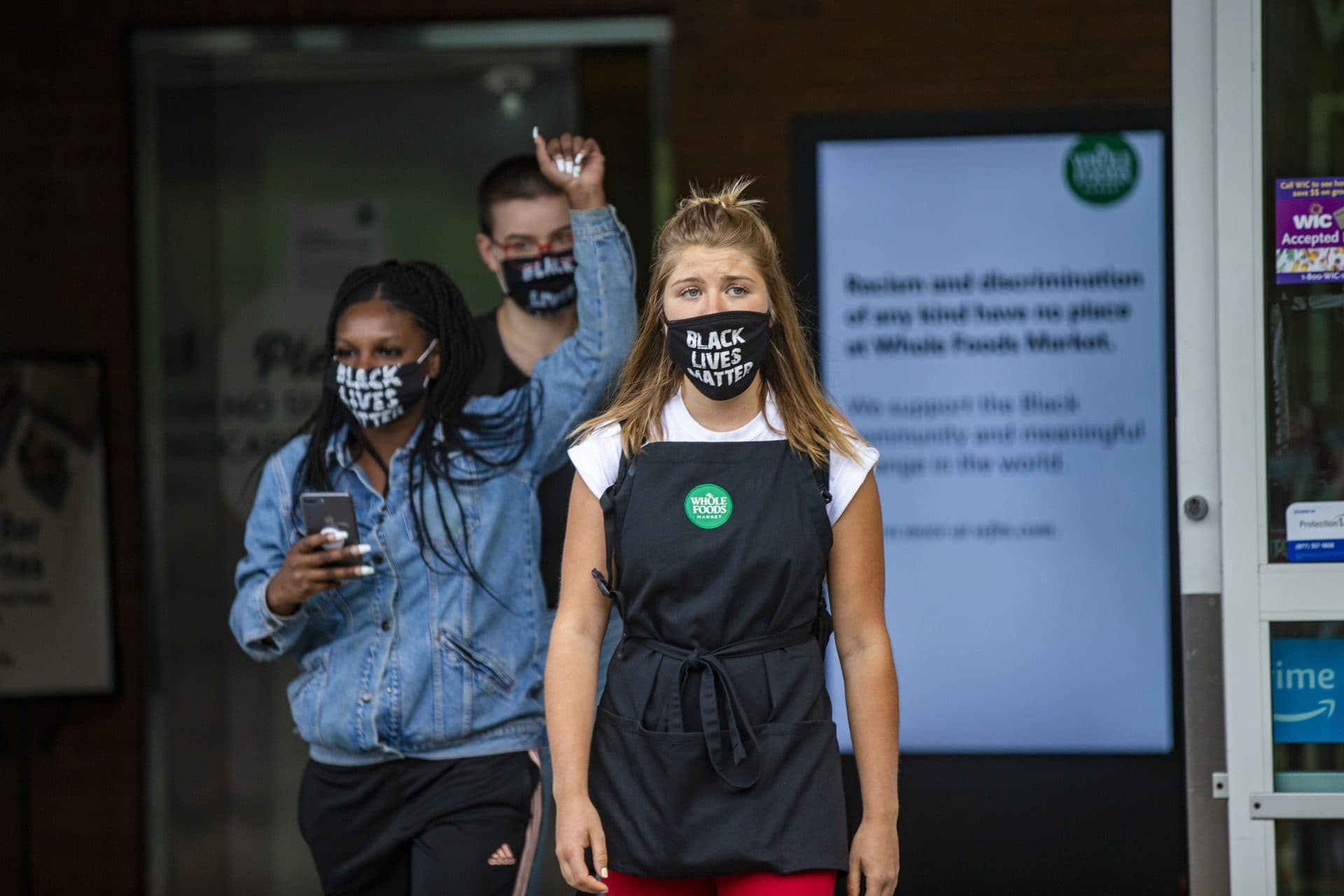 While Burroughs dismissed nearly all of the plaintiffs' claims, she did allow a single claim by Savannah Kinzer to proceed.
Kinzer alleges that Whole Foods fired her last summer in retaliation for leading employee protests in favor of allowing workers to wear Black Lives Matter masks, and later filing a complaint against the company with U.S. Equal Employment Opportunity Commission and the National Labor Relations Board.
Give the sequence of events, the judge held that Kinzer had stated a plausible claim that her actions were the basis for her termination.