Listen: Sonni Mai Is In Her Own Orbit On 'To The Sun & Back'
When she started singing as a young girl, Chelsea native Wendy Chung didn't realize she'd one day fulfill a dream of her mother's. Chung, who moonlights as R&B songstress Sonni Mai, remembers stories of her mother, standing in front of a record store in Vietnam, before the family moved to the United States. "She would stand outside, wishing that one day that would be her, on TV or on an album cover, singing," says Mai. "And here I am, her youngest daughter, doing just that."
Mai is most definitely a singer, though there were times in her past that she doubted her talent. "To The Sun & Back" is her newest project, an EP that sonically testifies to the growing pains of being an artist that dropped Feb. 12. Mai got a full ride to attend Berklee College of Music and continued creating once she graduated in 2016. But that year was a rough one; Mai found herself crawling out of a toxic relationship. "I felt like I was starting over and I was learning about myself," she recalls with a laugh. "I felt like I completely lost myself."
The support Mai received during that time from her older sister was critical. "She used to say, 'I love you to the moon and back.' And I started thinking, we use that phrase so often to describe how much we love other people. But how much do I love myself?"
The sun, not the moon, was a more apt planetary metaphor for the personal transformation Mai was undergoing — as an artist, a woman of color and as the daughter of Vietnamese immigrants. "The sun, not the moon, is the center of our galaxy," she explains. "The sun should be me. The love that you have for yourself has to be greater than anything on this planet."
And so the title of her newest EP, "To The Sun & Back" was born. In the years after the end of her relationship,  she endured the highs and the lows of self discovery. "I'm still healing, from a lot of different things," she admits. "But I've gotten to a place where I'm happy. Working on this EP really forced me to grow."
"To The Sun & Back" charts Sonni Mai's course as she navigates the troubled waters of piecing herself back together again. The five-track EP is soft and vulnerable but is significantly less acoustic-driven than her previous project, "Half & Half." "This project gives off more earthy sounds, more lo-fi vibes," Mai says. "It really describes who I am as an artist."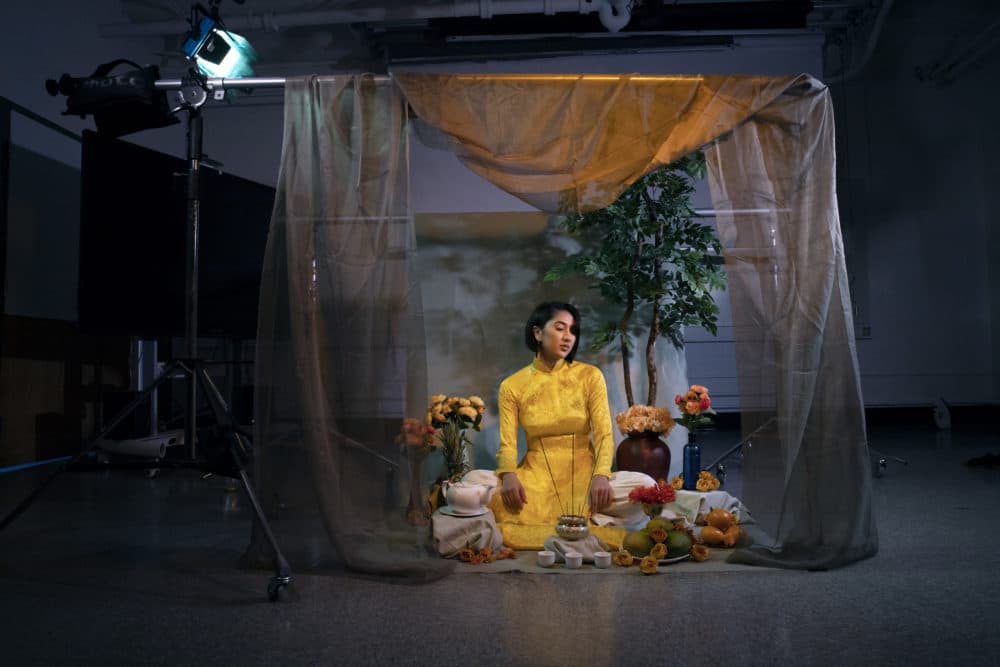 Vibrating synths and the hypnotic layering of Mai's supple vocals paint a sonic landscape resembling the production work of Nujabes or Knxwledge. "To The Sun & Back" kicks off with a premonitory track, "Where I Used To Be." Mai breathes over the staccato of a singular drum, "The seasons changed/ Now you don't want to stay here... I'm not where I used to be anymore."
"Home (Passing Trees)" digs the deepest into the dark well of despair Mai climbed out of after her relationship. It's the last track on the EP but it was the first she wrote after her break up. "It's been a really long week without you," she croons longingly over an acoustic guitar and the kick of a bass. "I'm a little faded/ The only way I'll make it/ Out on my own/ I'll find my way back home."
Indeed, Mai has found her way back home. "To The Sun & Back" is a testament to that journey, a journey that started with her mother, standing in front of a record store, wishing she would one day be a singer. Now Mai is in an orbit all of her own, finally the center of the love in her universe. "It took me a long time to finish this EP," she says. "But making it really helped me find myself, as a person and an artist."
---
Sonni Mai opens Joy Ruckus Club's Virtual Lunar New Year Festival on Feb. 18.