Watch: Billy Wylder Explores The 'Duality Of Humanity' In New Music Video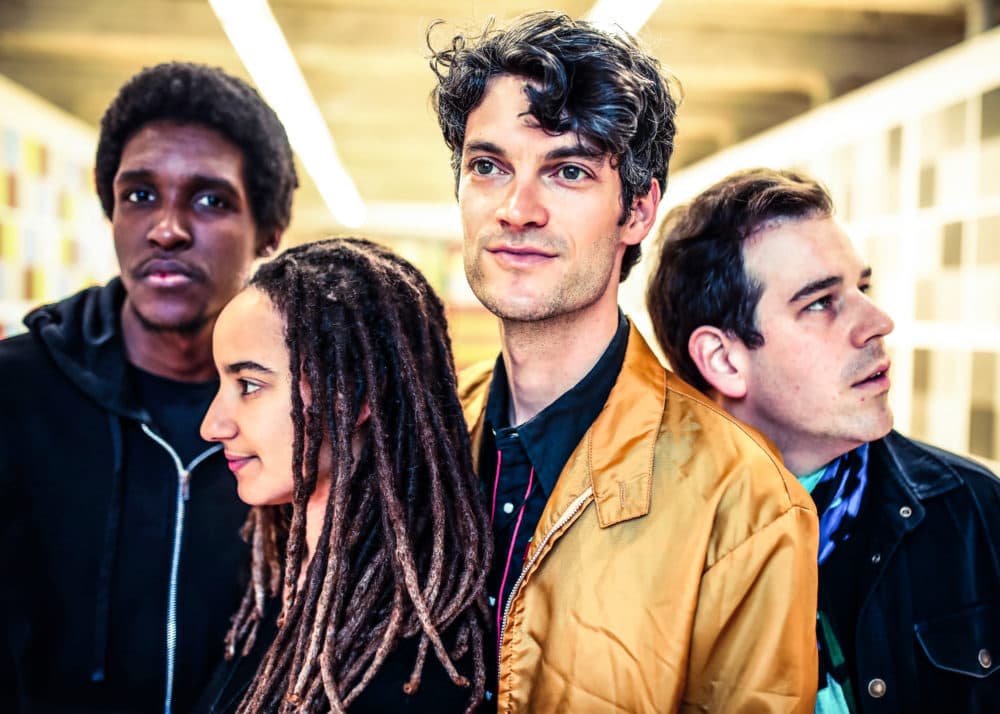 This article is more than 1 year old.
This is an exclusive music video premiere, part of The ARTery's effort to highlight ascending New England musicians.
---
---
The lyrics to "Santiago," by the Boston band Billy Wylder, came to frontman Avi Salloway in a stream of consciousness, and the music video unfurls the same way. We open on a troubadour (Salloway) in a purple blazer, alone on a darkened stage. Dancers, draped in shimmery tulle, writhe on a hardwood floor. Eventually they all find their way outside, next to a bonfire. A man with a drum strapped to his chest marches past; a trio of women lift lanterns in the gathering gloom. "La da da da," Salloway sings, his head wreathed in smoke, and the marchers sing along.
It all has the feel of a ritual, or a dream. Salloway's voice is mixed with heavy reverb, and the loping guitar riff upon which the song is built evokes Tom Waits at his spookiest. The percussion builds deliberately, ominously. As Salloway sings, images flicker past: a brass band, a white house, the devil.
The song's title is drawn from a line in the first verse: "It's Sunday in Santiago/ And the beat is real loud." Salloway wrote "Santiago" about a year ago, when Chile's capital city was in the throes of a working class revolution. "I think that was just in the periphery of my consciousness when I started to [write]," he says.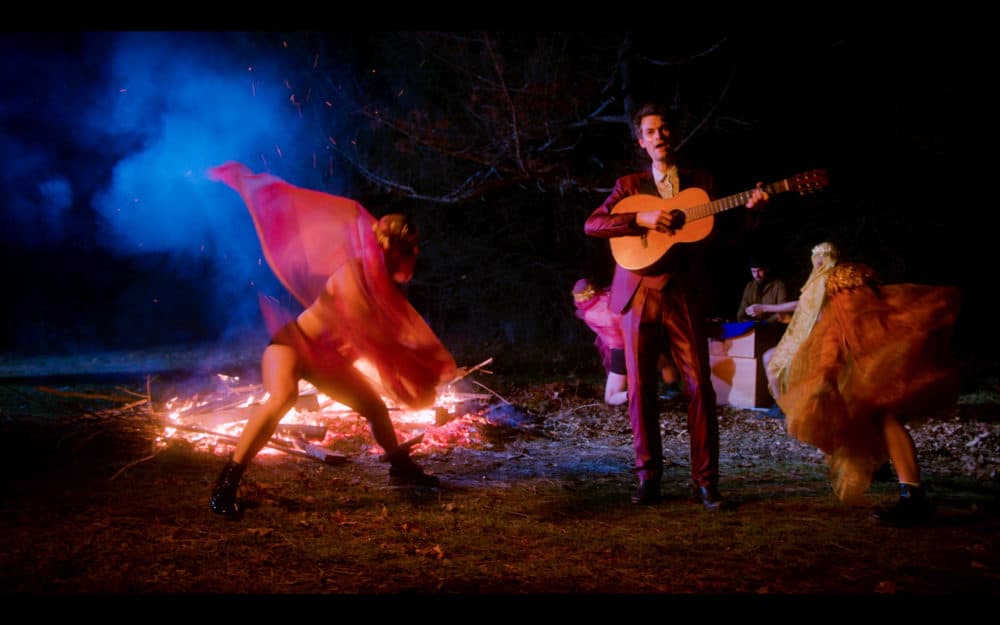 This image — of mass unity as an expression of civil discord — neatly encapsulates what "Santiago" is all about. "We're in such a polarized world," Salloway says. "But we're actually closer together than we realize." He points to the final verses, where the song's narrator meets the devil in a dream and invites him to join in song. "We're all human beings born into history that we didn't create," Salloway says. "So, it's not giving us an excuse, but we are all born into these frames and these systems that may or may not suit us." The song, he explains, is about "seeing the darkness within each of us and then [asking] 'How do we shed that?'"
"Santiago" is the second single off of Billy Wylder's forthcoming EP "Whatcha Looking For." For the music video, Salloway had the idea of modern dancers expressing "the duality and contrast of humanity" through disparate movements. He recruited four local dancers and tapped Boston cinematographer Daymian Mejia to shoot and edit. The video was filmed in the stark New England winter on a farm in Wrentham, Massachusetts.
There were, of course, the inevitable complications that arise from filming during a pandemic, but Salloway believes it was worthwhile. "We're all faced with this isolation and great despair right now," he says. "And that is really fueling my urgency to create art and music, and share that with people."
---
Billy Wylder's EP, "Whatcha Looking For," will drop April 9.