Increasing Calls For An Investigation Into Fatal Police Shooting of Juston Root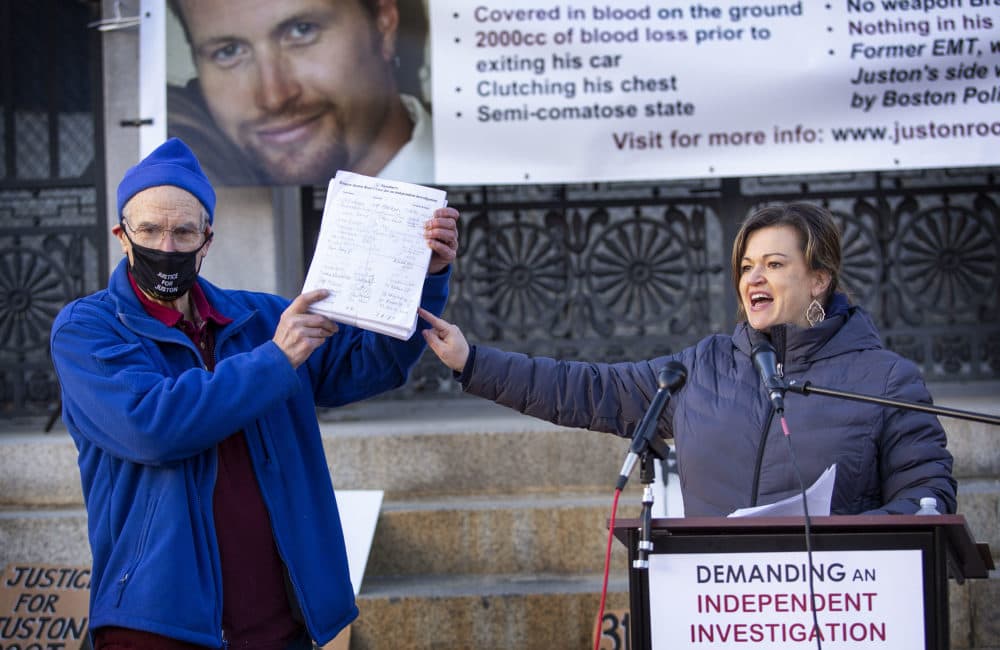 This article is more than 1 year old.
Jennifer Root Bannon never thought she'd become an activist.
But after her brother, 41-year-old Juston Root, was fatally shot by police in Brookline last year, she's now devoting much of her time to try to change the way police misconduct is investigated.
"Until now, I had no idea that police investigated themselves," Root Bannon said. "Every time we hear another story of an interaction with police killing someone, it seems that no one is being held accountable and we can't really change anything until someone is held accountable."
Root-Bannon joined other Root family members and activists marching from the State House to state Attorney General Maura Healey's office Friday afternoon to deliver a petition with more than 11,000 signatures calling for an independent investigation into Juston Root's killing.
According to the petition, Root was meeting with his therapist on February 7, 2020 while suffering from a mental health episode. Police were called amid reports that Root appeared to have a gun. When police responded, they shot Root and a hospital valet. Root made it to his car and police chased him for a few miles until he crashed near a Brookline shopping center. He staggered from his car and fell to the ground on the side of the road.  Six police officers eventually shot him more than 30 times at close range. Police later found a paintball gun.
"I'm concerned that the initial interaction with police happened between two mental health facilities," Root Bannon said. "It is well known that patients who struggle with mental illness are walking around there. For police not to be cognizant of that is very concerning to me."
The Norfolk County District Attorney Michael Morrissey's office investigated and ruled that the shooting was justified because Root had what appeared to be a gun and pointed it at officers. The petition takes issue with the DA's report for not including statements from a former EMT who saw Root struggling on the side of the road and tried to help until officers told her to move away shortly before they shot Root.
"If there's a person who was next to Juston and she wasn't afraid because he was in such bad shape, then I don't understand the disconnect," Root Bannon said. " Why couldn't they have just apprehended him? The idea that they were in fear of their lives is inconceivable to me."
Morrissey's office has said it stands by the report exonerating the officers. Video footage and police body camera footage released after Morrissey's report was issued largely follows the series of events outlined in the Root family's federal wrongful death suit, which is pending. The footage of what Root was doing right before he was fatally shot is largely obscured. After the shooting, the footage shows officers at the scene warning each other about the recording and referring to the incident as "suicide by cop."
Attorney General Healey said her office will review the petition. Regardless, Root Bannon says her work will continue to try to change the way police lethal use of force incidents, especially those involving people with mental illness, are investigated.
"That's going to be my my life's mission," Root Bannon said. " I'm going to stay on it. And this is the only way I can feel good out of this whole tragedy. This is what fuels me and this is what my brother would want."