Activists Gather In Boston, Demand Further Police Accountability After Chauvin Verdict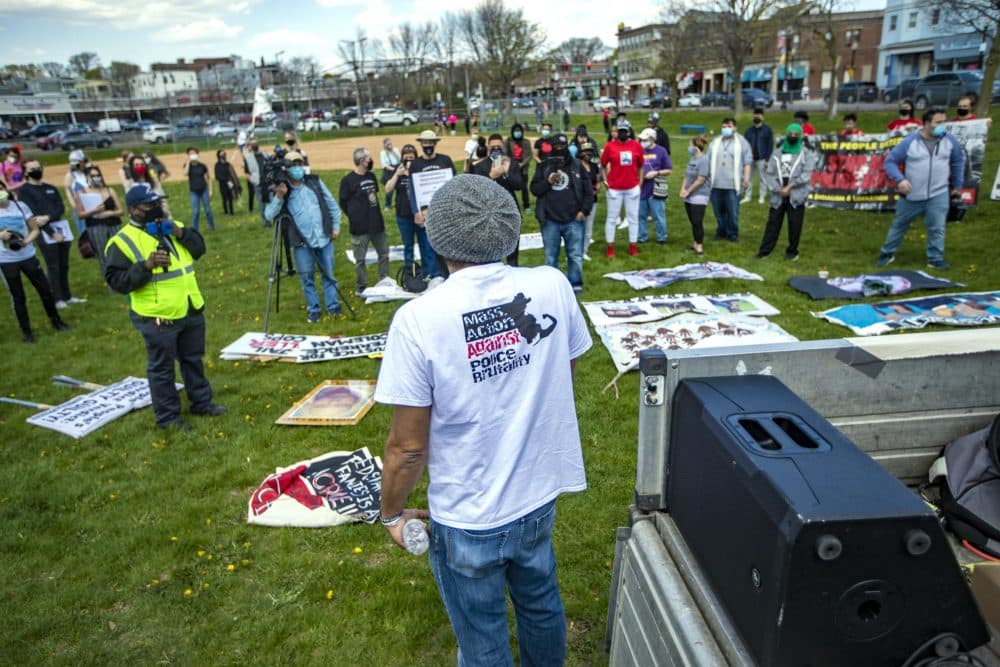 This article is more than 1 year old.
A small crowd of demonstrators gathered in Dorchester to reiterate calls for justice for survivors and families of police violence Saturday, just days after a jury's conviction of a former officer in one of the most high-profile murder trials in recent memory.
The event, hosted by the prominent local activist group, Mass Action Against Police Brutality, drew a few dozen protesters to Doherty Playground in Fields Corner. It began at around 1 p.m.
The demonstration was one of several organized efforts across the U.S., in places like Chicago, Atlanta, Minneapolis and elsewhere, that sought to rally people for law enforcement reforms four days after a jury found former Minneapolis officer Derek Chauvin guilty of all charges in the murder of George Floyd.
The murder of Floyd, a Black man who died after Chauvin kneeled on his neck for more than nine minutes in May of 2020, sparked nationwide protests and outrage last year over police killings of Black people.
At Saturday's rally, Mass Action for Police Brutality leader Brock Satter addressed the crowd and members of the media, explaining that the rally isn't just about marking Chauvin's conviction, but expressing that "it's not just one case, one police officer, one bad apple, it's the whole system."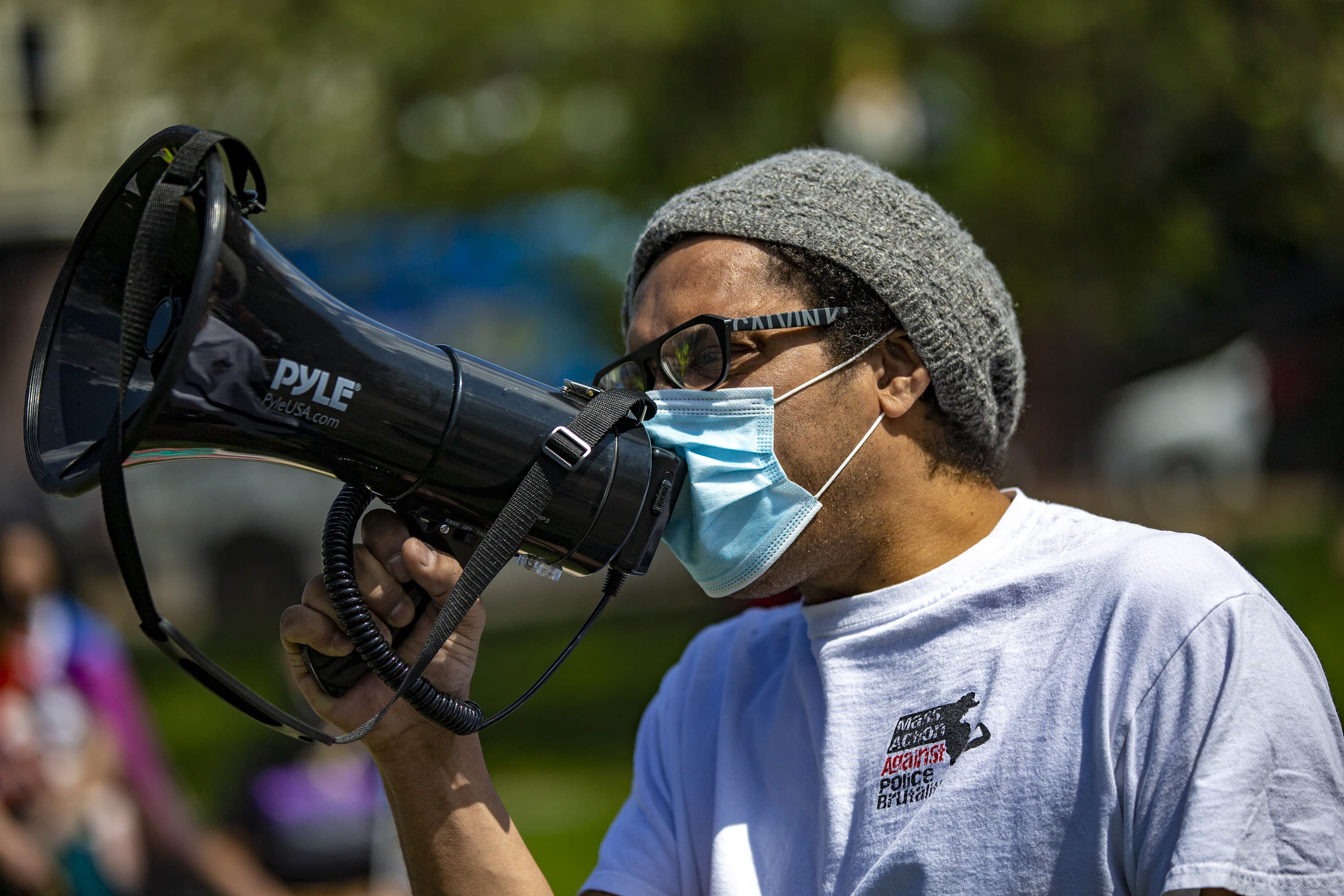 "There's thousands of cases that haven't been prosecuted. Cops like Chauvin that are still on the force that have to be addressed, and especially the families and communities across the country that are going through the same thing that the Floyd family is going through, that are demanding justice," he said. "And the central issues are prosecution of the police and reopening of all past cases of police brutality."
Following the Chauvin's guilty verdict Tuesday, Gov. Charlie Baker activated the National Guard. His order made up to 1,000 National Guard members available in case local law enforcement or city officials requested them.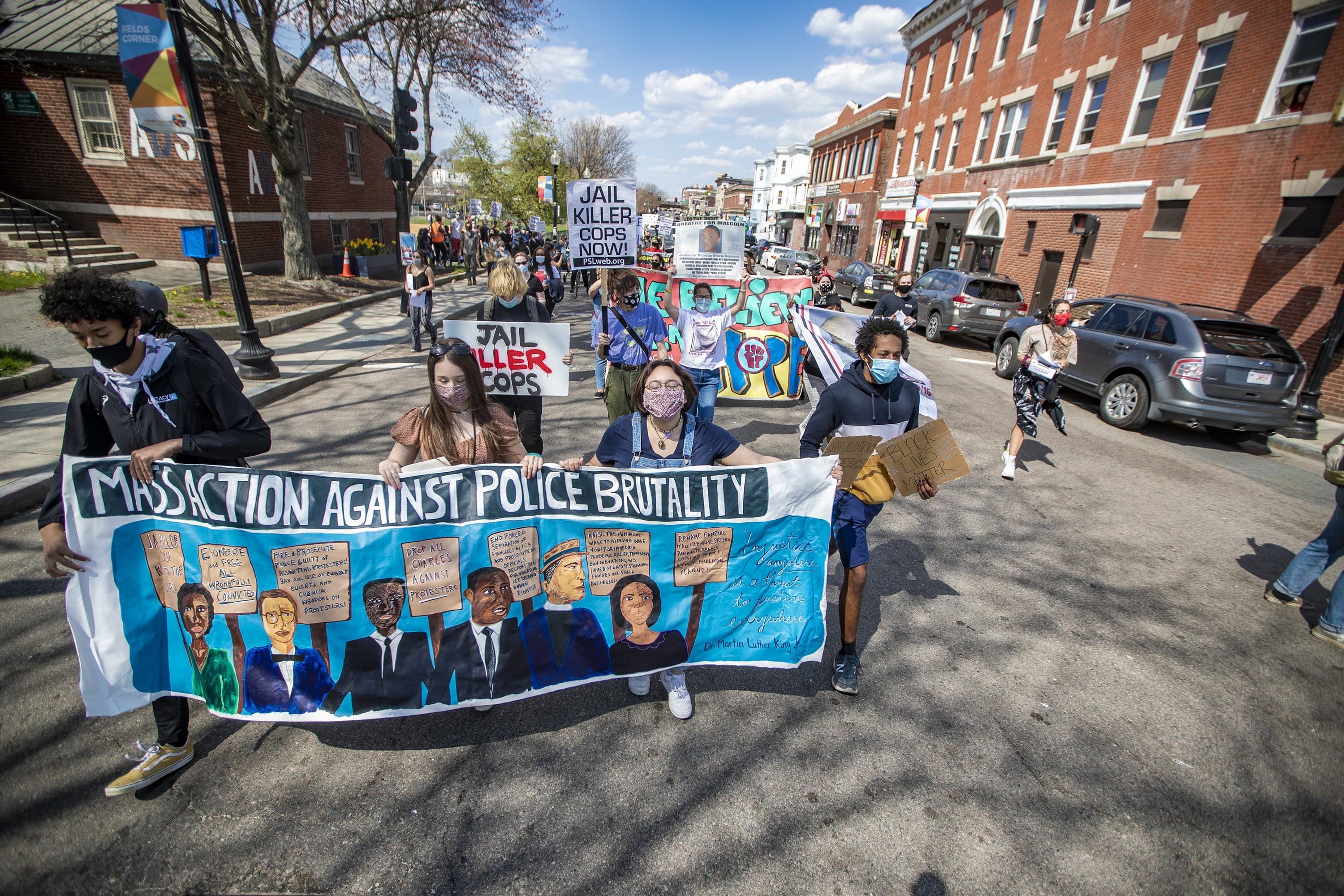 On Wednesday, three separate groups in Boston held small events to mark the long-awaited verdict and continue their calls for police accountability. People connected to Mass Action for Police Brutality delivered speeches to a small crowd through heavy downpours at the State House. The group, Violence in Boston, gathered about 100 demonstrators in Nubian Square Wednesday evening who later marched to Boston police headquarters.
"The fact is that whether if it's in the news or not, there is a growing movement —especially among the [affected] families," said Satter, "that is becoming more and more organized and determined."
With reporting from WBUR's Quincy Walters, Laney Ruckstuhl and Lisa Creamer