Boston Activists And Community Members Hope Chauvin Guilty Verdict Signals More Justice To Come
Resume
As the guilty verdicts against former Minneapolis police officer Derek Chauvin for the murder of George Floyd came down Tuesday, activists, organizers and politicians in Boston celebrated it as a step toward justice — while emphasizing that there was more work to be done.
"Hopefully it opens the door toward more prosecutions," said Brock Satter, a member of Mass. Action Against Police Brutality. The organization calls for the prosecution of police officers who kill people, and the reopening of past cases of police violence.
Satter called the verdict a victory for the broader protest movement against police brutality, and pointed toward the swift arrest of Kim Potter, the now former officer in suburban Minnesota charged with manslaughter last week after she shot and killed Daunte Wright during a traffic stop.
"There's a sense that they don't want to see those 30 million people out on the streets," Satter said, referencing the mass movement sparked by the death of George Floyd last May.
Community activist Monica Cannon-Grant said she wept in her car when she heard the verdict. She's the mother of three Black boys, with a fourth on the way.
"That fear that you carry every time one of them leaves the house, to see justice happen for the Floyd family brings you to tears," she said. "Finally, finally, they can have some justice and that [officer] badge doesn't supersede justice in this country."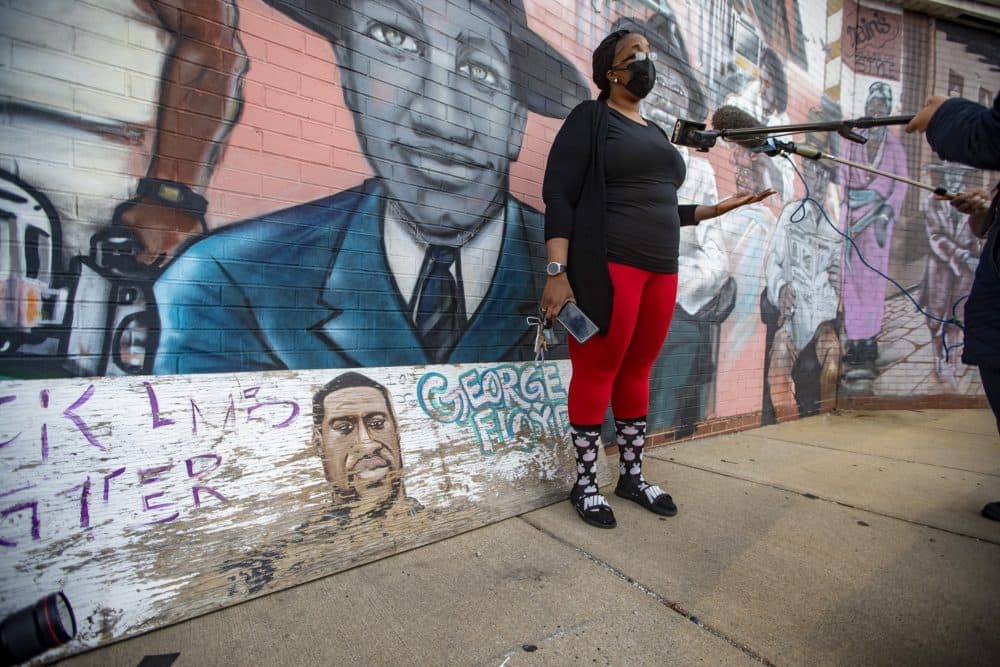 Cannon-Grant is planning a demonstration Wednesday night in Nubian Square, to remind people of the work that still needs to be done locally. Mass. Action Against Police Brutality is also holding a demonstration Wednesday evening.
"There are so many families that didn't get the justice the Floyd family got," Cannon-Grant said.
Acting Mayor Kim Janey, the first person of color to lead Boston, said though there is a relief in the verdict, Floyd and countless other victims of police violence are still dead.
"And the conditions that led to so many senseless killings still exist," Janey said during a press conference Tuesday evening. "While I am truly grateful for a guilty verdict, I know that our work in our city — and in every other city across America — to advance racial justice continues."
She noted her own lived experience, as the grandmother of teenage boys. And as a Black woman "who has felt the need to tread lightly in a world that criminalizes my Blackness."
Suffolk County District Attorney Rachael Rollins joined Janey at the press conference. She said she was grateful for the jurors and the prosecutors, but especially for the police officers who testified against Chauvin.
Rollins said she is optimistic that society will "transform and reimagine how we create public safety."
She called on protesters in Boston to demonstrate peacefully. And she asked for empathy from police officers.
"For my brothers and sisters in law enforcement who may be called out because of demonstrations, I ask that you try and understand the immense pain and trauma, frustration and anguish some of us are feeling," she said.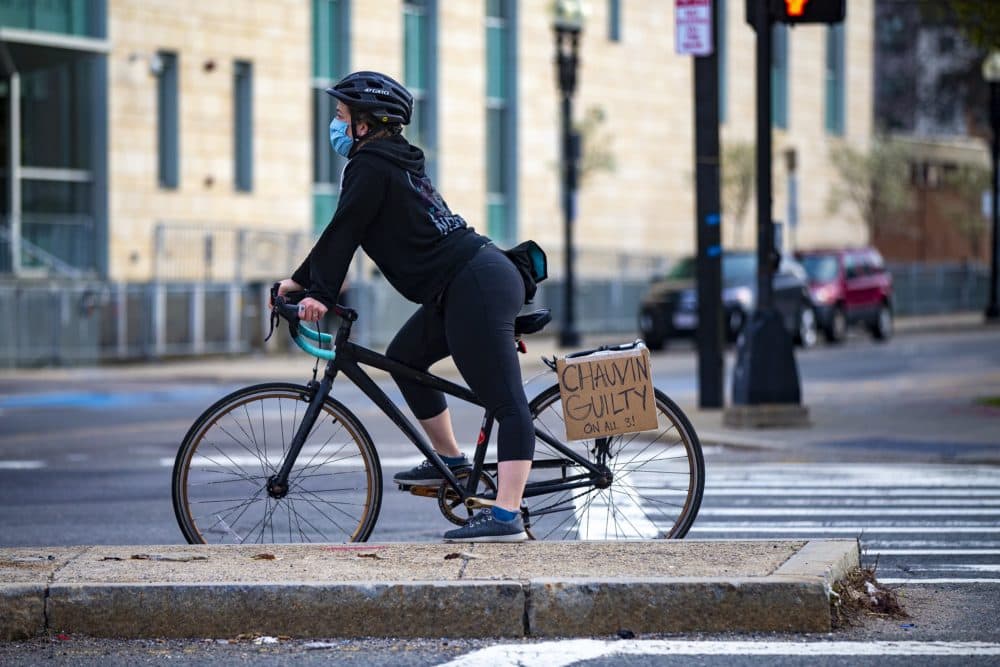 Chelsea Police Chief Brian Kyes, president of the Massachusetts Major City Police Chiefs Association, said in a series of tweets that he hoped the Floyd family found solace in the "historic verdict."
"We strongly believe that not only was the defendant afforded due process as is required by our constitution and in conformance with our system of justice, but that the honorable and informed jury absolutely got it right and that justice was served," Kyes wrote.
Darrell Jones traveled from Boston to Minneapolis and was outside the courthouse when the verdict was announced.
"People are everywhere. Cars are stopped in the street; you hear the horns, different areas, it's basically the world is coming out, more and more and more people," he told WBUR.
Jones has become a criminal justice reform advocate since his murder conviction was overturned after he served more than three decades in prison.
"For me, it's the most exciting thing ever, because [I was] in prison for natural life and today the first victory that I can say my people have had, I was home for," he said. "That's God for me."
In Boston's Nubian Square, people shared news of the verdict. Michael Terry, of Roxbury, was on the bus when he heard the verdict. He said he felt happy that this trial didn't end like others involving police — like the acquittal of the officers accused of beating Rodney King in 1992. But Terry said he's also sad for Floyd's family.
"Maybe that will make people change, the police will act a little more differently with people of color," he said. "You don't take people's lives for a little foolish misdemeanor. A man's life is gone."
"Maybe that will make people change, the police will act a little more differently with people of color. You don't take people's lives for a little foolish misdemeanor. A man's life is gone."

Michael Terry, Roxbury resident
Kelli Ware, of Roxbury, said she was proud the jury made the right decision. She said she was yelling out her window that Chauvin was guilty.
"It's just one step," she said, noting that there are many others brutalized by police. "There are so many unnamed thousands. And so many here, living."
The Rev. Willie Bodrick, pastor at Roxbury's Twelfth Baptist Church, said the Chauvin verdict is what the community deserved.
"What we saw in George Floyd's life being taken, it was problematic," he said. "It was a travesty to our system. It was murder. And that's the guilty verdict we received. And so I believe that we didn't feel passed by in this moment."
Bodrick said his church plans to hold a healing service Friday at 6 p.m.
In a statement, Gov. Charlie Baker said the verdict shows that Chauvin was not above the law.
"But as the countless, tragic events that took place at the hands of law enforcement before and after George Floyd's death make clear, there is much to do to correct, reform and reimagine the way law enforcement officers are trained, and how they and their departments are held accountable for their actions," Baker said.
He said Massachusetts owes it to those killed by police to implement the state's new police reform law.
For Boston police detective Larry Ellison, the verdict didn't bring relief exactly — but hope. Ellison, who is a board member and former president of the Massachusetts Association of Minority Law Enforcement Officers, wants to see lasting change in how police interact with the public.
"Is it momentary? Is there a lesson here for other police officers who act in this way — that accountability is going to be driving the day going forward?" he asked. "We are not to exact revenge, but justice on the public."
Ellison added that his organization has been "fighting injustices on the inside for quite some time," and that he believes Chauvin's trial shows "people have just had enough and they want change. They want equality."
The Boston branch of the NAACP said in a statement that the verdict signaled "hope that our country's moral compass is not completely lost; hope that our nation can live up to its ideals and realize justice for Black lives in America."
"Today, justice prevailed and now is the time to double down on the work ahead," the statement said. "We are just getting started on a path toward policing accountability and a justice system that works for all Americans."
The ACLU of Massachusetts called the Chauvin verdict "rare accountability for police," and said it was only the first step in addressing police abuse of power.
"Here in Massachusetts, the ACLU will continue to fight for racial justice in George Floyd's name," Executive Director Carol Rose said in a statement listing off a range of reforms from diverting funds from police operations, to collecting racial profiling data. "We will not end police violence until we end policing as usual."
With reporting from WBUR's Shannon Dooling
This article was originally published on April 20, 2021.
This segment aired on April 21, 2021.