Baker Activates National Guard After Chauvin Guilty Verdict; Protests Set For Wednesday
Gov. Charlie Baker activated the National Guard Tuesday after former Minneapolis police officer Derek Chauvin was found guilty of all counts against him in the murder of George Floyd.
Shortly after the verdict came down, however, only a few demonstrators took to the streets. Chauvin was found guilty of all three counts against him: second-degree murder — unintentional; third-degree murder; and second-degree manslaughter.
Floyd's death last year sparked massive, nationwide protests, including in Boston, that began in the days after Floyd died in May and have continued into this year.
Monica Cannon-Grant, a community activist who has organized some of the city's largest protests, said Tuesday evening was about standing in solidarity with Minneapolis and the Floyd family.
"Tomorrow we show up in the city of Boston and let them know we still have work to do," she said.
At least two different organizations are planning protests for Wednesday at the State House and in Nubian Square. Activists have also planned rallies for this Saturday and next month on May 25, the anniversary of Floyd's death.
Most of the protests in the Boston area have been peaceful. However, one massive march that ended at the State House on May 31, 2020, became violent after the demonstration ended. Police said a contingent of demonstrators escalated tensions by throwing water bottles and bricks, burning and damaging police cruisers. Some protesters, in turn, blamed officers in riot gear who blocked exits and drove cruisers down crowded streets as demonstrators sought to leave.
Gov. Charlie Baker earlier on Tuesday said that he was "incredibly proud of the way this state has dealt with these issues," pointing in part to the state's new police reform law. He said Massachusetts had "one bad day" when it came to the protests.
"Literally tens of thousands, hundreds of thousands of people peacefully demonstrated here in Massachusetts," he said. "But we're obviously going to keep talking to our colleagues and local government. And if we and if we need to do some things to at their request to make sure that everybody stays calm and peaceful, we'll do that."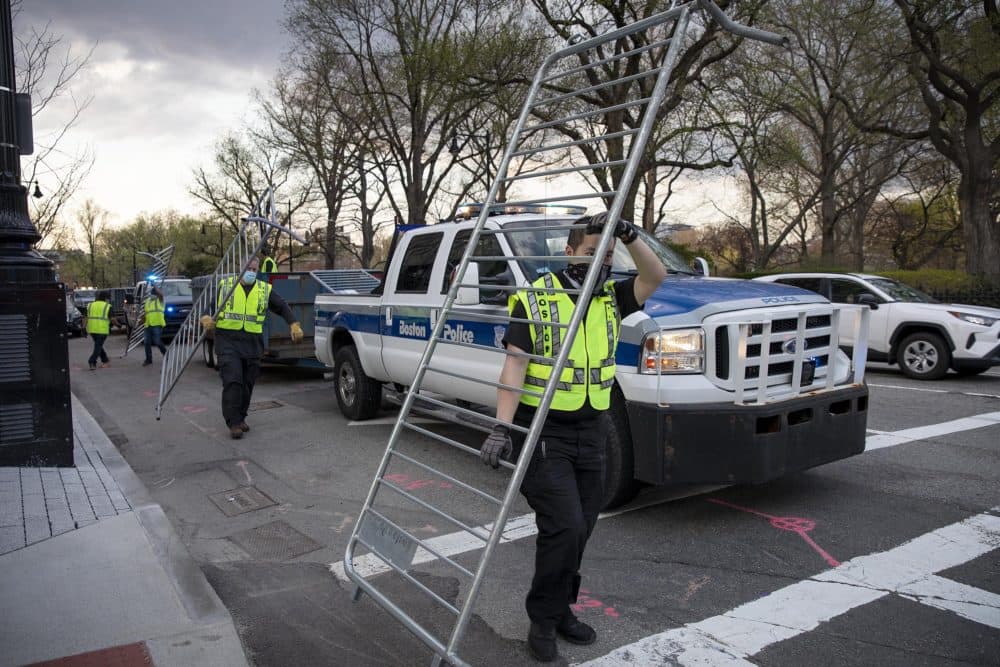 A spokesman for the Massachusetts State Police said the agency is ready to assist local law enforcement if requested.
"We are coordinating with our partner agencies on a multi-layered, scalable plan to protect people's safety, property, and rights of assembly and free speech," a statement said. "We will adjust operations and staffing as necessary to ensure that all citizens can exercise their Constitutionally-protected rights in a safe and secure manner."
Baker's order made up to 1,000 National Guard members available in case local officials requested them.
"These are standard precautionary measures to protect the rights and safety of all residents, and there is no indication of any public safety risk in Massachusetts," Executive Office of Public Safety and Security Secretary Thomas Turco said in a statement.
This article was originally published on April 20, 2021.