Action-Comedy 'Riders Of Justice' Is More Than A Simple Shoot 'Em Up
It begins with a stolen bike. Then a car won't start. A stranger offers a lady his seat on the subway and suddenly we've got a story. For you see, that subway train is about to derail, killing not just a young girl's mother but also a key witness in the upcoming trial of a feared criminal. In the hugely entertaining action-comedy "Riders of Justice," this curious chain of events is obsessively investigated by three unemployed probability scientists who determine — not without a fair amount of squabbling amongst themselves — that the crash was no accident. But, as the movie keeps reminding us, if you stare at something long and hard enough, patterns are naturally going to appear, and how much we really believe anything often depends just as much on evidence as upon how much we want it to be true.
Mads Mikkelsen stars — unrecognizable from his recent role as the balletically boozy history teacher in "Another Round" — here hidden behind a bald head and bushy beard as a career soldier shrugging off a mean case of PTSD. He's one of those guys who keeps reenlisting for another tour because it's easier than spending time with this family. But his wife was killed in the aforementioned subway crash, so now he's home with a grieving teenage daughter (Andrea Heick Gadeberg) he doesn't have the first idea how to talk to. It's almost something of a relief when the three scientists approach him with their theory that his wife was killed during the assassination of a witness about to testify against the leader of a local biker gang called the Riders of Justice.
It's easier for the soldier this way. Now he has a mission. Of course, these three academics aren't exactly the most persuasive case-makers — if they were, the police might have listened to them. (The fellas were recently let go from their research posts after spending millions of dollars developing an algorithm predicting that people who reside in wealthy areas are more likely to buy sports cars and designer goods.) They're an endearing lot of losers, highly specific and slightly sad in ways nerds aren't allowed to be in Hollywood films, where they're usually just comic relief. These guys are kind, even if the portly one (Nicolas Bro) has got a bit of a temper. Their leader, sweetly played by Nikolaj Lie Kaas, has a personal stake in the operation. It was he who gave up his seat to the soldier's wife on the subway. If he hadn't been such a gentleman, he'd have died in her place.
Such "what ifs" and "if onlys" haunt all these characters, save for the soldier. Bulked up to brick house proportions but keeping his lithe, dancer's grace, Mikkelsen begins disposing of the bikers with a bloodthirsty swiftness that frees him from the burden of reflecting on his grief. Any introspective questions result in somebody getting punched in the nose, whether a friendly scientist or his daughter's boyfriend. (When you're a hammer, I guess everybody looks like a nail. And in his defense, the boyfriend is awfully annoying — an Instagram influencer, of all things.) After a few mishaps, they all end up on the run together, forming a new, makeshift family and picking up strays along the way.
"Riders of Justice" is Mikkelsen's fifth collaboration with writer-director Anders Thomas Jensen. While the actor is often cast for his cathedral cheekbones and Bond-villain elegance, Jensen's films allow him to indulge a much looser, stranger sensibility. Their last picture together, 2015's outrageous bad taste comedy "Men & Chicken," starred Mikkelsen as a compulsive masturbator hurling himself into the film's literal barnyard humor. His work in "Riders of Justice" is the exact opposite in its coiled physicality, the actor withdrawn into a seething stillness that strikes suddenly, like a cobra.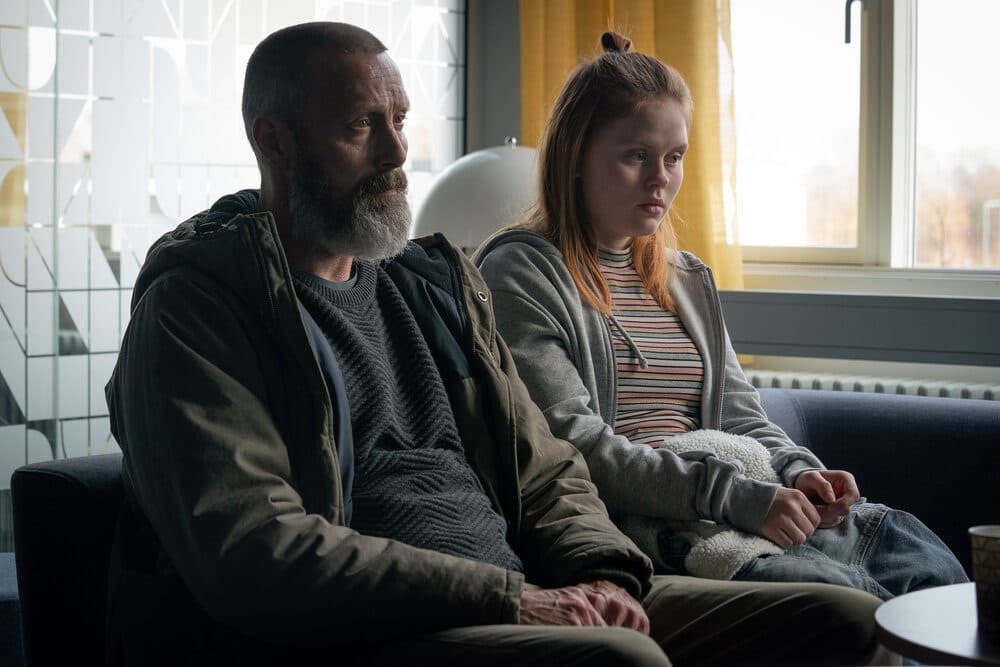 The movie is being sold as a simple shoot 'em up, which I guess makes sense for scoring eyeballs in the crowded straight-to-video marketplace, but "Riders of Justice" is a much stranger, sweeter film than the one that's being advertised. (There's a reason this was my most pleasant surprise of this year's just-concluded Independent Film Festival Boston.) All of these characters are severely damaged in one way or another, and on this odd adventure they learn to face their demons together. It's like an action movie in which family therapy scenes keep breaking out. More than once I was reminded of the original "Lethal Weapon," which also at its heart was the warm and fuzzy tale of a broken man healed by domesticity, in between all of the machine gun battles, of course.
Even the title "Riders of Justice" sounds like generic VOD junk, until you dig the double meaning in that it's not just bikers but provisions and conditions we're talking about here, and how righteousness should usually come with an asterisk. In his own slyly funny fashion, Jensen is undercutting the tenets of the revenge movie while making one of the most enjoyable examples of the genre in recent memory. It pays off, against all probability.
---
"Riders of Justice" is available on demand starting Friday, May 21.