On Anniversary Of George Floyd's Death, Demonstrators Gather In Franklin Park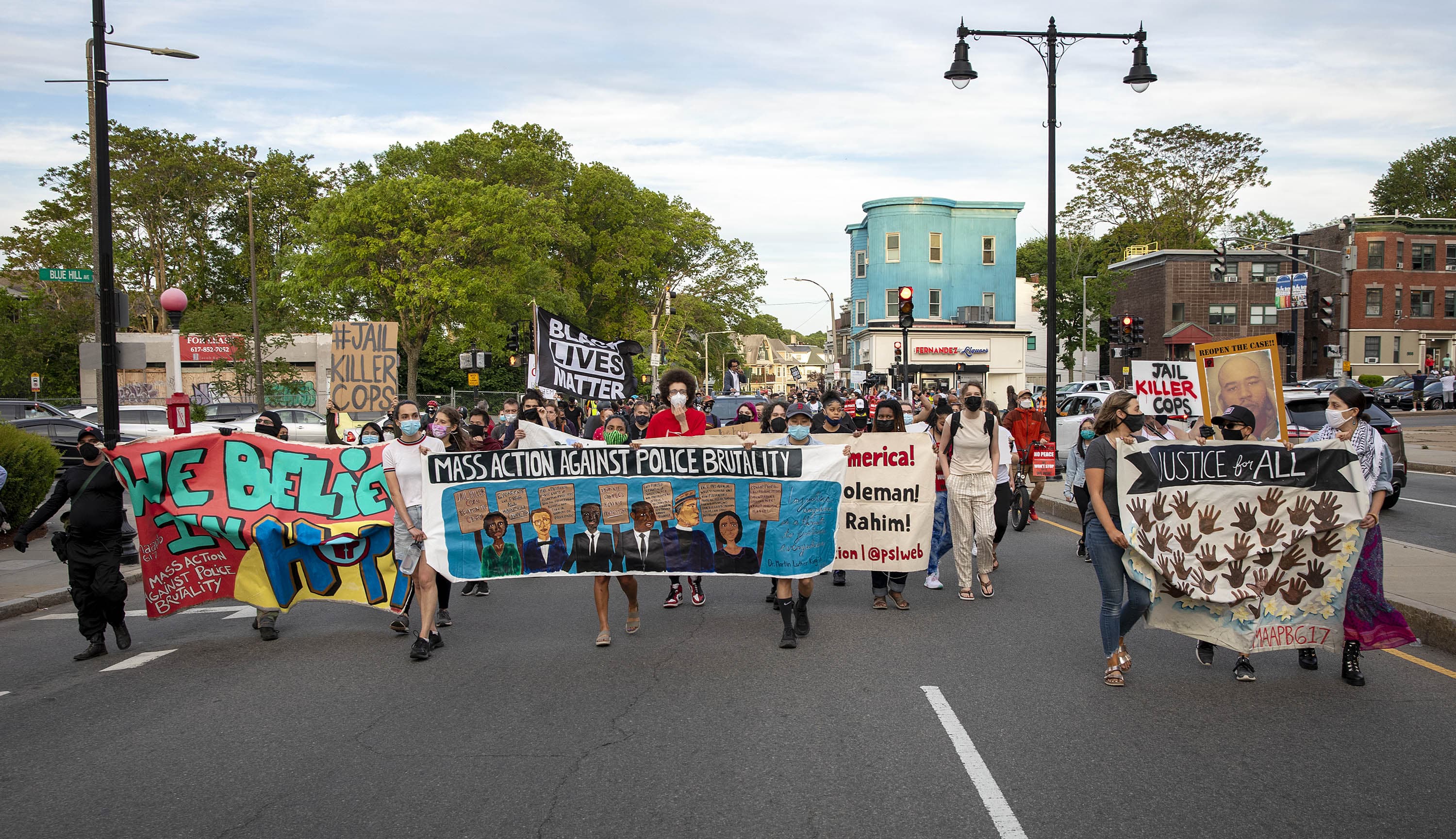 This article is more than 1 year old.
Several hundred people gathered in Franklin Park to mark the anniversary of the killing of George Floyd — and to call for local officials to do more to combat police brutality.
Since Floyd's death last year, his killer, former Minneapolis police officer Derek Chauvin, was found guilty of murder. Across the country, government officials, businesses and schools have promised reforms to fight racism, increase equity and hold perpetrators of racial violence accountable.
Locally, that's meant a host of police reforms, including a new statewide commission to oversee policing. Boston now has an office charged with investigating police misconduct.
But across the country, police have continued to kill people of color. At least six people were killed by police nationwide in the 24 hours after Chauvin was found guilty.

Those gathered in Franklin Park Tuesday at an event organized by Mass. Action Against Police Brutality said the names of those killed by police locally: Terrence Coleman, Burrell Ramsey-White, Juston Root, Usaamah Rahim. They called for those investigations to be reopened, and for the police officers who killed those men to be prosecuted.
The victims' mothers, fathers, siblings and nieces spoke in their memory and railed against what they said were limited investigations that cleared the officers who killed their family members.
"Just so you know, as Burrell's mother, I'll never let this go," said Carla Sheffield, Ramsey-White's mother. "And as a Black mother, I'll never let this go. As I am standing here, I will never ever let this go."

Jennifer Root Bannon, who is suing the city of Boston and the officers involved in her brother's death in February 2020, said she hears again and again that Boston doesn't have a problem when it comes to police shootings.
"This encompasses more than just deadly force," she said. "This is about abuse of power and it's about excessive force. And we have both in Massachusetts and in Boston."

Earlier in the day, Boston Acting Mayor Kim Janey pledged to continue to work toward racial justice and equity. Janey made the remarks following a moment of silence in honor of Floyd.
"This really is an urgent call to action to continue the work that is already under way," Janey said at a news conference. "We are doing that in the policy work whether it be police reform, whether it be supporting our young people in schools, whether it be supporting small businesses and ensuring that we are being intentional [with] laser-like focus when it comes to equity."

The crowd Tuesday was much smaller than those seen in the days and weeks after Floyd was killed last year. But event organizer Tahia Sykes reminded the crowd that it was people who drove the accountability seen in Minneapolis and elsewhere.
"Let's be clear," she said. "Chauvin was not put on trial out of the goodness of their heart. Chauvin was on trial because we were standing in the gap. Chauvin was placed on trial because we were there."
She said people needed to keep showing up.