Mass. Bill Would Boost Pensions For Pandemic Government Workers. Critics Say It Would Cost Billions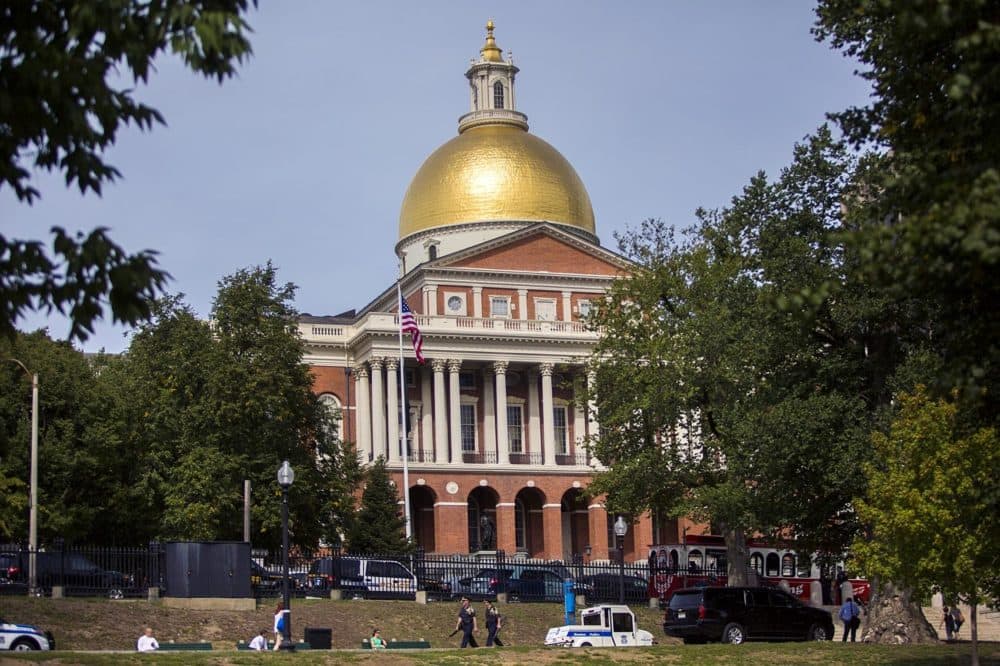 This article is more than 1 year old.
Critics say a measure to reward government workers in Massachusetts for their service during the pandemic could wind up costing billions of dollars and drain state and local pension funds.
The bill, which has drawn broad support in the state Legislature, would credit workers with three extra years of service for their pensions when they retire if they worked outside their home sometime between March 10 and Dec. 31 of last year.
An aide to one of the lead sponsors, Sen. John Velis, said he couldn't say yet how many workers would qualify or how much the pension boost would cost. "This bill is still in an early stage," said Gabriel Adams-Keane, the senator's communications director and deputy legislative director.
But Geoff Beckwith, executive director of the Massachusetts Municipal Association, said the bill is written so broadly that it would likely benefit a large share of the more than 300,000 state and local workers in Massachusetts, including some legislators.
"There is zero analysis to see how much this would cost," Beckwith said. "There is 100% certainty that this would be unaffordable."
Gregory Sullivan, research director for the Pioneer Institute in Boston, estimated the change would likely add billions of dollars to the state's pension costs over time.
Sullivan said the exact benefit per worker would depend on worker's salary, age, years in the system, and other factors. But as an example, he calculated it would likely increase University of Massachusetts system president Marty Meehan's pension by nearly $800,000 over his lifetime and guessed it could be worth tens of thousands or hundreds of thousands of dollars for most other workers who qualify.
"I could understand a bonus being given to some front-line public sector personnel in the thousands of dollars each but not in the hundreds of thousands," said Sullivan, a former state inspector general who now works for the Pioneer Institute, a think tank that has raised concerns about unfunded pension obligations in the past.
Sullivan warned the move could significantly increase state and local pension liabilities, though he said there weren't enough details to calculate the amount. As of the beginning of 2019, the state's main pension fund was 63.7% funded, while the Massachusetts teachers fund was 51.7% funded, according to state data.
Still, more than half of state lawmakers have already signed on to the bill, reflecting the broad desire to help people who worked outside their homes during the pandemic, potentially increasing their risk of catching the coronavirus.
"This bill is all about recognizing the deep sacrifices that our essential public workers made throughout the pandemic to keep the rest of us safe," Velis, a Westfield Democrat and one of the key sponsors, said in a statement.
The bill has drawn support from a number of state and local public employee unions, including the National Association of Government Employees, Boston Firefighters Local 718 and the Boston Police Patrolmen's Association. A number of supporters praised the proposal at a hearing Wednesday of the Joint Committee on Public Service.
George Noel, business manager of Office and Professional Employees International Union, Local 6, testified at the hearing that the bill would reward people who worked in local courthouses, even when the offices were closed to the public.
"These employees would receive recognition for the work they did throughout the pandemic to keep government services running," Noel said. "They put their health and safety on the line, as well as that of their families."
Rep. Jonathan Zlotnik, D-Gardner, another lead sponsor of the legislation, said his office will work with colleagues to answer key questions about the bill, such as how much it will cost and how it will affect state pension obligations.
Zlotnik said it is safe to assume that the measure could nudge some employees close to retirement age to leave earlier, but couldn't say how many people might fall into that category.
He testified Wednesday that the bill will reward government workers who helped provide essential services when almost everything else was shut down and people knew little about COVID-19.
---
More from WBUR
---