Parole Board Recommends Commutation For William Allen
For the second time this year, the Massachusetts Parole Board recommended Thursday commutating a prisoner's life sentence.
The six-member board unanimously voted to recommend commutation of the first-degree murder sentence of William Allen, instead asking to reduce it to second-degree murder. That would make Allen, who has served 27 years in prison, eligible for parole.
In its decision, the board said Allen "has exhibited a good example to the incarcerated population to commit to self-development and self-improvement."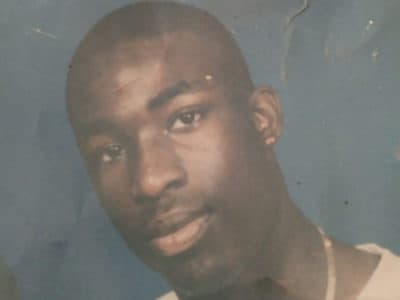 "We're just thrilled," said Patty DeJuneas, one of Allen's attorneys. "We're glad that the parole board sees William the way we do in that he's got a lot to offer the world."
Allen was convicted in 1997 of armed robbery and felony murder. That means Allen was convicted of the robbery that led to the murder of Purvis Bester, but was not the killer. Another man, Rolando Perry, agreed to plead guilty to second-degree murder and was released on parole a decade ago.
Allen refused the plea deal. DeJuneas said that was likely a key reason behind the parole board's unanimous approval.
"He didn't commit a killing," DeJuneas said. "His co-defendant who did has been out on parole. I think that the fundamental unfairness between the sentences was really important."
During Allen's hearing before the board in June, Plymouth County District Attorney Timothy Cruz supported commutation. Cruz, whose office prosecuted Allen, called it "one of the rare cases that warrants reconsideration."
Bester's daughter, Leah Cole, also supported commutation.
Dozens of community members wrote letters in support of Allen, with many citing the self-improvement work he's done during his more than two decades behind bars and an incident in 2011 where Allen intervened to protect a corrections officer from an attack.
Allen's request for clemency also had several high-profile supporters. Retired Massachusetts Supreme Court Justice Robert Cordy, now a partner at the law firm McDermott, Will & Emery, argued Allen should be released because state law has changed and now does not allow life without parole sentences for people involved in crimes that led to a murder, but who did not kill.
Earlier this year, New England Patriots player Devin McCourty publicly campaigned on behalf of Allen's clemency petition.
The parole board's decision is not only the second commutation recommendation this year, but its second-ever since Gov. Charlie Baker assumed office.
In January, the board unanimously recommended commutation for Thomas Koonce, who spent 28 years in prison for the murder of a New Bedford man.
The governor has not yet made a decision on Koonce, and now, he also must decide whether to support the board's recommendations on Allen. The Governor's Council would review Baker's decisions.