Boston's mayoral race: Here's how to vote and what to know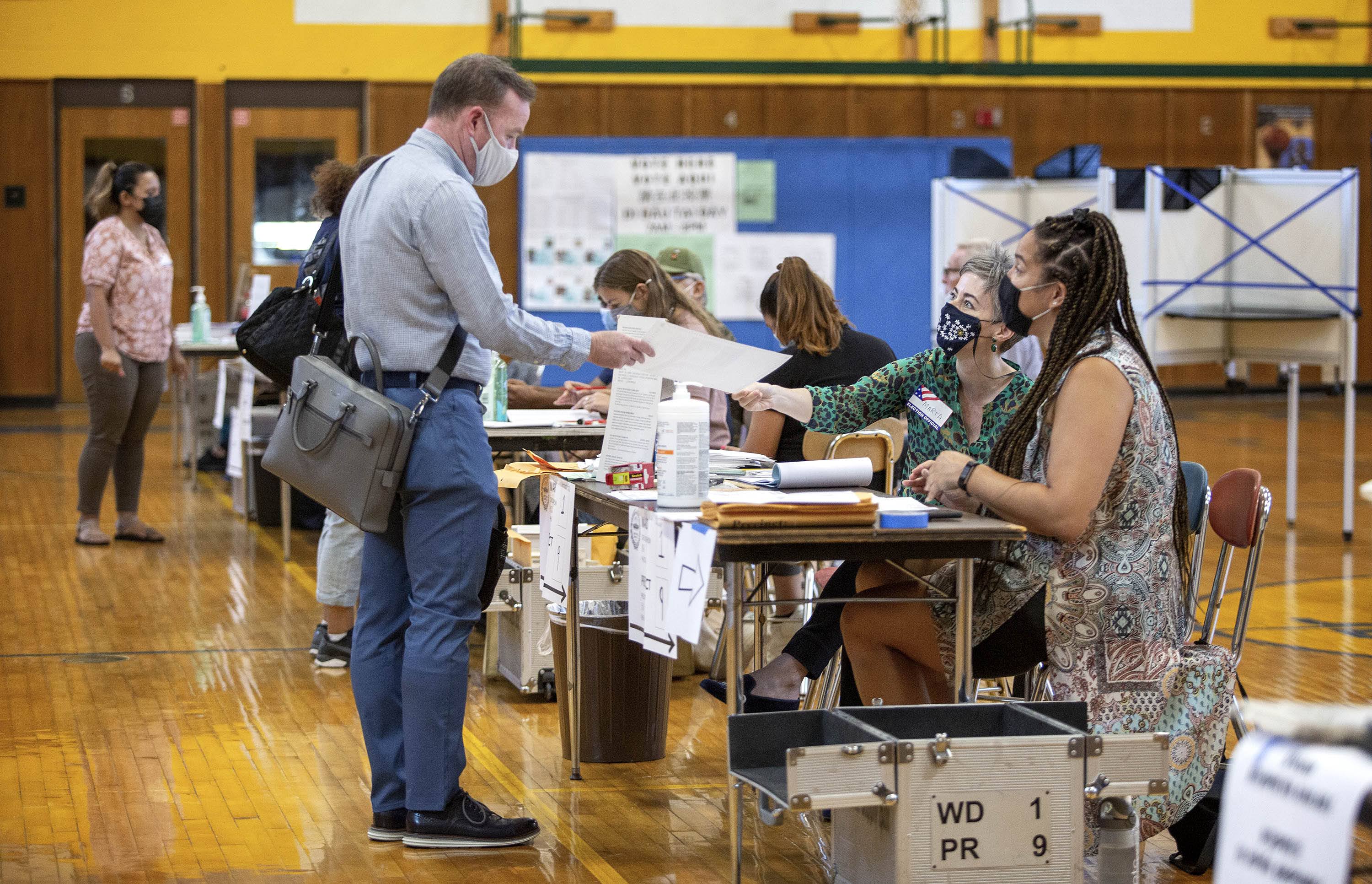 This article is more than 1 year old.
Bostonians, you're about to help make history. The city's next elected mayor will be a woman and a person of color for the very first time.
Beyond Boston's big mayoral race between former city councilors Annissa Essaibi George and Michelle Wu, there also are a number of hotly contested council seats up for grabs.
Before you cast your ballot, be prepared. There are some important logistics to keep in mind around voting — especially in a year with new options for voters and continued public health uncertainties tied to the pandemic.
Important Dates
Voter registration deadline: Wednesday, Oct. 13.
Early voting dates:  Saturday, Oct. 23 - Friday, Oct. 29.
Last day to apply for a mail-in ballot: Wednesday, Oct. 27
Election Day: Tuesday, Nov. 2.
A Slim Guide To The Mayoral Candidates' Positions
Housing
Annissa Essaibi George
Plans to reconvene the Payment in Lieu of Taxes (PILOT) Task Force to revisit contributions made by nonprofits to generate funds
for affordable housing.
Wants the city to make greater investments in its first time homebuyers program.
Pledges to continue the pace of housing production set by the Walsh administration.
Michelle Wu
Wants Boston to implement a new form of rent control, and was the only mayoral candidate this year with this position.
Proposes planning and zoning changes for greater affordability.
Plans to use Boston's AAA bond rating to authorize bonds to assist residents with mortgage guarantees, housing vouchers and more affordable units.
Will advocate for a real estate transfer tax on some buyers, as well as a tax on foreign investors.
Policing
Annissa Essaibi George
Says she will divert calls about parking from the police department to the
transportation department.
Wants to release body camera footage within 24 hours of an incident.
Says police officers will undergo annual performance reviews.
Michelle Wu
Plans to divert 911 calls for homelessness, substance use or mental health crises to an outreach team.
Says she will eliminate binding arbitration for some offenses.
Wants to establish and enforce a discipline matrix to reduce bias in decisions.
Racial Wealth Gap
Annissa Essaibi George
Says she will establish a Justice Task Force to address racial discrimination and other issues.
Wants to ensure fair access to housing, credit and financial services.
Wants to explore direct cash payments from the city for struggling residents.
Supports home ownership and access to capital in underserved communities.
Michelle Wu
Says she will attract and invest in Black businesses.
Wants to implement Boston's Green New Deal, in part to close racial wealth gap.
Would require equitable city contracting.
Wants to promote home ownership and housing justice.
Free Transit
Annissa Essaibi George
Wants to invest in public transit.
Supports new programs to reduce the cost of transportation and improve transit options for disadvantaged groups.
Wants to connect essential workers, students and seniors to existing programs offering free or discounted transit fares.
Michelle Wu
Supports free mass transit, starting with buses. Considers it a social justice, economic justice and racial justice issue.
Advocates dedicated bus lanes and infrastructure to protect pedestrians and cyclists.
Boston Schools
Annissa Essaibi George
Believes exam school entrance should require an exam.
Believes the recent exam school admissions policy change was rushed and didn't fully understand the impact on all district students.
Wants to use one-time federal pandemic relief funding to decrease disparities in classroom resources, increase district mental health resources and invest in teacher professional development.
Michelle Wu
Supports the new exam school admissions policy that considers socioeconomic factors in addition to grades and test scores.
Believes exam school entrance should require an exam.
Will prioritize facility upgrades like windows and ventilation systems when spending one-time federal pandemic relief funds. She also wants to use the funds to increase district mental health supports and offer more compensatory services for students with disabilities.
Wants to expand universal pre-kindergarten.
Climate Change
Annissa Essaibi George
Pledges to make structural updates to Boston Public Schools, which make up the majority of city-owned buildings.
Pushed for renewable energy job training at Madison Park Vocational Technical High School.
Michelle Wu
Proposed the first city-level Green New Deal in the U.S.
Promises carbon neutrality by 2040, 100% renewable energy by 2030 and a net-zero municipal footprint by 2024.
Register To Vote
Bostonians must register to vote by Oct. 13 in order to cast a ballot in the city's general election.
Here's how to check your voter registration status.
You can register to vote at Boston's elections office until 8 p.m. on Oct. 13, or you can register online here.
How To Vote By Mail
In yet another historic first in this mayoral race, no-excuse absentee voting — or mail-in voting — is allowed for any and all registered voters.
Ahead of the preliminary election, the city of Boston mailed the city's registered voters a detachable form allowing voters to request a mail-in ballot. That form provided an option to request not only a vote-by-mail ballot for the preliminary, but also for the November election.
If you checked that box, you can simply sit tight and wait for your mail-in ballot to come.
If you didn't do that, then you'll need to formally request a mail-in ballot. There are technically a couple ways to do that:
Fill out this form and mail or bring it to the city's elections office.
Write a sentence on a piece of paper saying you want to receive a ballot in the mail to vote in the November election, sign it with your signature and either mail it to or hand-deliver it to the city's election office.
Boston's election office is at this address:
Elections Department
One City Hall Square, Room 241
Boston, MA 02201
Your application for a vote-by-mail ballot must be received by the Boston elections office before 5 p.m. on Wednesday, Oct. 27.
Once you've successfully applied, your ballot, along with envelopes you must sign and return it with, will be mailed to your address.
You can either mail or bring it to the Boston elections office address above. (If you mail in your ballot, you do not need to include postage. Yes, the official instructions included with your ballot may say otherwise, but the city has corrected its instructions on its website.) Alternatively, you can slip it into one of the city's several designated drop boxes for mail ballots. Here's a map showing where those drop boxes are located.
You are allowed to drop off your mail-in ballot at polls open during the city's early voting period. However, do NOT bring your mail-in ballot to the polls on Election Day. Poll workers won't be able to accept it. If you make this mistake, it might just be simpler for you to discard your mail-in ballot and vote in person.
You have until 8 p.m. on Election Day to get your mail-in ballot to Boston's election office or into a designated drop box. That means that if you mail your ballot, it must be in the hands of city election workers — not simply postmarked — by the time polls close on election night. (This is different from how the 2020 presidential general election worked.)
How To Vote In-Person
Early in-person voting begins on Saturday, Oct. 23 and ends on Friday, Oct. 29. Here's a map of the polling locations that will be open that week.
While any registered voter can vote at any of the open polling locations during early voting, it is worth noting that City Hall serves as the main early voting polling spot.
Here are City Hall's early voting location hours:
Tuesday, Oct. 26, from 9 a.m. - 8 p.m.
Wednesday, Oct. 27, from 9 a.m. - 5 p.m.
Thursday, Oct. 28, from 9 a.m. - 8 p.m.
Friday, Oct. 29, from 9 a.m. - 5 p.m.
Of course, you can wait to vote until Election Day on Tuesday, Nov. 2. Polls open at 7 a.m. in Boston; they close at 8 p.m.
Other Mass. Races To Watch
Here's a list of other mayoral races happening around the state:
In Somerville, current City Councilors Will Mbah and Katjana Ballantyne will battle it out for the mayoral seat.
In Salem, four-term incumbent Mayor Kim Driscoll is squaring off against City Councilman Steve Dibble.
In Northampton, Gina-Louise Sciarra and Marc Warner vying for outgoing Mayor David Narkewicz's seat.
In Fall River, current interim Mayor Paul Coogan will face off against City Council President Cliff Ponte in the general election.
In Framingham, incumbent Mayor Yvonne Spicer is running for a second term against challenger Charlie Sisitsky.
Interim Mayor Kendrys Vasquez and City Councilor Brian DePena are vying for the Lawrence mayoral seat.
In Lynn, school committee member Jared Nicholson and City Council President Darren Cyr are running for mayor.
In Medford, incumbent Mayor Breanna Lungo-Koehn will face challenger challenger John Falco in the race for her seat.
In Newton, incumbent Mayor Ruthanne Fuller, who has been in office since 2018, will square off against Amy Mah Sangiolo, a former Newton city councilor.
In Holyoke, Michael Sullivan and Joshua Garcia are battling it out for mayor.