Rapper Kadeem and Frank the Butcher team up for hip-hop project 'Universum'
There is a growing "bar loving" community of hip-hop listeners in Massachusetts thanks to names like Chilla Jones, OT the Real, Joyner Lucas, Avenue, Millyz, 8 Zipp and more. The list truly goes on and a recently released six-track project called "Universum" from Mattapan's Kadeem alongside legend and Worcester native Frank the Butcher stands out.
With "Universum", Kadeem performed his raps, Frank the Butcher produced and arranged the music. This project really fits in well with the Halloween season: sinister laughs and ominous beats are plastered throughout. I'm sure a curator like Frank The Butcher (who first came on the scene working with retailers Concepts then Adidas and Reebok) threw Kadeem the alley-oop for this timing to line up so well.
"There was this idea that we wanted my voice — I'm rapping on things, but you see there's times I'm just kind of paused and the music is kind of playing though," Kadeem says of "Universum. "That's how we imagined it, like when you listen to jazz."
Let me be clear: "Universum" goes beyond its Halloween vibe. It is not easily disposable music either with the catchy bars and thought-provoking journey Kadeem brings the listener on, accompanied by the amazing music production. "The pros and the cons, the space and the chaos — I'm hoping that in listening to that you say to yourself, 'wow, this might not be for me,'" Kadeem says. "I know that's a weird thing to say for someone that's their first time listening, because, I want you to say, 'this might not be for me but I'm interested in seeing where that's going forward.'" A very interesting take on a project indeed. My advice? Listen with zero expectations so you can feel Kadeem's message.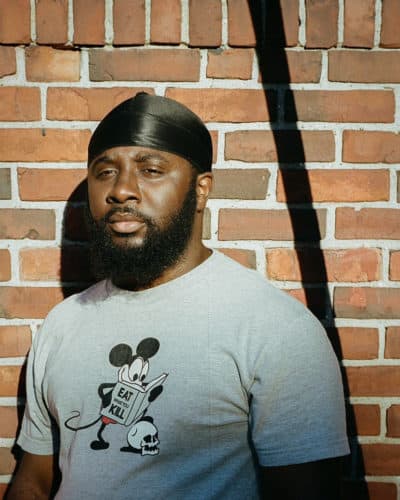 While Kadeem might not have as much name recognition as the artists mentioned at the top of this piece, he is well-respected by his peers. He, of course, has this project with Frank the Butcher (who, by the way, doesn't just work with anyone), but he has also worked with prominent producer V Don, who has teamed up with the likes of MF Doom, Conway the Machine, Willie The Kid, Eto, among others.
For Kadeem, these partnerships have been thoughtfully planned. "It's all about investments," he says. "I really invest my time and my energy and also my resources into this music stuff. With V [Don], he saw how serious I was about investing into myself."
"Universum" is a step in the right direction for Kadeem's career. It's another display of his storytelling and bar-crafting abilities and also shows you don't need to conform to what's on the radio or what sound is popular. It's also a stepping stone toward another goal: becoming what Frank the Butcher is for his own hometown. "Frank is literally someone I want to be for my community, for Mattapan," says Kadeem. "Having art and culture and being able to move in and out of all these spheres but be unapologetically you."
This 19-minute offering is nurturing the seeds to the tree Kadeem hopes will stand tall for Mattapan one day.