Where kids can get COVID vaccines in Massachusetts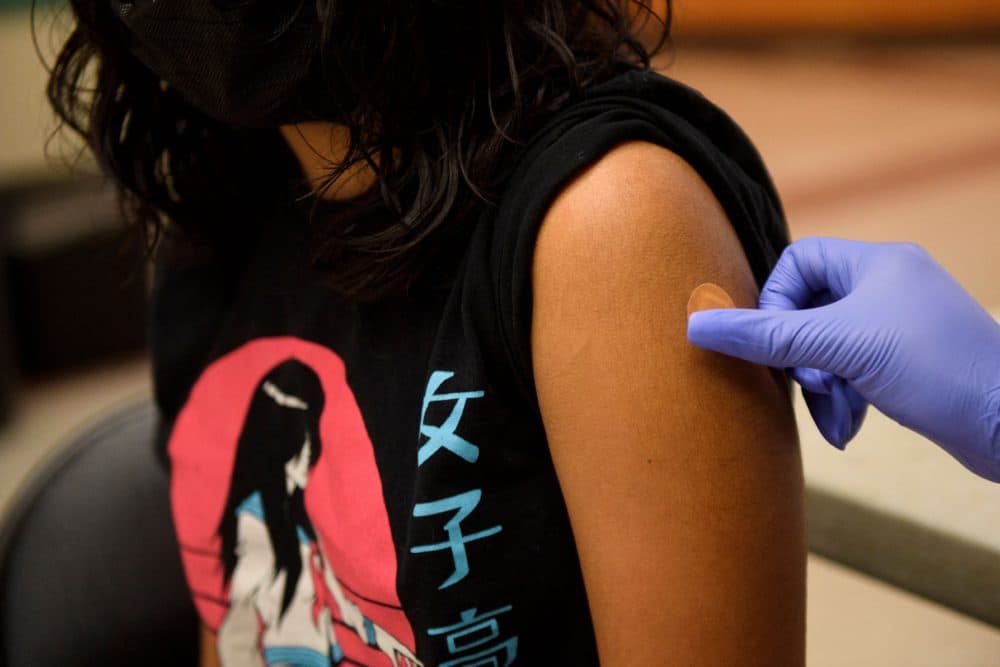 Children ages 5 to 11 are now authorized to get vaccinated against COVID-19.
The Food and Drug Administration and the Centers for Disease Control and Prevention have signed off on an emergency use authorization for Pfizer's COVID vaccine for pediatric use, following recommendations from panels of independent scientists.
Appointments for pediatric vaccines are now available in Massachusetts to kids 5 to 11.
A patchwork of health care providers, school districts, pharmacies and local and state officials are mobilizing to get those shots to the roughly 515,000 children statewide in this age group.
Here's what we know so far about where parents can look to get their children vaccinated:
Pediatrician Offices And Hospitals
"The first thing parents and families should do is go speak to their pediatrician," said Nathalee Kong, a physician and the chief of Public Health and Human Services for Revere. "I think that's step number one."
Not only can pediatricians answer any vaccine-related questions, said Kong, but many of their offices, as well as hospitals, have pre-ordered the pediatric vaccine and are offering the shots. Some of these vaccines are available at regularly scheduled patient visits. Others are being delivered during special COVID vaccine clinics at doctors' offices.
At Pediatric Associates of Greater Salem and Beverly, the medical team has decided to offer the vaccine at the beginning of regular checkups so that the observation period required after the inoculation overlaps with the rest of the appointment.
The state required pediatricians' offices pre-ordering the vaccine to get at least 300 doses. As a result, smaller medical practices may not be offering the shots. However, there are lots of other places to get them.
Schools
Some school districts have begun announcing plans to host vaccination clinics. State officials have said that individual districts will organize clinics and can request state support if they need it. State officials have even offered to help stand up the clinics.
"All we need is space, and we will come and set it up," Massachusetts Secretary of Health and Human Services Marylou Sudders said at a recent legislative hearing.
Worcester Public Schools is among the school districts planning to offer vaccine clinics at all of their schools.
"We've already sent out permission slips with fliers that we made, so people are aware what's going to be happening and what the process will be," said Matilde Castiel, commissioner of Health and Human Services for Worcester.
Castiel said the city is hoping to host many of the school-based vaccine clinics after school hours, including around pick-up time. That way, parents can ask questions and sign a permission slip, if they haven't already.
Retail Pharmacies
Retail pharmacies got half of the state's initial allocation of pediatric vaccines — roughly 180,000 doses. Experts say this option offers families flexibility since many pharmacies are open long hours and on weekends.
CVS and Walgreens are among the pharmacies offering appointments for children. Secretary Sudders promised more information soon about where to find pediatric doses, as well as which facilities will accept walk-ins.
Retail pharmacies like Walgreens and CVS report directly to the federal government, and not to the states, which is why Sudders said Massachusetts is still gathering information to ensure there aren't gaps in vaccine access. She said the state's vaccine finder website will be updated to include where pediatric vaccines will be available.
Clinics
There are no plans to set up mass vaccination sites for kids — no Gillette Stadium or Hynes Convention Center with thousands of daily appointments — but there will be plenty of smaller clinics offering the pediatric vaccine.
"Mobile [clinics] are important, particularly where we think we may have access issues," Sudders said at the legislative hearing. In anticipation of pediatric vaccines, she added, Massachusetts ramped up the number of mobile providers from 89 to 120. On any given day, there can be as many as 20 mobile clinics offering shots around the state.
State and local leaders are also considering hosting vaccine clinics at youth sporting events, primarily for the young spectators whose parents are present and able to give consent — as well as a hug once the shot is administered.
This article was originally published on October 27, 2021.