Susan Tedeschi returns home for the holidays with Tedeschi Trucks Band in tow
Growing up, Christmas Eve was big for Susan Tedeschi's family. Literally.
"Sometimes there would be so many people, we'd have Mass at the house. There'd be, like, 150 people. We have a big close-knit Italian family that honestly, just keeps growing," says the Norwell native.
"My grandmother used to have horses, so she'd get the sled out, have all us kids ride. We'd play music together. My grandmother would sit at the organ. We'd all sing."
In recent years, it's become tradition for Tedeschi to return home for the holidays with her husband/bandmate Derek Trucks to rock Boston's Orpheum Theatre. For the fifth time, Tedeschi Trucks Band will play a run of shows kicking off the holiday season — Nov. 30, Dec. 1, 3 and 4.
Tradition but, also "basically a contract," says Tedeschi, who now lives in Jacksonville, Florida. "But it is a tradition, too — it's nice to see family, friends from high school and college. We just like being in Boston... Living in Florida these days, it's nice to feel the cold weather. Just a taste of it gets you in the Christmas spirit."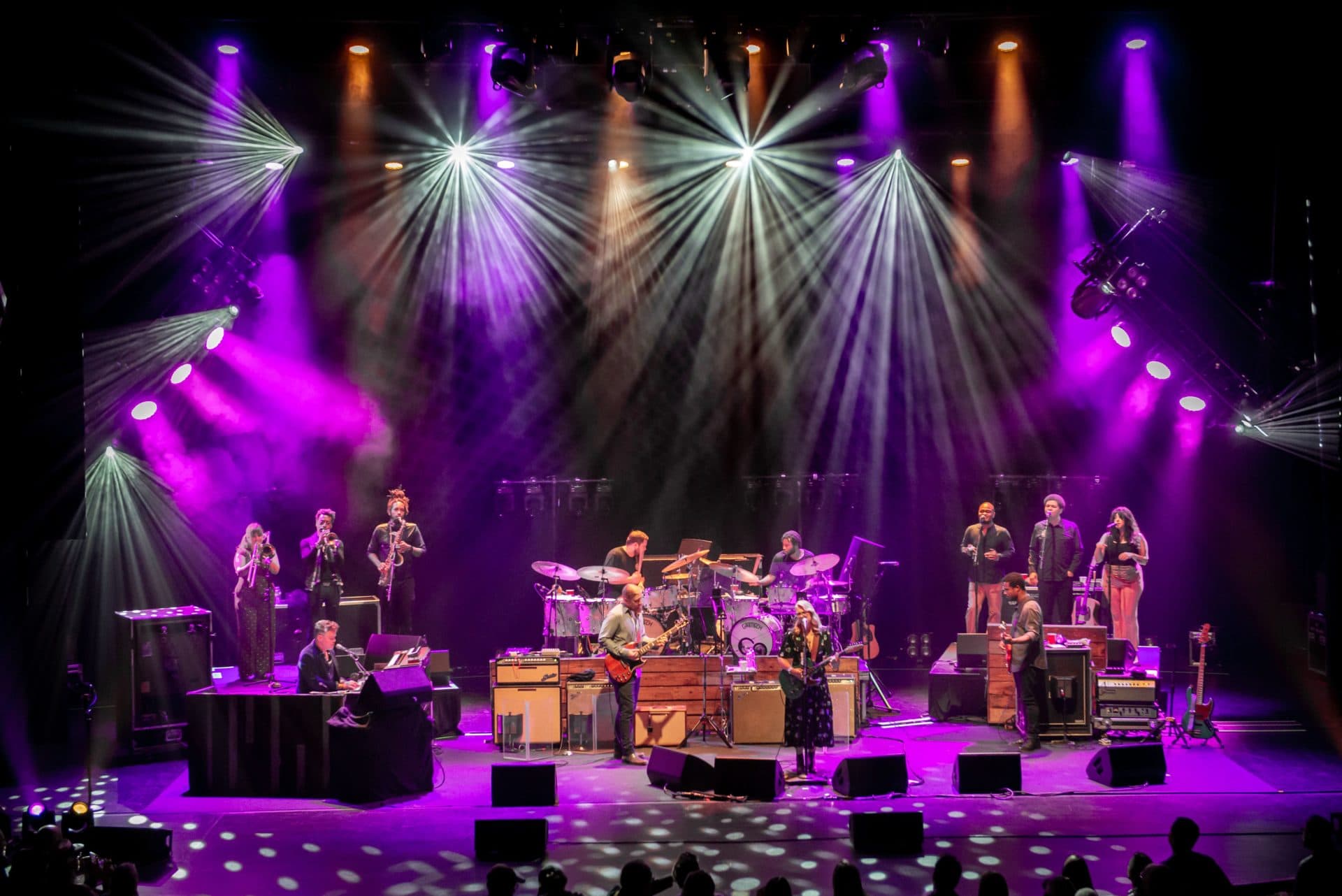 For their local fans, the stop is an early gift. Because Tedeschi and Trucks are a force — their band sounds as if early Bonnie Raitt and Elmore James hired 10 stellar musicians for the ultimate blues jam band.
The 12-piece has a reputation as a band best seen live, as they're apt to crank it to 11. After graduating Berklee College of Music, Tedeschi toured with John Mellencamp, B.B. King, the Rolling Stones, Santana, and she even opened for Bob Dylan.
Trucks is something of a guitar genius. Named the 16th Best Guitarist of All Time by Rolling Stone, the 42-year-old is a guitar player's guitar player. A child prodigy, he was crushing "Layla" as a middle schooler.
"Derek, as a little kid, was out touring. I was just doing normal kid stuff," Tedeschi, 51, says with a laugh. Born in Boston in 1970 and raised in Norwell, Tedeschi loved acting and music from a young age.
"Everybody in our family always played or sang or did something," says Tedeschi, whose great-grandfather founded Tedeschi Food Shops. (The chain was sold to 7-Eleven in 2015.)
Little Susan started out on harmonica, before graduating to piano and clarinet in her grade school days. "I started playing acoustic guitar in my teens, and started to write songs," she says. "At Norwell High School, I played with The Thompson Brothers. I was also in the jazz band. I acted in a lot of plays."
And yet she was almost a marine biologist, instead of a blues guitarist.
"I'd [planned] to go to college for marine biology. My grandfather had been working and sponsoring Dr. Robert Ballard in Woods Hole. He was a donor helping him out on some of his different adventures — finding the Titanic. I [wanted] to go on these expeditions for sunken ships. I was going to go one time — and I don't know what happened. I didn't get to do it. And I was like, 'Well, I'll just go to Berklee.'"
(Good decision.)
After graduating from Berklee at age 20, Tedeschi cut her teeth on the local scene: Harpers Ferry in Allston, Johnny D's in Somerville and The YardRock in Quincy were a few haunts. She performed at Boston-area weddings and was a singing waitress on the Spirit of Boston cruise ship.
She also worked at Circuit City's Impulse for a stint. "It wasn't until '93 that I started my own band, the Susan Tedeschi Band. That changed everything."
She was among the first to play Boston's House of Blues, but her big break came in 1998 when she was tapped to open for John Mellencamp's tour.
Mellencamp brought her to the Clinton White House for a VH1 concert, and later to Farm Aid. "So I got to know Willie Nelson quite well, Neil Young, Dave Matthews, all those guys. John definitely helped open up my world."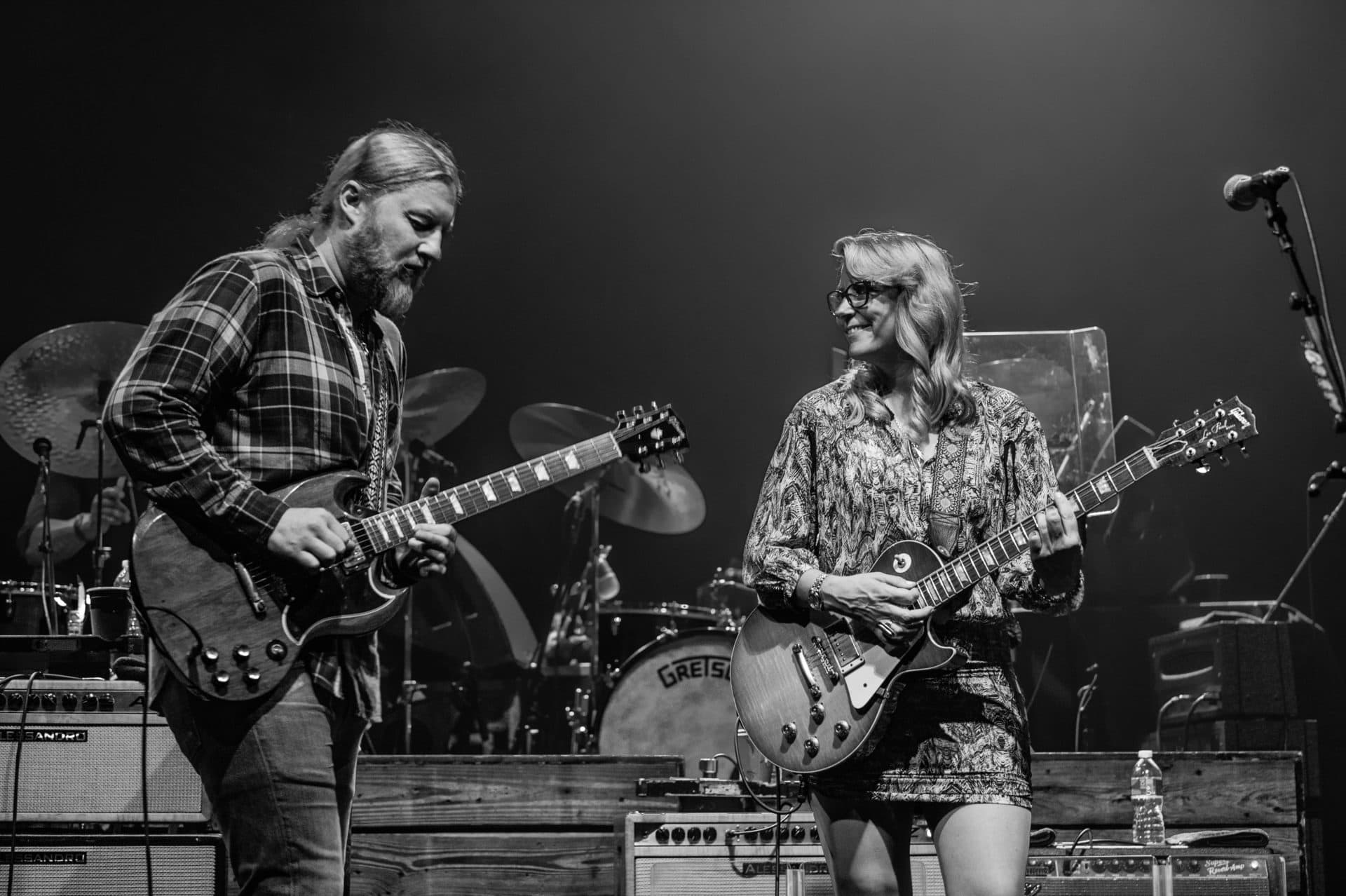 Her life changed again in 1999 when she opened for the Allman Brothers.
"I ran into [Derek] a few times at sound checks, and we just started talking, listening to music, hanging out. We just hit it off."
Actually, they have another reason to celebrate while in town: Dec. 5 is their 20th anniversary.
Tedeschi recalls the moment Trucks proposed: "We went to the beach and he's like, 'Hey, I think I found this really big shark's tooth. Look!' And he held a shell up and there was a ring in it. That was adorable."
Tedeschi and Trucks married in 2001, and had two kids — but the Derek Trucks Band and Susan Tedeschi Band didn't marry until 2010.
When they merged, it was magic. "It's just an Olympic cast of characters. Everybody's incredible," she says. "You feel the energy."
You might also catch the band now in select theaters: "Learning To Live Together: The Return of Mad Dogs & Englishmen" chronicles the historic reunion concert — spearheaded by Tedeschi Trucks Band — that took place at 2015's LOCKN' festival. For the uninitiated, in 1970, Joe Cocker needed to assemble a touring band ASAP for his "Mad Dogs & Englishmen" album. Leon Russell assembled some of the best session musicians in the business for an all-star team. (It was filmed and became a storied rock doc.)
In 2015, Tedeschi and Trucks Band led a Mad Dogs & Englishmen reunion. Jesse Lauter filmed the experience for his debut documentary, which premiered at Woodstock Film Festival.
Another piece of live LOCKN' magic resulted in a live album for the band: the double-disc Tedeschi Trucks Band released this summer, "Layla Revisited (Live at LOCKN')." The much-buzzed-about 2019 performance saw them play Derek and the Dominos' "Layla and Other Assorted Love Songs" almost in its entirety, with Phish's Trey Anastasio and Doyle Bramhall II.
While quarantined, the couple spent time recording at their home. (Tedeschi says they have "four album's worth" of material in the can.) They took a pay cut to pay their band while sidelined.
"Everybody was still paid except for our manager and ourselves. That was tricky, trying to survive on savings," she says with a laugh.
"We went out as a six-piece for most of the summer. We didn't have our 12-piece back until August," she adds. "So these shows at the Orpheum will be big because we haven't been up to your neck of the woods with the whole 12-piece in a couple years."
Their daughter Sophia,17, will meet them in Boston for a night; their 19-year-old son Charlie is at Florida State.
"We just found out our daughter loves Bob Dylan, so we're going to bring her up for his show in Boston," Tedeschi says.
While she won't be sticking around to watch Mom and Dad, don't worry — Tedeschi has "tons of family coming out" for the home shows.