Now is the winter of discontent for the darkly comic 'Teenage Dick' at the Huntington
Rows of red and blue lockers complement the painted white, red and blue bricks of Roseland High School. Trophies and sports regalia like basketballs, soccer balls, pom-poms and lacrosse nets are crowded together in a glass display showcasing the Roseland Stallions' triumphs in the hallway. This high school is the setting for Mike Lew's "Teenage Dick" at the Huntington Theatre Company's Wimberly Pavilion stage in the South End through Jan. 2. In the play, elections for class president are under way and class secretary Richard Gloucester, a teen with cerebral palsy, hatches a plan to win. But first, he's got to clobber last year's winner and popular jock, Eddie, and annihilate the ultra-religious Clarissa on his pathway to power.
Gregg Mozgala leads a terrific cast that includes Shannon DeVido, Emily Townley, Zurin Villanueva, Portland Thomas and Louis Reyes McWilliams, who expertly trade witty barbs as they navigate the treacherous hierarchies of high school in this coproduction with the Wooly Mammoth Theatre Company and the Pasadena Playhouse.
DeVido's Buck delivers her punchy lines with natural grace and excellent comic timing. Sometimes her advice aims to prick Richard's conscience and sometimes she ends up being his accomplice. Thomas is expertly annoying and renders an over-the-top outburst when ousted from the race that had the audience doubled over in laughter. She cannot understand how Eddie, with his "do nothing handsomeness," could be a good class president.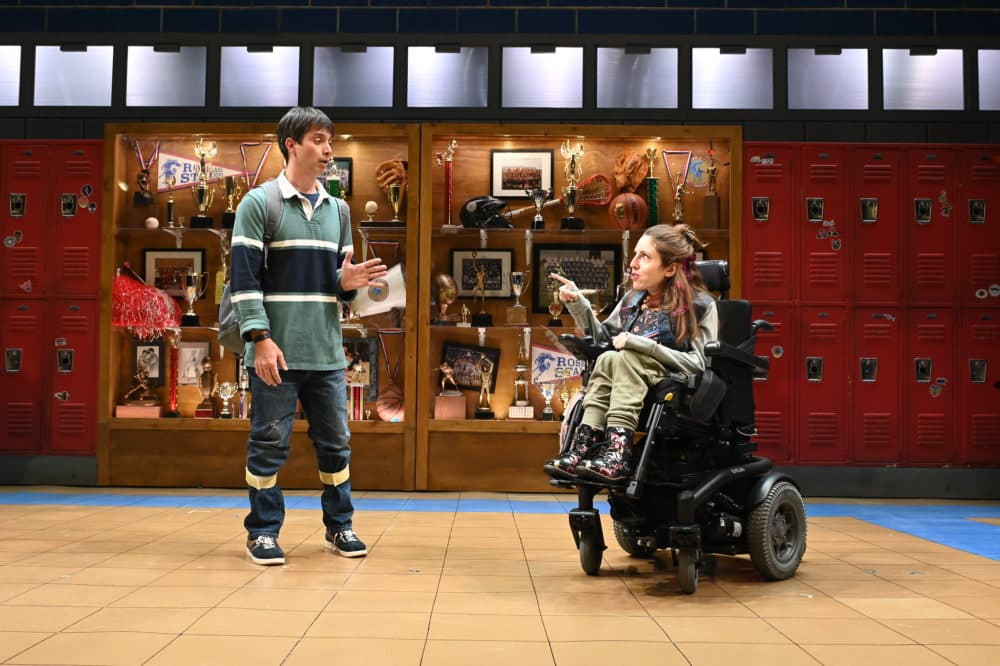 Meanwhile, Eddie (McWilliams) plasters a poster featuring him in all white, draped in gold chains and bracelets with "Anotha One Eddie 4 President," written on the bottom that elicits chuckles.
But Eddie should beware. Richard is a formidable opponent steeped in fury. "I come to bury Eddie, not to praise him. Is this a ballot I see before me? Eddie, the love I bear thee can afford no better term than this: thou art a douchebag," Richard says.
The story, directed by Tony Award-winning Moritz von Stuelpnagel, is a hilarious and challenging narrative with dark underpinnings that aims to disrupt stereotypes of characters with disabilities. But it also upends other stereotypes. The most popular girl in school, Villanueva's Anne Margaret, dreams of moving to New York to become a professional dancer. She feels stifled by mean girls' stares and wants to be free of Roseland and the trauma she's faced, and McWilliams' Eddie is not immune to love and vulnerability as some might believe.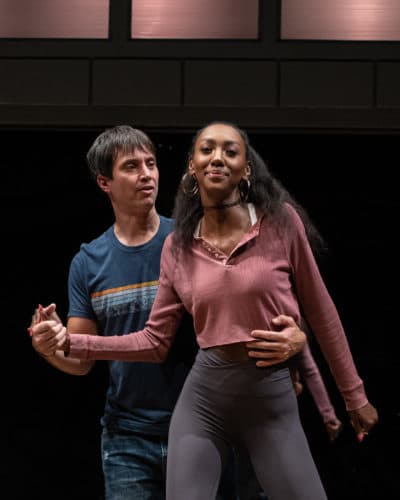 Mozgala, a writer, actor and activist who has cerebral palsy, is the founder of  The Apothetae, a theater that produces work that "illuminates the disabled experience." Mozgala commissioned the play, a retelling of Shakespeare's "Richard III," informed by his lived experience.
In an interview with the Huntington's community engagement manager, Mozgala said that "it wasn't until he was in his senior year of high school that I realized my disability was not something I would ever outgrow or overcome; it was going to be part of me forever." That realization shows up onstage in Richard and propels him toward his goal.
But it's Richard's insatiable thirst to win, be seen, and be feared that becomes the most uncomfortable and fascinating. Perhaps it's because most of us teeter-totter back and forth between doing what's right and doing what we want. In some ways, Richard is free because he's decided to do whatever it takes, blinded by his righteousness. With each decision, he delves deeper into the muck without much remorse.
He believes he's reviled by all, so why not give the people what they want?
"Machiavelli says cruelty is at times warranted but that over-cruelty generates hate. But what if you're hated to begin with? If cruelty is a viable tool, then why stop being cruel if you've always been hated since birth?" Richard says.
Later, Buck tries to get Richard to see the error in his ways. "I don't have a big gaping hole in my soul that yearns to be filled with absolute power, ya sinister Horcrux. Richard, if someone pulled on my underwear to the point that it ruptured my taint, I think I might call a time out," she says, referencing Eddie's attempt to get Richard to calm down.
And though the play explores a burgeoning romance, an interesting debate between the candidates and a fun dance number, there's also significant loss and pain. But is there redemption? "Teenage Dick" makes it worth finding out the answer to that question.
---
"Teenage Dick" is at the Huntington Theatre Company's Wimberly Theatre in  the Calderwood Pavilion through Jan. 2.