How to get your vaccination QR code onto your phone
This article is more than 1 year old.
Maybe you've been nervously carrying your COVID-19 vaccine card for months, worried you'll lose it. Maybe you've already misplaced it and had to request a new one.
Worries and hassle, be gone: you can now access your vaccination record and keep it on your smartphone.
Anyone who received their shots in Massachusetts can now get an official electronic vaccination card — complete with a scannable QR code — through the state's COVID-19 SMART Health Card program.
This alternative form of proof comes in time for Boston's vaccine mandate. On Jan. 15, the city started requiring proof of vaccination to enter restaurants, gyms and sporting and entertainment venues. These establishments will honor a physical vaccine card or a copy (digital or printed) of it.
The QR code is what most obviously distinguishes the SMART Health Card from previous forms of proof. COVID-19 SMART Health Card readers can scan the QR code and immediately access your complete — and official — COVID vaccination history, along with any immunizations you received in the state. (Yes, that includes the measles shot you got at 4 years old, as long as you were living in Massachusetts at the time).
Here's how you can get your digital COVID-19 vaccination card, with videos and screenshots to help:
First, submit a request:
Go to myvaxrecords.mass.gov.
Click "Find my vaccine record."
Fill in your information and enter (and remember!) an original PIN.
Check the box next to "I'm not a robot."
Prove you're human by correctly selecting the squares that feature the prompt, e.g. crosswalks. Then, select "Verify."
Hit "Submit."
Wait while the state checks its database. Once there's a match, the state will send you a message as an email or text (whichever you selected earlier).
If your request was approved, access your SMART Health Card:
Click on the verification link you received; you have 24 hours to do so.
When prompted, enter your PIN.
Scroll down to where it says "click to download COVID-19 SMART Health Card."
Voila! You will be redirected to a page with your SMART Health Card which includes a unique QR code.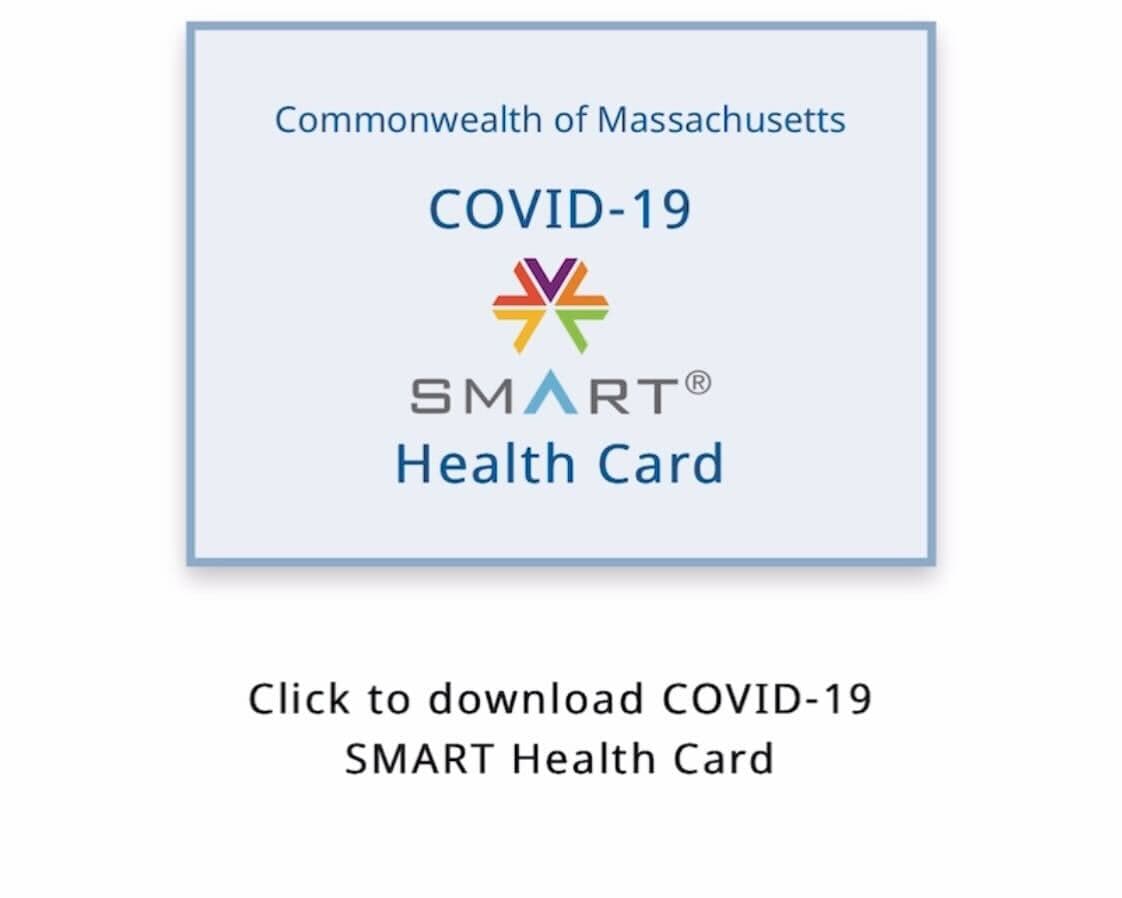 To save your SMART Health Card to your phone:
(For all phones) Directly download it to your phone's camera roll.
Press and hold anywhere on the SMART Health Card until a menu appears.
Select "Save Image."
(For iPhones iOS 15 or later) Add it to Apple Health and Apple Wallet.
Press and hold anywhere on the SMART Health Card until a menu appears.
Select, "Open in Health."
When prompted, select "Add to Wallet and Health"
For Android phones:
Take a screenshot by pressing the power and volume down buttons at the same time.
What's in your SMART Health Card?
Your COVID-19 vaccination card information: dose, date administered, location administered, lot number.
A record of every immunization reported to Massachusetts.
See something wrong or missing?
If you get an additional vaccine dose, you will need to repeat the process and get a new QR code. For COVID vaccines, wait 3-4 days after your shot for your record to update. For other vaccines, wait 10 days.
If you waited more than 24 hours before accessing the verification link, you will need to begin a new request.
Didn't get an email or text? The state advises you contact your carrier. It may have been categorized as "junk."
If you changed addresses, phone numbers or emails, first ask your vaccine provider to update your information. If that doesn't work, you can directly make a request with the state.
For more information, check the state's Frequently Asked Questions page.
Other ways to access your card:
If you open the SMART Health Card on your computer but want it on your phone:
On your computer, open the SMART Health Card.
On your phone, open the Camera app and hover the camera lens over the QR code. No need to snap a photo.
Tap on the pop-up bar that automatically appears at the top of your phone screen.
Choose any of the methods in the above section to save your health card to your phone.
If you like the tactility of a physical card, you can print out your SMART Health Card and use that instead.