Frustrated parents consider fibbing to get young kids a COVID jab. Doctors urge patience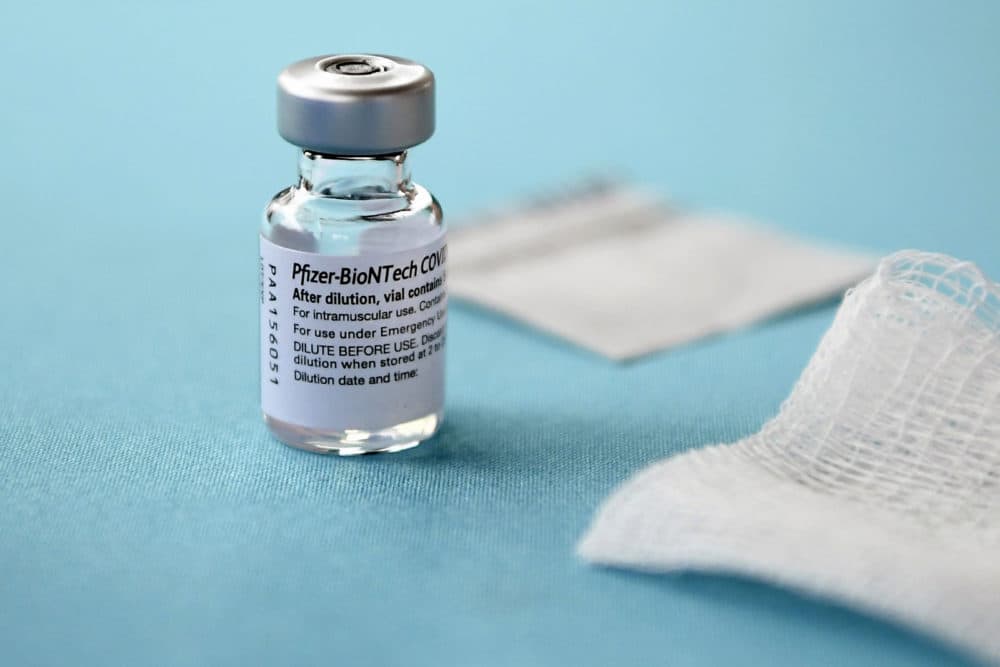 When the FDA postponed its upcoming review of Pfizer-BioNTech's COVID vaccine for kids under five, there was an outpouring of disappointment and disbelief in family text messages and on social media.
There were also questions like this one posted on a private Facebook group: "My 4-year-old will be 5 in October. Can anyone tell me how bad it would be if at this point I just lied and said he was 5?"
The answers followed quickly. "I would," wrote one member of the group. "I'm giving this serious consideration," said another.
Others weighed in warning against forgery or offering tips, like not going to a pharmacy that already has your child's age on file.
While many parents have been hesitant to get their kids vaccinated, for some parents of younger children, the wait for a COVID vaccine has felt far too long. Some of these parents are ready to take drastic action, especially as mask mandates begin lifting in states like Massachusetts within weeks. But doctors and public health experts say there are several things to consider before putting down a false birth date for your child.
While strongly urging parents not to fib in order to get young children vaccinated, Shira Doron, an epidemiologist at Tufts Medical Center, said she understands why the delay might push parents in that direction.
"As soon as the news came out, I was like, 'Yeah, well, this seals the deal. Now people are really going to want to do it,'" said Doron. "It's obviously really disappointing."
There may be nothing magic about the age of five, medical experts said, but many still advised against getting the jab for younger children before the regulatory process is complete, especially since they are unlikely to get severely ill from COVID.
"It's a terrible idea," said Rick Malley, a professor of pediatrics at Harvard Medical School and an infectious disease doctor at Boston Children's Hospital. "We have to be emphatic in saying that that is not something that we would recommend at all, in anybody. It's a bad idea."
Malley said he's most concerned about the possibility of unknown side effects, comparing it to driving while blindfolded. "We have no idea about the safety," he said, "You're taking a risk that is not warranted."
However, Malley acknowledged the age of five is an arbitrary cut off date. "There's no biological reason why a four-year-old and a five-year-old are going to behave really differently," he said, suggesting the limit was likely picked because, in the U.S., it corresponds to the age when children go to school.
Both Malley and Doron said — unlike medications — the dosing of vaccines is not related to a person's size.
"[The vaccine] goes into the muscle and travels straight to those lymph nodes in the underarm and causes an immune response in the immune system, none of which is affected by how big you might be," Doron said.
Instead, she said younger children have more "vigorous" immune responses, which is why sick kids tend to get higher fevers and have more rashes than adults.
"It's a manifestation of how strong their immune response is. And so, you can get away with lower [vaccine] doses and get the same efficacy," Doron said.
From a medical perspective, she said, if four-year-olds are given the higher dose meant for five to 11-year-olds, they might experience stronger side effects. She'd expect to see things like muscle aches, body aches and fevers.
One serious risk that has been documented with the COVID vaccines is heart inflammation, or myocarditis and pericarditis, although it is "very uncommon in the five to 11-year-old age and [the risk] goes down with age," Doron said.
There may be a broader societal risk to consider, too.
If parents bring an underaged kid to get vaccinated it would be asking the vaccine site to do something "they are really, really not allowed to do," Doron said. "We have to follow the emergency use authorization to the T or we are at risk of not being a vaccine site anymore, and then a lot of people suffer."