As omicron surge wanes, long COVID clinician expects 'continued high demand' for care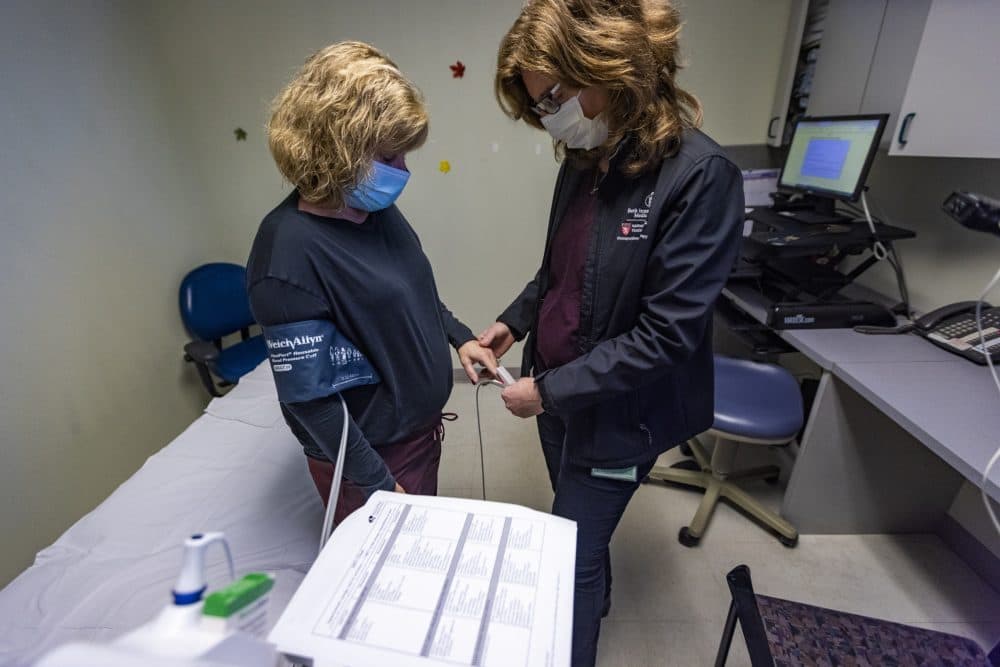 Many Massachusetts residents are rethinking precautions as the latest COVID surge peters out. The state's case totals and hospitalizations are dropping sharply from the omicron-fueled surge that peaked in January, and cities and towns are gradually lifting public health measures like indoor mask requirements.
"The surge has ended," state Rep. Bill Driscoll Jr., co-chair of a legislative committee overseeing the pandemic response in Massachusetts, tweeted Tuesday.
But because of the tens of thousands of cases reported in the recent surge, concerns over an ensuing potential increase of so-called long COVID are starting to crop up among experts studying and treating the condition, which can be debilitating.
"Omicron infections were so common that we're certainly seeing it cause long COVID, and expect that it will result in continued high demand for care for people with long COVID," said Dr. Jason Maley, head of Beth Israel Deaconess Medical Center's long COVID clinic. It's one of several post-COVID clinics currently treating patients in Massachusetts.
Long COVID symptoms are wide-ranging and include fatigue, brain fog, muscle pain and heart palpitations, according to the U.S. Centers for Disease Control and Prevention. The condition can emerge even in people who suffered mild cases. (There's a lot of variance in estimates about the likelihood a COVID case will lead to long-term symptoms, from 5% to as high as 30% or more.)
Maley points to recent studies that suggest full vaccination offers good protection against post-COVID symptoms. But he adds the long-COVID risk will remain while the virus is circulating — something residents can consider as they venture out into what appears to be an increasingly mask-optional society. This week, the state loosened its masking guidance for fully vaccinated individuals with lower risk of severe infection.
"Even prior to the surge, we and other clinics around the country focusing on [long COVID] had long wait times ... the sheer volume of people affected by these impairments was so high."

Dr. Jason Maley, director of the long COVID clinic at Beth Israel Deaconess Medical Center
Omicron does not appear to make long COVID worse or more likely than other variants, Maley said. However, given the latest wave of cases, medical professionals are watching to see whether reports of long COVID increase in the coming weeks.
People who have contracted the virus would typically start to recognize the onset of long COVID within four to 12 weeks of the initial infection, Maley said. Among the signs are whether a person's symptoms aren't improving as expected or are even getting worse — or whether there are new, more alarming ailments with memory or physical functioning.
"Relative to this recent wave with [omicron] and the peak of infections, I would say we are currently kind of in the time frame where we may begin to see people recognizing a lack of recovery the way they would expect," Maley said.
In the near term, Maley said increasing capacity will be a key focus for his clinic, as well as sharing insights Beth Israel Deaconess has gleaned with primary care providers and hospitals so they can better treat so-called COVID "long haulers."
"Even prior to the surge, we and other clinics around the country focusing on [long COVID] had long wait times ... the sheer volume of people affected by these impairments was so high," Maley said.
Deciphering the mystery of long COVID remains a work in progress. Little was known about the condition when it first emerged. Health experts are learning more with each passing month, and say that understanding could shed light on conditions with similar symptoms, like chronic fatigue.
Massachusetts Congresswoman Ayanna Pressley is pushing the CDC to collect and publicly release more demographic data on long COVID. The Democrat sent the agency a letter in January saying the information is needed to help lawmakers and researchers support people suffering from the condition.
Elsewhere in New England, Brown University launched a long COVID research initiative in September.
"If we ignore it, it's gonna create a lot of problems — the same way that ignoring the exposure of folks at Ground Zero [after 9/11] caused problems for them," Dr. Megan Ranney, co-leader of the Brown initiative, told WBUR last year.
With reporting from WBUR's Martha Bebinger