In Boston, ballroom culture offers freedom for queer and trans POC
From the outside, Boston GLASS — a resource center for LGBTQ+ youth — looks like a typical office building. But on a recent February night, the steady beat of music belies what's going on inside. There's a ball happening and many people from the community ballroom scene have shown up, to either watch or participate.
Mercedes Loving-Manley is one of those people. She's dressed casually in jeans and a jacket, sporting waist-length blond braids, tipped in fire engine red. She's there to support her younger house members and to sit on the judge's panel. She recently transitioned into an important new role and with it comes new responsibilities.
Loving-Manley belongs to the House of Mulan, one of many groups or families in the century-old world of ballroom. Houses are often national, with local chapters, and they compete against each other at balls. For many Black and Latinx queer and trans people, houses provide an essential family structure and system of support. House leaders, called "mothers" and "fathers," often take on the responsibilities that a biological parent would. "The understanding isn't there [in biological families]," Loving-Manley points out. "Without understanding, it makes living really hard, it makes existing hard, and it makes maneuvering through society very hard."
Loving-Manley has just become a house mother for the Boston chapter. She's found that explaining her role to people outside of ballroom culture is a little difficult. "No matter how mainstream ballroom culture gets, like, it is still very much an underground thing," she says with a laugh.
Shows like "Pose" and "Legendary" have introduced many to the glitz and glam of ballroom. But for people like Loving-Manley, ballroom is a part of everyday life. "It's not always fab. It's hard work, dedication and compromise."
Black LGBTQ+ youth face heightened odds of experiencing violence, homelessness and discrimination. A 2019 study from the Human Rights Campaign found that 67% of surveyed LGBTQ+ youth of color reported verbal assault based on their identity while 30% reported being physically assaulted. House parents like Loving-Manley continue a long tradition of helping youth navigate a difficult society. Lexxi and Henny Mulan are the children of the House of Mulan and, like many in the ballroom community, they've taken on their house name as their last name. For them, ballroom gives them a space to be free.
"When I'm voguing, I feel like I get into my femininity...I feel like I'm a new person," Henny Mulan says. He's been walking in balls since he was 14 and is confident about his routine for the ball at Boston GLASS. "I feel like I'm a new version of myself." Lexxi Mulan describes a similar feeling. "When I hear a beat and it's loud, it's gonna make me wanna unleash that anger, that sadness, that pain or anything like that."
The ball falling during Black History Month is significant for all of the House of Mulan members. Highlighting Black queer and trans stories is incredibly important because that history can often be erased, says Loving-Manley. "I think that we're often pushed to the margins of discussions, discourse, conversations around race, around health, wellness, security within the Black community."
Often, LGBTQ+ communities are not highlighted during Black History Month, Henny Mulan says. "Everybody in the community has a different story. It's really important that everybody gets to share their story because everybody's coming from a different place."
Balls like the one at Boston GLASS celebrate those different stories in the Black and Latinx LGBTQ+ community. The center is transformed into a Valentine's Day-themed wonderland for the night, complete with pink and red balloons and a runway outlined by fairy lights. Loving-Manley takes her seat with the other judges as Henny and Lexxi Mulan prepare for their routines on the sidelines.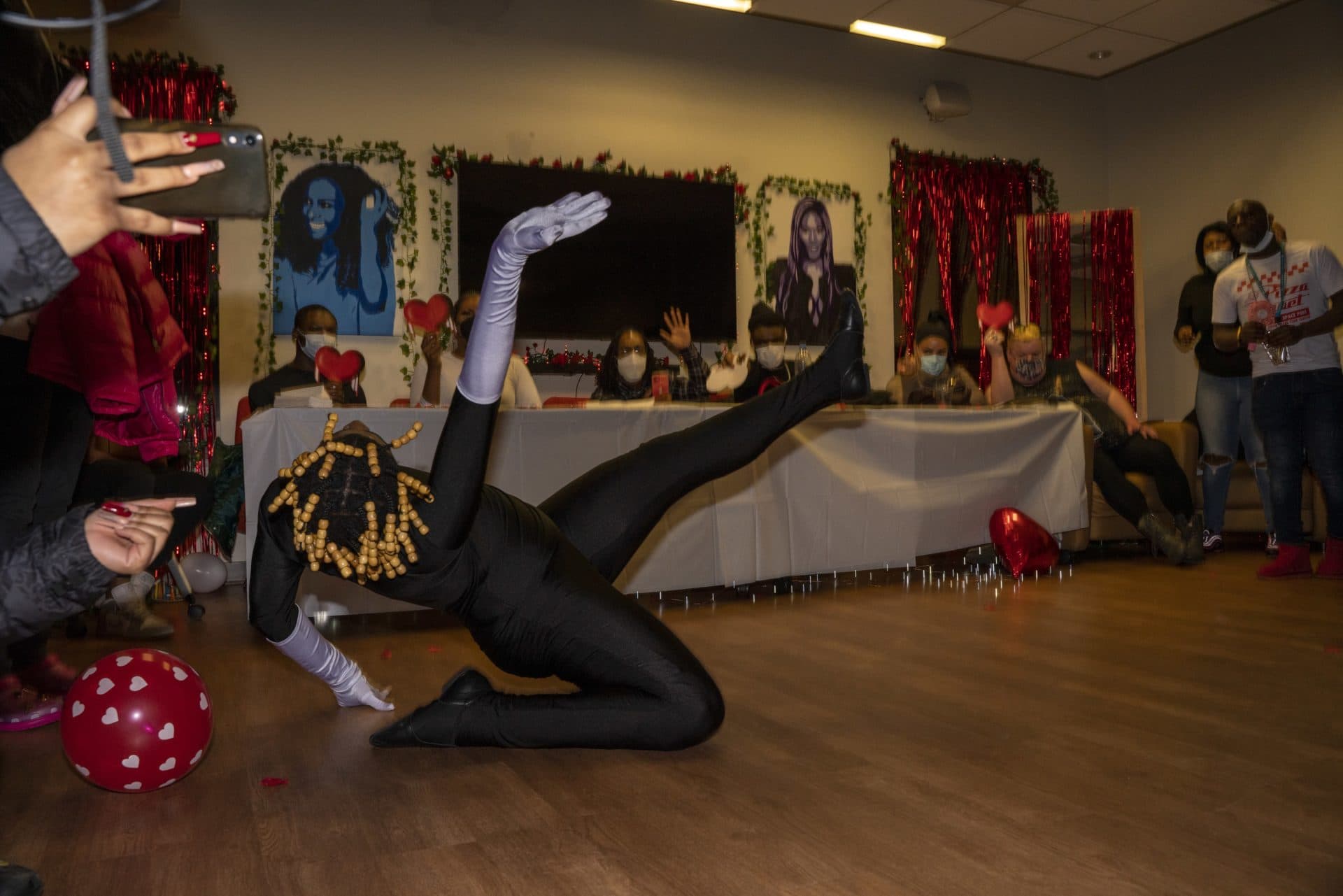 Competitors from different houses take over the runway as the crowd chants from the sidelines. The energy is infectious. Dressed in a black bodysuit with wooden beads in his hair, Henny Mulan takes the stage. He leaps and spins down the runway, dropping into explosive and gravity-defying poses, before rising again.
One hundred years ago, Black and Latinx pioneers fought to build spaces like this one. Now, Loving-Manley and others like her are continuing a very important tradition. "I'm doing this for, like, a much greater purpose," she says. "I'm doing this for legacy. This is beyond me at this point."