Andris Nelsons and the BSO make great contemporary music a calling card this season
You wouldn't have said prior to this season that the Boston Symphony Orchestra has been a bastion of contemporary music, at least not since the visionary days of Serge Koussevitzky, who led the orchestra from 1924 to 1949. The current music director, Andris Nelsons, has certainly come under fire for his stewardship of today's music, particularly after an interesting but lackluster recording, "Boston Symphony Commissions," was released on Naxos in 2019. If you never heard of Timo Andres, Eric Nathan, Sean Shepherd and George Tsontakis you're not the only one.
That has changed dramatically this season as Nelsons has championed some of the most important composers of today. If you've never heard of Sofia Gubaidulina, Kaija Saariaho, Unsuk Chin and Augusta Read Thomas, you don't know what you're missing. Forget that they are all women; they are all in the pantheon of great contemporary composers regardless of gender. And if you add a shorter, quite beautiful piece by Estonian mystic Arvo Pärt, a number of other contemporary works this season, as well as BSO artistic partner Thomas Adès returning to conduct his Concerto for Piano and Orchestra then this has been quite the season for 21st-century work at the BSO.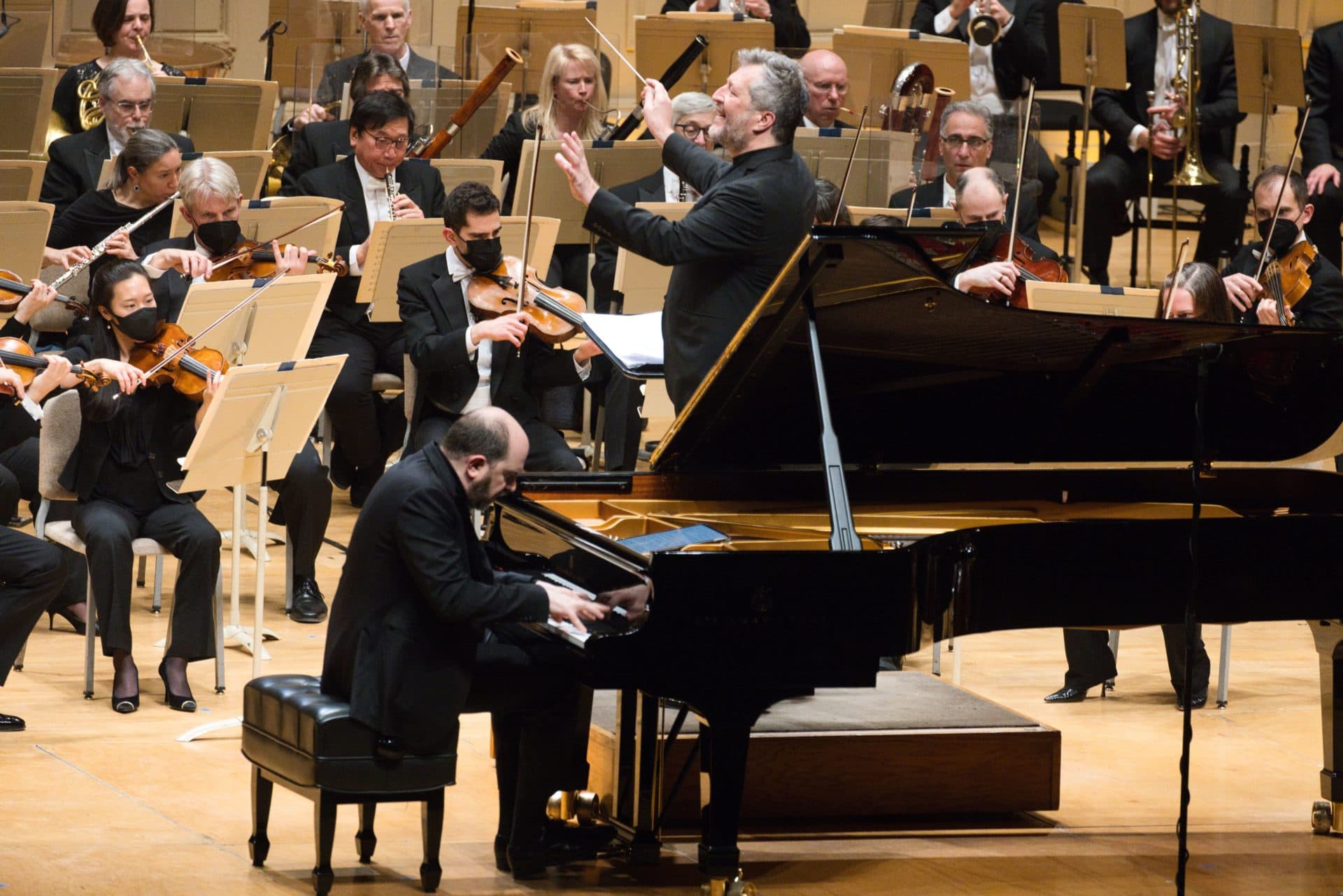 One can't predict what people will be listening to in future generations, but my guess is that each of the composers named above will stand the test of time, just as many of Koussevitzky's composers have, from Béla Bartók and Igor Stravinsky to Aaron Copland and Leonard Bernstein.
The pieces by Gubaidulina, Saariaho and Chin were not the obligatory fanfares and overtures that many orchestras schedule as their "don't worry it'll be over soon" nods to contemporary music but major pieces that might have all been the highlights of the evenings when they were performed.
What each of them share, along with Augusta Read Thomas and Adès for that matter, is a heightened sense of drama, musical complexity twinned with sonic accessibility and a unique musical soundscape that transcends previous generational conflicts between tonality and atonality. And they all got fully committed performances from Nelsons and the BSO.
Nelsons has become one of the Deutsche Grammophon label's podium all-stars along with Gustavo Dudamel in Los Angeles and Yannick Nézet-Séguin with the Philadelphia and Metropolitan Opera orchestras. Unlike that earlier Naxos recording, there is nothing lackluster about Nelsons' bristling recent account of three Gubaidulina pieces with the BSO's Leipzig cousins, the Gewandhaus Orchestra on the DG CD.
The Gubaidulina work that the BSO performed last October, "The Light of the End," is on the CD though I liked Nelsons' performance with the BSO even more than with the Leipzigs. (Because of COVID and other personal concerns I'm basing this piece on Saturday night recordings rather than on live attendance.)
The 90-year-old Gubaidulina, a native Russian living in Germany, is quoted in the DG liner notes as saying that the piece describes the "irreconcilability of nature and real life, in which nature is often neutralized. Sooner or later, this pain had to be manifested in some composition." The pain is there, but so too is Gubaidulina's modernistic spirituality.
The music of Finnish composer Saariaho, particularly her vocal music, can send chills down the spine with an eeriness that evokes an otherworldly timelessness. Of all of the current season's concerts, this sounded like the one that shouldn't have been missed with Saariaho's piece sitting astride Pärt, Stravinsky's "Firebird Suite" and Shostakovich's Violin Concerto No. 1 played by Baiba Skride. Classical music can too often seem divorced from the world, but Shostakovich's battles with another Russian dictator, Joseph Stalin, seem of the moment these days, as did the presence of so many performers and composers from the former Soviet Union on this program.
Saariaho's "Saarikoski Songs" set five of the Finnish beat writer Pentti Saarikoski's poems including "Everyone will have their own this," to music that evokes William Blake more than Allen Ginsberg, but girding it all is an ethereal musicality that was beautifully served by soprano Anu Komsi, Nelsons and the BSO.
The BSO co-commissioned Chin's second violin concerto, which the South Korean composer said she'd write only if Leonidas Kavakos would perform it, which he did under Simon Rattle in London and Nelsons in Boston. Here again is a coloristic sound world — subtitled "Shards of Silence" — built from simple ideas into an all-enveloping dramatic story.
As Jeremy Eichler wrote in the Boston Globe: "The piece is cast as a single organically connected movement with many subsections totaling roughly 30 minutes (including a knuckle-busting cadenza). Chin spins it all out from a single five-note cell played by the violin in the opening bars. Along the way, she clearly honors the genre's expectations for virtuosity while at the same time renewing them with fresh sounds and colors."
Here's an excerpt from the London performance:
Again, Chin was superbly served by performer, conductor and orchestra. There were other interesting contemporary pieces by HK Gruber and Jörg Widmann, all adding up to an amazingly robust season for Nelsons and the BSO, which also included an acclaimed performance of Alban Berg's "Wozzeck" and, when he returns in late April, an orgy of Richard Strauss pieces in anticipation of his seven-CD set on DG with the BSO and the Gewandhaus.
Nelsons' contemporary selections aren't the last word in programming. Dudamel's choices in Los Angeles are more American (John Adams, Andrew Norman). Nézet-Séguin with Philadelphia and the Met, skews younger and more diverse with Matthew Aucoin and Terence Blanchard while he's also re-investigating the late African American composer Florence Price's work. Most dramatically, Esa-Pekka Salonen in San Francisco is trying to repurpose the 21st-century orchestra by bringing aboard the likes of esperanza spalding, Bryce Dessner, Nico Muhly, dancers, and robotocist Carol Reiley as collaborative partners.
Nelsons seems less at home with music further afield from the composers he's presented this year. It might make sense to empower an assistant conductor to do that kind of work, as Michael Tilson Thomas did for the BSO 50 years ago as assistant conductor.
In any event, Nelsons and the BSO weren't even part of the conversation when it came to contemporary music a year ago. Now they're speaking the language fluently and poetically.