Green Line crash sends 4 train operators to the hospital, disrupts service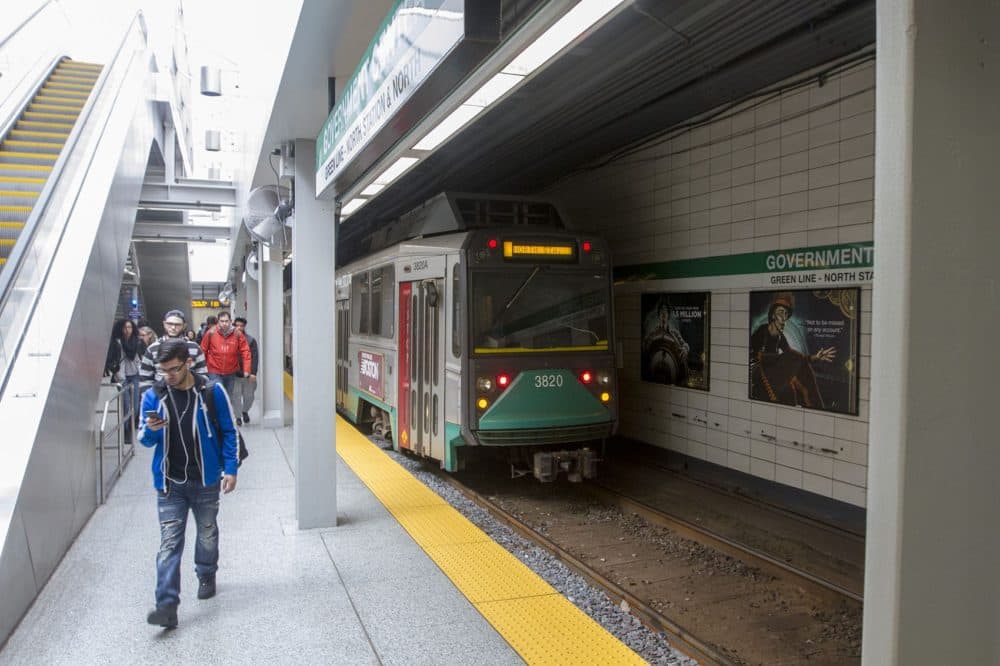 A Green Line train carrying roughly two dozen passengers collided with another train Wednesday night at Government Center, the MBTA said, sending four train operators to the hospital.
There have been no reports of additional passengers hurt.
The incident suspended Green Line service Thursday morning between Park Street and North Station, and caused Blue Line trains to bypass Government Center. It also forced people to take shuttle buses between Lechmere and North Station, as well as use the Orange Line to connect to the Red and Blue lines.
The T said it was working to figure out what caused the collision, which happened just before 9:30 p.m. Spokesman Joe Pesaturo said there were between 20 and 25 passengers aboard the two-car train that struck the other, which had no passengers because it hadn't yet entered service. Both trains derailed, he said.
The incident comes as the transit agency is already facing federal scrutiny over its safety record. The Federal Transit Administration wrote in a mid-April letter to T leaders that it's "extremely concerned" by incidents including "derailments, train collisions [and] grade crossing fatalities," and that it "remains unclear what actions the MBTA Board and executive team are implementing to prevent and address the system's safety violations."
The letter came days after a man was dragged to death by a Red Line train while his arm was caught in the door. The half-century-old train car involved had a fault in the safety feature designed to stop trains from moving if doors are obstructed, a preliminary National Transportation Safety Board report said.
The T plans to replace the entire Red Line fleet by 2024.
Last month, the T pulled new Orange Line cars from the tracks after engineers discovered one of the cars' brakes were improperly installed.
A Green Line crash on Commonwealth Avenue last summer injured more than two dozen people and prompted investigations by both the NTSB and then-Suffolk County District Attorney Rachael Rollins. The train's operator pleaded not guilty to criminal charges.
At a board meeting last week, MBTA General Manager Steve Poftak said findings from the FTA's safety inspection will likely be released this summer.
"We will do everything in our power to implement those recommendations as expeditiously as possible," Betsy Taylor, the board's chair, said at the meeting.
Poftak called the probe an "opportunity" for the T to better understand how the system's safety policies can improve. Gov. Charlie Baker told WBUR last month he welcomes the inspection.
T leaders have consistently stood by the system's safety, and point to billions of dollars being spent on safety-related initiatives.
With reporting from WBUR's Darryl C. Murphy.