A.R.T.'s stirring production is not your (founding) fathers' '1776'
The American Repertory Theater's (A.R.T) electrifying production of "1776" is no ordinary history lesson. From the moment the cast steps onstage in what appears to be regular street clothes and then transforms with the pulling up of socks, the donning of brocade jackets and buckled shoes, and the use of elegant choreography by Jeffrey L. Page, it's evident that the opening scene foreshadows an energetic ride down a familiar path.
Typically, I'm slow to warm up to historical founding-of-America fare. Not because it's unimportant, but because it's often exclusionary. Here, "1776" (through July 24 at the Loeb Drama Center) with direction from Diane Paulus and Page differs as much as it can, in all the best ways.
There's a diverse, multi-generational cast, who identify as female, nonbinary and trans, so the people onstage represent America more fully; a colorful "We the People" mural by Artists for Humanity; and a multimedia exhibit where cast members talk about this document and their stories as part of American history. In addition to the complementary happenings, there's an infectious buzz to the performance that might come from the two-year pandemic-induced wait to bring the story to the stage.
Crystal Lucas-Perry leads an extraordinarily talented cast as the intrepid John Adams, who is the obnoxious, unliked Massachusetts congressman. Virginia's self-aggrandizing Richard Henry Lee (Shawna Hamic) — who is eager to sway other members of Congress in the fight for independence from England — is a delight to watch with her Southern drawl and charm in "The Lees of Old Virginia." The superb acting of Patrena Murray as Benjamin Franklin, and Becca Ayers, who is incredibly funny as Thomas McKean, adds to the show's pull. A band with keys, percussion and strings rounds out the show with grand accompaniment.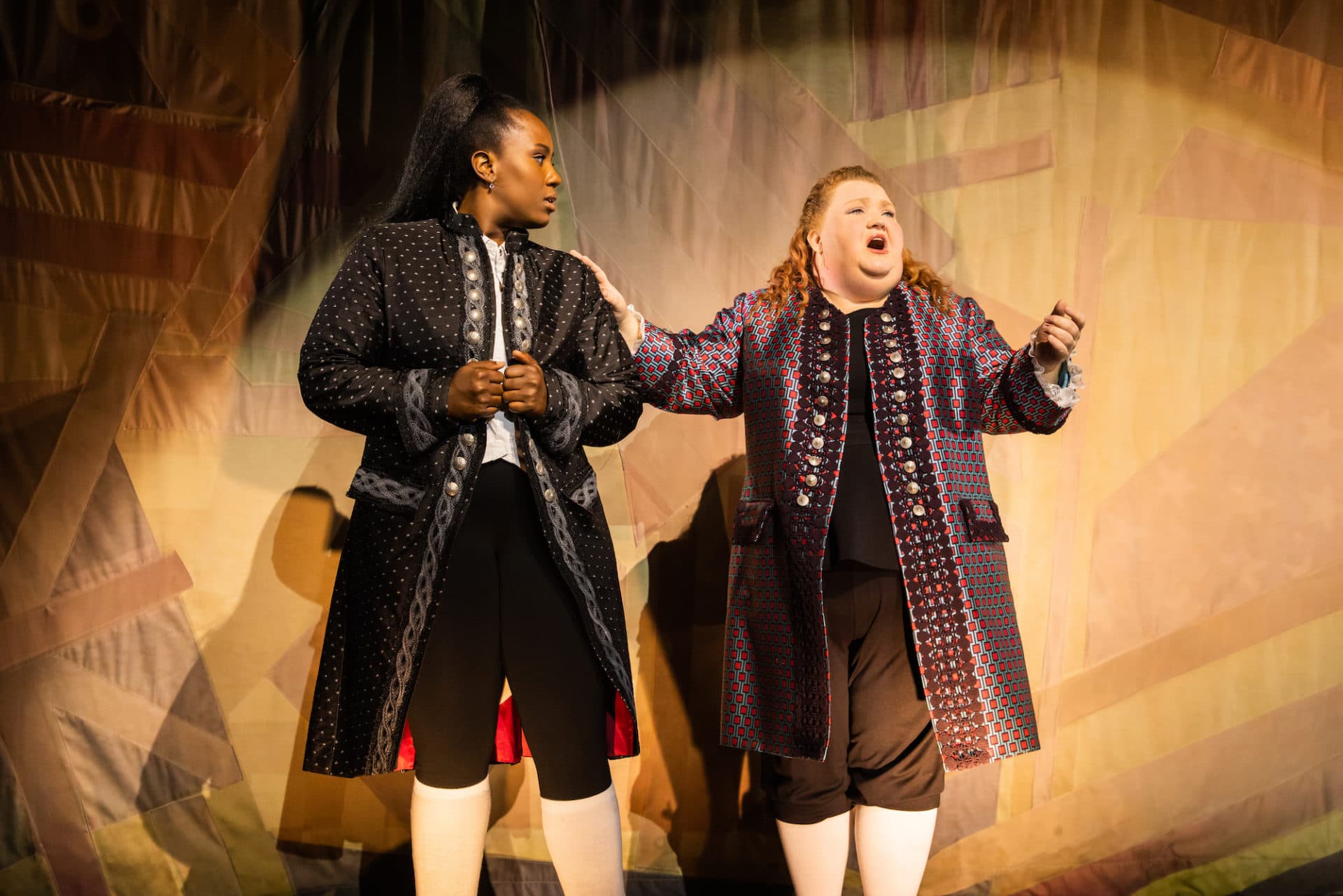 There's a respectable balance of dialogue and music, featuring a sweet "Yours, Yours, Yours" between Lucas-Perry's Adams and Abigail (Allyson Kaye Daniel) in the first act, actual violin playing from Elizabeth A. Davis' Thomas Jefferson and an exquisite "The Egg" song with a montage of all things American (past and present), from protests to images of Native Americans to the Cotton Club and more playing the in the background. The rock-tinged performance ends with fierce, stratospheric high notes.
During the performance "Momma, Look Sharp," Salome B. Smith, the courier, momentarily steals the show as she slowly unleashes her vocal ability in the song's climax. Eryn LeCroy as Martha Jefferson dazzles too in her wonderfully sultry and comedic "He Plays the Violin," an ode to her quiet yet brilliant husband.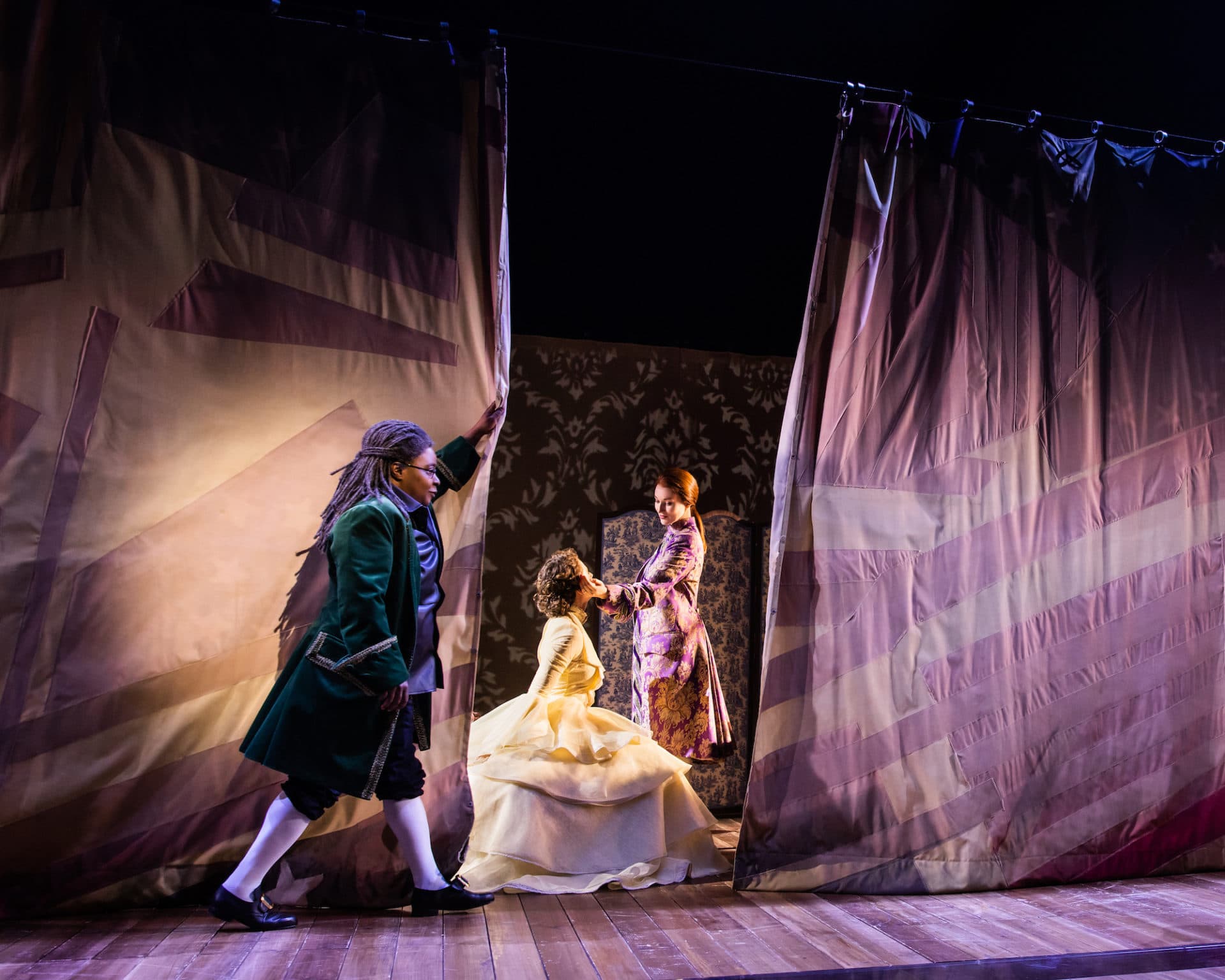 In the directors' welcome, Paulus writes that she does theater "to ask big questions." Since one of A.R.T.'s core values is inquiry, Paulus writes that during the play's development, "we asked: How can we hold history as a predicament versus an affirming myth? How does an honest reckoning with our past help us move forward together?"
This attempt at honesty, especially in the second act's "Molasses to Rum," is remarkably uncomfortable but critical. Sara Porkalob, who portrays South Carolina's Edward Rutledge, makes a plea to strike the anti-slavery clause out of Jefferson's declaration. There's a short debate over whether enslaved Black people are even people since those enslaved were sold along with land, oats, rice and other objects. Jefferson, who owned many enslaved people, asserts they are. But Rutledge, who smells hypocrisy among the group, asks Jefferson, "You're a practitioner [of slavery], are you not?" As Rutledge continues, the Black cast members dance to an ominous, African-tinged drum-driven beat creating an intense but necessary discomfort, augmented by darker, flashing lights. The scene is an even more emotional update to the filmed version, which was quite potent on its own. The Tony Award-winning show with music and lyrics by Sherman Edwards and words by Peter Stone premiered on Broadway in 1969 and on film in 1972.
But cultivating awe in theater is what Paulus is good at. From "Crossing" to "The Gershwins' 'Porgy and Bess'" and "The Donkey Show," she has a knack for grand storytelling with punchy urgency. That, coupled with the theater's mission to educate, pushes A.R.T. to reimagine old stories and bring new, courageous ones to the forefront. In addition, much of the A.R.T.'s work often offers exploratory lectures, projects, and a host of additional resources.
For instance, in June and July, for the "Declaration Reclamation" project there will be workshops and discussions held across the city where participants can talk about how their story is part of American history. The program, a collaboration between A.R.T and The Network of Arts Administrators of Color aims to "amplify underrepresented voices and stories glossed over" or left out of American history and aspires to "engage minds and bodies to collectively reclaim space in the story of America, bridging the gap between the histories we are taught and the histories that define us."
People featured in the audio exhibit next to the theater consider how their stories are part of American history. The first voice I hear is Paulus, who talks of her Japanese American heritage. She says that there were laws and policies against the fraternization of American soldiers and Japanese women, which makes her think about her parents and how they defied that policy because they were in love.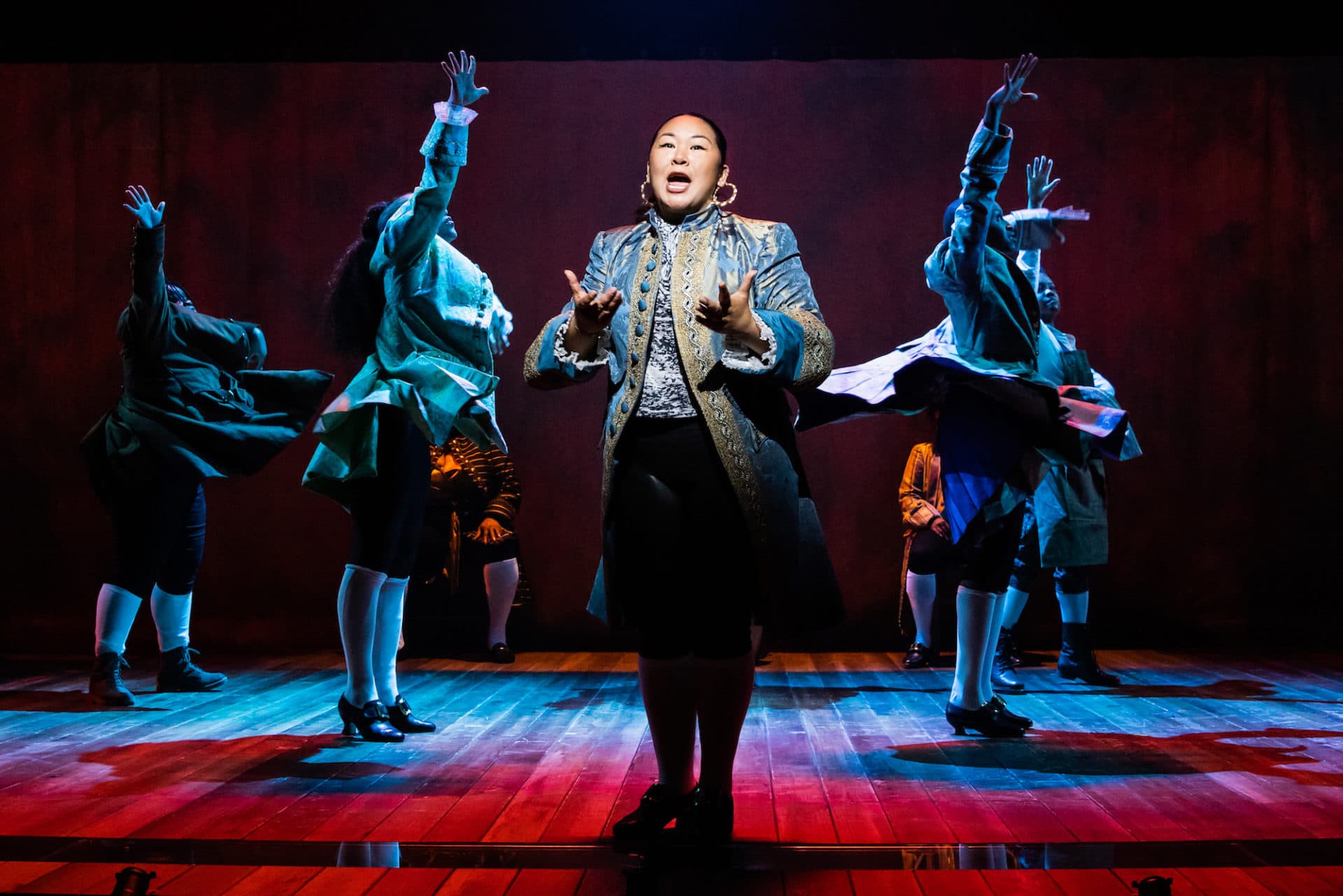 In another story, Murray, who was born in Jamaica, says she didn't think American history had anything to do with her growing up. As she learned about the slave trade in the Caribbean and how it directly affected America, she changed her mind.
Before the actors come onstage, famous white founding fathers are projected against a curtain made of a collage of flags. My seat neighbor's guest whispered, "That's a lot of white men." That very thought has kept me from digging deeper into some historically centered projects in the past.
But, like Murray, the Jamaican narrator who now realizes that "as a gay Black woman" American history has everything to with her, I now realize that it has everything to do with me too.
---
The American Repertory Theater's production of "1776" runs at the Loeb Drama Center through July 24.