Geoff Diehl rejects invite to televised debate for GOP primary for governor
Former state Rep. Geoff Diehl has declined to participate in a televised debate presented by WCVB, WBUR and the Boston Globe ahead of next month's Republican primary for governor.
So far, Diehl has refused to debate his primary opponent, Wrentham businessman Chris Doughty, on any mainstream news outlet.
In a statement, Diehl said he has agreed to participate in debates hosted by two hand-picked moderators, conservative radio hosts Howie Carr and Jeff Kuhner. The two candidates faced off last month in a debate on Carr's show.
The Diehl campaign declined to say specifically why he rejected the invitation from the WBUR consortium.
A spokesperson for Doughty's campaign said they did not consider an invitation to Jeff Kuhner's show "a legitimate offer to debate," noting Kuhner has publicly endorsed Diehl.
The spokesperson, Holly Robichaud, said voters need to hear the candidates debate in an independent forum.
"Look, it's not getting the information out to the voters, and it's completely disrespectful to the voters to assume that they don't want to hear the differences between the two candidates," said Robichaud. "They have a right to know, there needs to be transparency."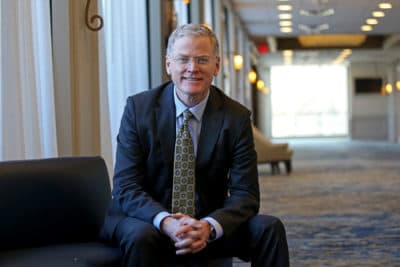 Diehl has been endorsed by Donald Trump and is running ahead of Doughty in early polls, which may help explain his lack of interest in participating in more high-profile debates. A WCVB/UMass Amherst poll in June found Diehl leading by 37 points.
While Diehl rejected the debate invitation from the WBUR consortium, his running mate agreed to a similar debate this week. Diehl's running mate, Leah Cole Allen, sparred with Doughty's running mate, Kate Campanale, in a debate for lieutenant governor on WBUR earlier this week. The radio debate was co-presented by WCVB and the Globe.
The Massachusetts primary is Sept. 6.