WATCH: Republican candidates for Massachusetts lieutenant governor meet for debate
Play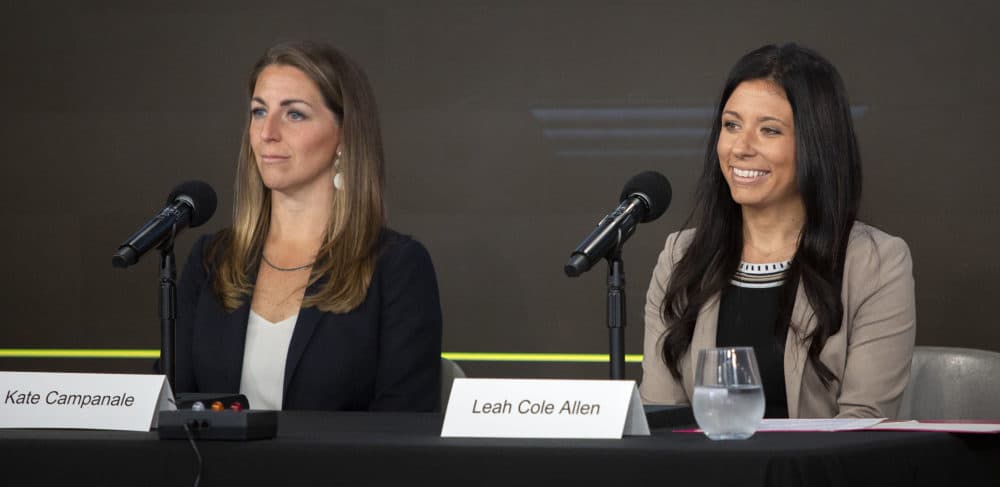 The two Republican Democratic candidates for Massachusetts lieutenant governor met to debate Monday at 11 a.m.
Leah Cole Allen and Kate Campanale took the stage at WBUR's CitySpace in the hopes of winning voters' support ahead of the the Sept. 6 primary.
Allen is a former state representative who served the 12th Essex district. She is declared as the "running mate" of Geoff Diehl. Cole Allen was first elected in 2013 at the age of 24. She left office, two years later, in 2015 to pursue a nursing career. Until recently, she worked as a registered nurse at Beverly Hospital.
Campanale is a former state representative who served the 17th Worcester district. She is declared as the "running mate" of Republican gubernatorial candidate Chris Doughty. She was first elected in 2015, and held the post for four years. She left Beacon Hill in 2019 to pursue a job in teaching. She most recently worked as deputy director of communications for the Executive Office of Labor and Workplace Development in the Baker administration.
This was the fourth in a series of five debates hosted by WBUR, WCVB Channel 5 and The Boston Globe. The debate was moderated by WBUR senior State House reporter Steve Brown, Darryl C. Murphy, host of WBUR's Consider This, and WCVB award-winning political reporter Sharman Sacchetti.
Watch the debate below.
Debate Highlights
Here are highlights from the candidates' remarks throughout the debate, lightly edited for clarity.
Opening statements
Allen: "I am a lifelong resident of Massachusetts, born and raised in Lynn, proud graduate of Lynn Public Schools, vocational school graduate. I am a wife. My husband is a union elevator mechanic out of Local 4 Boston. I'm a mother of two small kids and I'm a registered nurse.
"I worked at a local hospital throughout the pandemic. I ended up losing my job over the vaccine mandates. And I am in this race because the pandemic really highlighted for me the need for critical thinking and our executive leadership when it comes to making decisions and the fact that no emergency should ever suspend our constitutional rights as citizens. And I think part of what we need to identify when fixing the problems facing our state is that we have caused a lot of them."
Campanale: "Our commonwealth is at a crossroads and the decision we make on Sept. 6 will have wide ranging consequences for Massachusetts. In choosing our next governor and lieutenant governor, we have to look at who has the appropriate experience, vision and plans to lead. I joined Chris Doughty because I believe together we are that team. Chris brings an executive level perspective that puts him in a unique position to solve the complex issues that we face. I bring my legislative experience and that makes us the only balanced ticket with the broad experience needed for Massachusetts.
"It would be detrimental to allow our state to resort to one-party rule. But to be effective, Beacon Hill needs a necessary friction that comes with a healthy exchange of ideas from both sides of the aisle."
On one policy or initiative started under current Lt. Gov. Karyn Polito that they would continue:
Allen: "I think that she's done great work on domestic abuse survivors and standing up for them. And it's unfortunate that the legislature didn't end up moving forward with a lot of the initiatives that the Baker-Polito team tried to put forward to protect victims of domestic assault. I think that as a woman, as a mother, that's something very important to me as well.
"And of course, being a liaison to our municipalities, it's very important making sure that they're getting what they need to hold the line on taxes, make sure that our property taxes don't need to keep going up, that seniors and young families can afford to stay in Massachusetts and and thrive here."
Campanale: "I think we're not here to to rate the Baker Polito administration. But if we were, let's go back to the Patrick administration and to see the Patrick administration, their businesses, they considered their public enemy number one. And they actually lowered local aid to our cities and towns.
"When the Baker administration came in, they hold held the line on taxes. They made sure that our cities and towns were properly funded. Now, Chris and, I don't always agree with Charlie Baker and Karyn Polito, but what we do know is that they made a much better team than Martha Coakley ever would."
On whether they believe the governor's council needs more diverse representation
Allen: "So I think that part of the problem is that a lot of people don't even realize that there is a governor's council [or] what their role is. And as lieutenant governor, that's something that I could bring to light with my platform and get people involved.
"I think the Massachusetts Republican Party has put forth the most diverse slate of candidates that we've seen ever in the party, and I would like to see that translate into the governor's council, because people can bring their different cultural backgrounds, but also their commitment to upholding the values that make our country great."
Campanale: "We all have our roles and those for running for governor's council have theirs — to go to the public and make their case for why people should elect them. So it's their job to get elected, their job to say why they're diverse. That's not really the governor's, the lieutenant governor's job to get involved in their in their races."
On what grade they would give the MBTA
Allen: "Right now I think that the T gets at least a D or D-minus, because I understand that there have been some efforts put forth to make sure that we're prioritizing safety and maintenance, but definitely those have to be at the forefront.
"They also get a poor grade for transparency. I mean, our tax dollars are used to fund the pensions at the T and that's been a huge boondoggle for quite some time. Actually, WBUR wrote a great article about the secrecy of that fund and why they're not moving it into more of the state workers fund, where the fees are lower, we can get a better return on investment. And at some point, you know, right now we're taking in more we're paying out more in pensions than we're taking in, which is never a sustainable practice. And at some point we need to definitely address that because we could probably be making more investments if we weren't paying so much into the pension fund. We just need better management of it."
Campanale: "Chris and I do not support the shutdown of the T, the Orange Line, or the two-week suspension of the Green Line. We see this as a is a crisis, and we would treat this as any kind of emergency crisis that a state would have, like a snow emergency. And we would ask that other states bring in their experts and workers to help fix the T during overnight hours, off-hours so we can keep those safeties in check. We can help make the T safer during those overnight hours without making any disruptions to riders who depend on the T for their livelihood.
"You know, Chris and I are the only ones with a plan here for the MBTA, which addresses safety, which addresses the financial plan, which also addresses employee engagement."
On what they would do to make sure the roads and infrastructure can handle more cars
Campanale: "When we talk about infrastructure, we have to think that, it's over $670,000 per mile per year that we're paying here in Massachusetts for our roads. That's eight times the national average on administration and four times the national average for maintenance.
"Now, when we talk to our municipalities, their biggest concern is their small bridges, and the small bridge projects that are that are funded through MASSDOT and the current administration. So we want to make sure that we ease that transition and make sure that these projects continue.
"Also, Chris in his business, every year he's looked for a 3% reduction. And these are, these are things that we can look at it as an administration. How can reduce the DOT administration costs by 3% every year to make sure that we're funding our priorities? Our cities and towns are getting their Chapter 90 funding, but alleviating some of that that bloated taxpayer burden there."
Allen: "We spend more per mile on our roads than any other state in New England, and that's an issue. The thing is that [in] Massachusetts, we don't have a revenue problem. We have a spending problem. And the way we spend our money, the priorities, a lot of time, money is allocated for these projects and never released. So it's time that we start releasing the funds that are allocated for our roads and bridges, make the necessary changes.
"We can do this at a time — overnight work. I think we just need to make sure that we prioritize that so that we're not clogging up the streets during commuting hours. And also, you know, we should we have work from home, now. The pandemic did bring us that. I think we should encourage companies to let their workers stay home, keep them off the roads, or at least, you know, during rush hour times. We have to think creatively."
On the ballot initiative to repeal the law allowing undocumented residents to obtain driver's licenses
Campanale: "Chris and I are in favor of this ballot initiative. We certainly would veto the bill for the same reasons the Gov. Baker did. The fact that implementing this through the RMV has many concerns and many problems.
"Now, my opponent had the opportunity to talk on the House floor to represent her constituents on this very issue in 2016 when it was debated on the House floor. But she wasn't there because she quit. She left her constituents without a voice and she was absent. Now she thinks collecting signatures absolves her from this and it doesn't."
Allen: "I think that we need the voters to be able to weigh in on this across the state. This is one of the biggest issues that people are worried about because it will make Massachusetts a magnet state for illegal immigration, which has far reaching consequences. It will put a strain on our already strained public schools, our health care system, our public services. The RMV is not equipped to deal with this type of document verification. We know that there's a lot of issues plaguing the RMV when it comes to administration and bookkeeping.
"And also this is just a Band-Aid on a much larger issue, which is that we have a broken immigration system. And actually, Geoff Diehl, when he was in the legislature, he filed a bill that would bring some of the naturalization process back to Massachusetts to streamline it and to let people become citizens quicker so that people who want a better life for their family can come to Massachusetts and do it the right way. But putting a Band-Aid on it by giving them driver's licenses is not the right solution."
Closing Statements
Campanale: "In this primary, we only have one chance to get it right. For 22 of the last 30 years, Massachusetts has elected a pragmatic Republican team to the corner office. Opting for the checks and balances that come with a two party state has largely meant a prosperous commonwealth. But our work is far from complete. There's too much at stake to come in second this November.
"So if you remember just one thing from this debate, we can choose a team that everyone knows will lose to Maura Healey and return our state to single-party control. We know that will happen because we've seen this movie before with Geoff Diehl. Or we can choose a team that has the experience, the resources and the momentum to defeat Maura Healey and to keep a two-party state [that] is so vital to our success. Chris Doughty and I, Kate Campanale, are asking for your votes because we believe in Massachusetts and we believe that the best days are ahead of us."
Allen: "I just wanted to respond very quickly to the fact that I left the legislature. Yes, I left the legislature. I returned to the private sector. You want to constantly bash Geoff Diehl for being a career politician, and then you also want to bash me for not being a career politician. Where you, you started as a staffer at the State House, you ran as a state representative. You left the legislature to run for registrar of deeds. You lost that race, and then you returned to run for lieutenant governor after having a state job in between.
"So I think that voters need to realize that I'm in this because I care about the issues. Geoff Diehl cares about the issues. We're standing up for the people of Massachusetts. We're here to protect your wallet, protect your freedoms, protect your children in school, and make sure that parents have a voice. They are going to be a huge demographic in this race, and they're coming to us because they're tired of the division of the Democratic Party and they want normalcy and law and order. And that's what Geoff Diehl and I will bring to office. So I'm asking for your vote on Sept. 6 in the primary."
This article was originally published on August 15, 2022.