'Three Thousand Years of Longing' is a cerebral fantasia that lacks heart
Dr. Alithea Binnie is a narratologist, which sounds like nice work if you can get it. A prim and proper Scottish spinster played by Tilda Swinton, Alithea has devoted her life to the study of stories, attempting to understand how we tell them and why. We meet her in the air, en route to yet another academic conference — this time in Istanbul, where she'll once again be presenting her thesis. Dr. Binnie believes man originally invented mythology to explain things that the science of his time could not. But now that miracles of modern technology have exponentially increased our understanding of the world around us, there's no longer any need for gods and monsters, so such creations should be consigned to the realm of metaphor. Yet what — wonders director George Miller's lush, cerebral fantasia "Three Thousand Years of Longing" — if these fanciful creatures aren't quite finished with us yet?
At the airport, Alithea is already being greeted by unruly visions of ill-behaved, pointy-toothed gnomes, and her presentation is interrupted by some sort of heckling, totemic golem that only she can see. Our lady is a bit of an eccentric, prone to occasional visions of things that aren't actually there. (She chalks it up to a lonely childhood and an overly intense relationship with an imaginary friend.) That's probably how Alithea manages to stay so composed when a beat-up little tchotchke she bought at a local street bazaar abruptly unleashes a gigantic djinn in her hotel room. He's played by an oversized Idris Elba with faun ears and a courtly eloquence. We can tell they're gonna get along right away when he starts chatting her up in ancient Greek.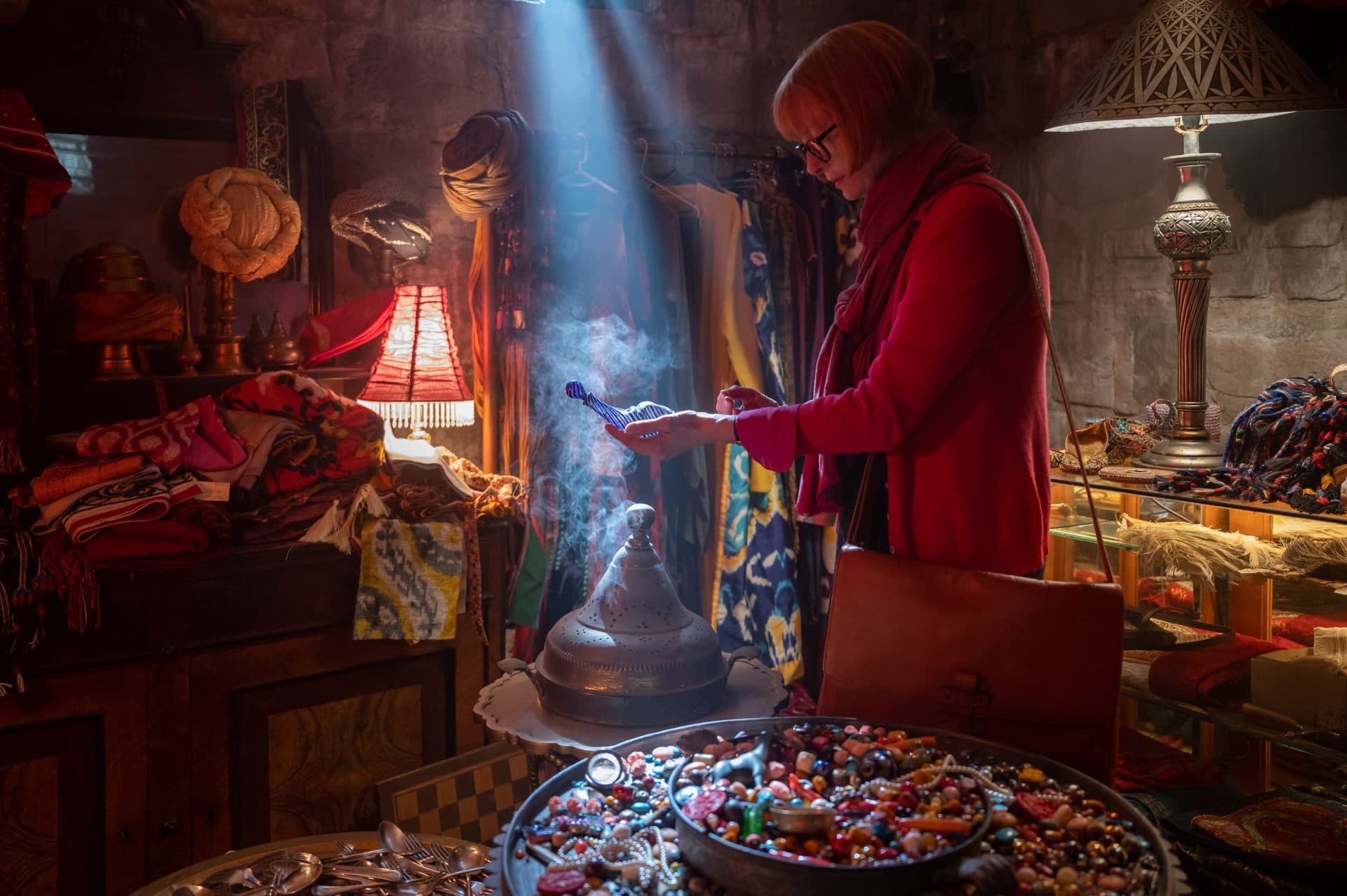 Her new friend has been cooped up for quite some time. (You might be able to guess exactly how long from the movie's title.) The hard luck tales of how our djinn got himself confined to a bottle not once, not twice, but three times will take up the bulk of Miller's mischievous visual feast, playing out over the centuries in rapturously realized flashback sequences while Swinton and Elba hang out in the hotel room, conversing in nattily matching white terry cloth robes. Our djinn always seems to find himself in trouble with the ladies — he is Idris Elba, after all — going back 3,000 years to when he romanced the Queen of Sheba, only to lose her to some guitar-playing schmuck named Solomon.
He needs Alithea to make three wishes from her heart's desire so that he can finally be free. Problem is, Dr. Binnie is a lot better read than most gals who go rubbing on exotic bottles they found at fairs. She can't come up with a single story about making wishes that hasn't turned into some kind of cautionary tale, and our djinn's accounts of his romantic woes over multiple epochs do nothing to dispel that notion. So we've got quite an entertaining stalemate on our hands here, in the limbo of a luxury hotel listening to an immortal spin some of the wildest yarns you've ever heard to a woman who studies stories for a living and sadly has none of her own.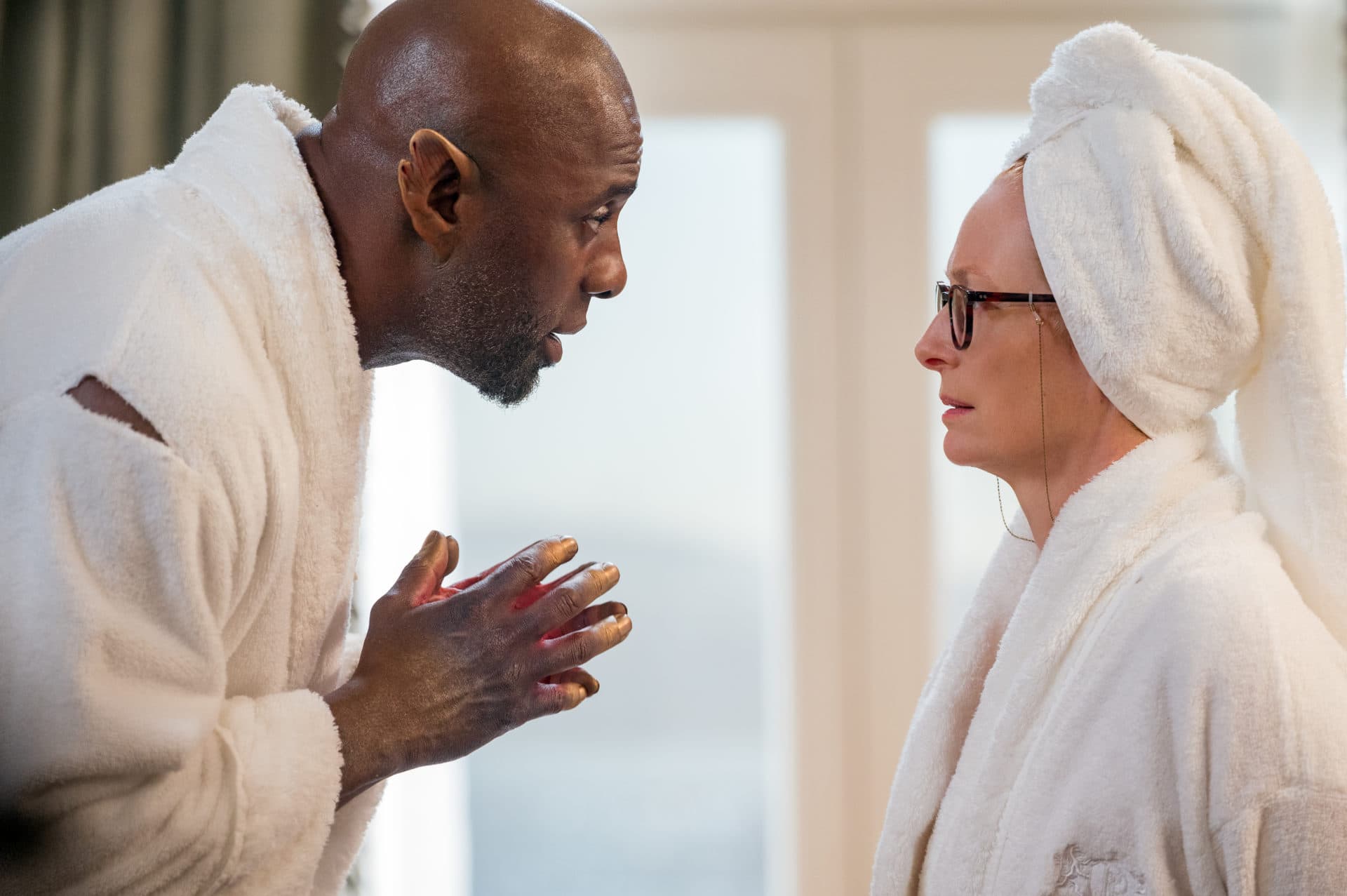 "Three Thousand Years of Longing" is Miller's first movie since his 2015 masterpiece "Mad Max: Fury Road" redefined what an action film could be, almost universally acclaimed as the movie of the decade by critics and muscleheads alike. This is the kind of oddball, beguilingly personal project an artist makes after such a smashing success, cashing in $60 million worth of goodwill on his obsessions and personal peccadilloes. Miller wrote the film with his daughter Augusta Gore, very loosely adapting A. S. Byatt's short story, "The Djinn in the Nightingale's Eye." All of the mythological overtones, ancient rites and quasi-Biblical traditions that bubble underneath the "Mad Max" movies spill over into the main event here, with Elba's magical Scheherazade and Swinton's staunch spoilsport spelling out the subtext as these two debate the nature of storytelling itself.
It's a deeply weird flight of fancy, alternating heady discussions with the most miraculous images you'll see all year. Legendary cinematographer John Seale came out of retirement just for "Fury Road," and then un-retired again to re-team with Miller on this picture, bringing a searingly bright palette to these mystical Ottoman empires and undersea hijinks. Yet as undeniably thrilling as it is to see an intellectual enterprise attempted on such scale, the last few of these "Three Thousand Years" lunge at a grand romance I'm not sure comes off on an emotional level. We amateur narratologists in the audience can all appreciate why the film's final story needs to go where it does, but it's a connection we understand in our heads, not our hearts.
---
"Three Thousand Years of Longing" opens in theaters on Friday, Aug. 26.