Poll: Half of small businesses in Mass. are still making less money than before pandemic
Many small businesses in Massachusetts are still making less revenue than they were before the pandemic, a recent poll shows. And businesses owned by people of color are more likely to report difficult business conditions.
The MassINC Polling Group conducted the survey for the Coalition for an Equitable Economy and Mass Growth Capital Corporation. The group contacted 3,243 businesses in Massachusetts with 500 or fewer employees from June to August. Just over half of the businesses — 53% — reported taking in less revenue than they were pre-pandemic. About 26% reported making more money than before the pandemic.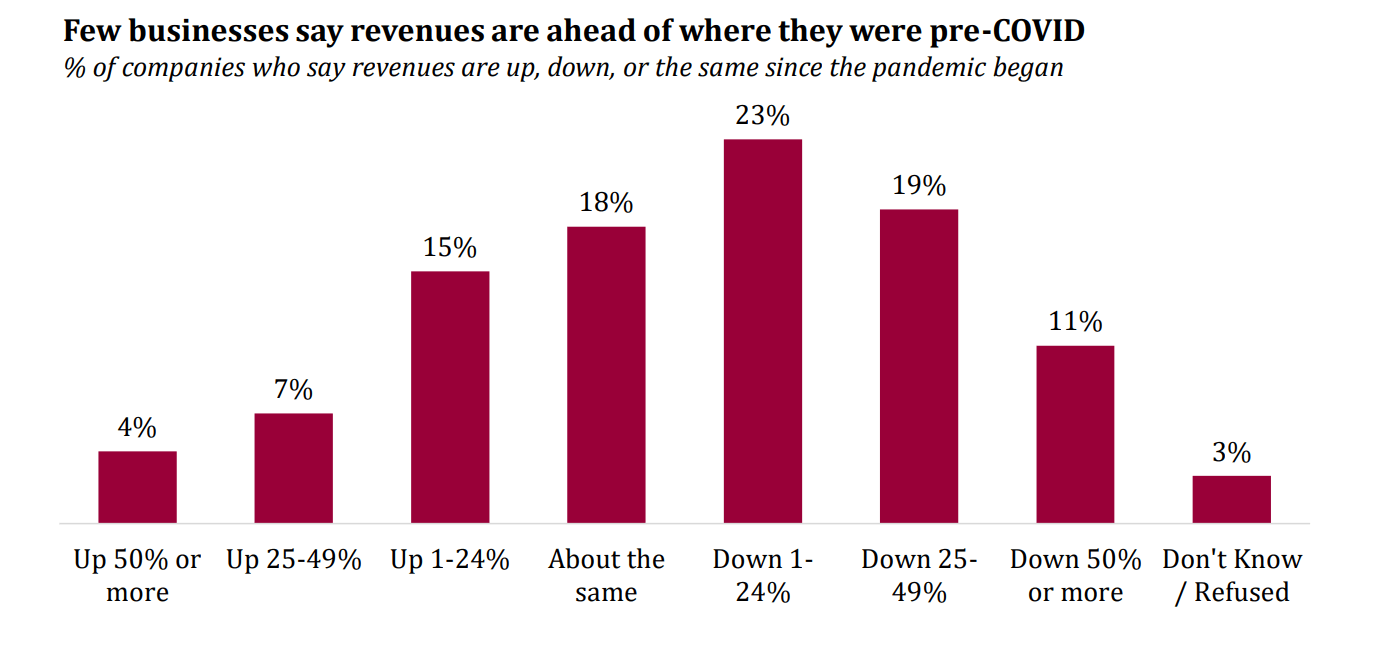 Steve Koczela, president of MassINC, said one reason many businesses have yet to fully recover since the start of the pandemic is simply less foot traffic for places like restaurants, bars and dry cleaners.
The other, he said, is lack of access to affordable capital. Many business owners haven't been able to make necessary investments over the last couple of years, particularly entrepreneurs of color. Koczela said they're more likely than white entrepreneurs to report they've been turned down by banks when applying for business loans.
"These same entrepreneurs of color are the ones who are more likely to say, 'If I did have the funds that I was seeking, I would do things like expand, I would hire, I'd buy a new piece of equipment,' " Koczela said. "They're more likely to be looking for capital to do these kinds of expansion projects than white-owned businesses."
The survey also found people of color are less likely to sell their business or retire from senior leadership positions. Koczela said that's a sign that small business ownership will likely become more racially diverse.
"That's just the way that it's headed," he said. "But to really get there in the strongest way possible, there are barriers," and the biggest may be access to capital.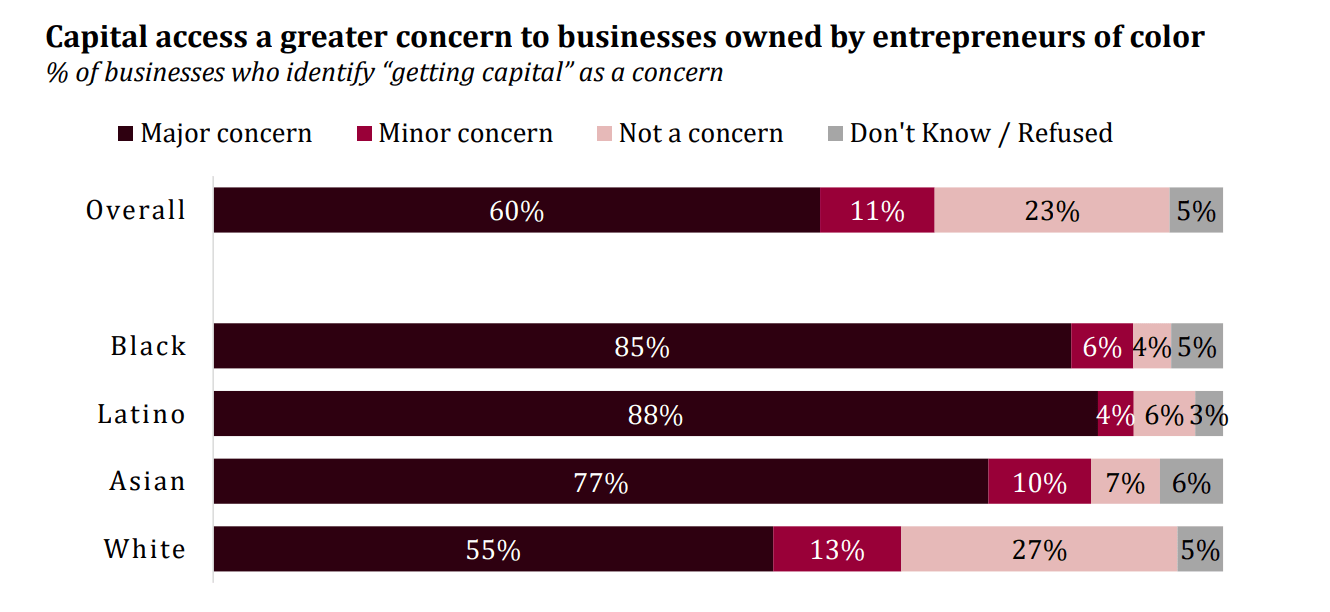 The survey found 15% of businesses have reported getting some technical assistance or coaching in the last year. More Black, Latino, women and LGBTQ business owners said they sought help for tasks such as applying for grants or learning to use new technologies. However, nearly half of all small business owners said they lacked information about this type of assistance.
One available resource is the Massachusetts Small Business Development Center Network, which provides free help to small business owners who want to expand or improve their businesses. The program is mostly funded through federal and state governments.
Cliff Robbins, a senior business adviser for the network, said more small business owners have been reaching out for help since the start of the pandemic. His team was working around the clock helping businesses apply for federal grants at the height of COVID. Now the group is focused on helping business owners navigate a rapidly changing economy — one that relies more on technology and features fierce competition for talent. But, Robbins said, the biggest challenge facing small business owners right now is inflation.
"They're caught between a rock and a hard place," Robbins said. "They're having to raise their prices. At the same time, they don't want to lose customers."
According to MassINC's survey, 74% of small businesses owners said their biggest concern is rising costs due to inflation.
The Federal Reserve this week raised interest rates again as part of a strategy to combat rising prices. But higher interest rates will also make it more expensive for businesses to borrow money.
---
Update: This post has been updated with a new graphic from MassINC Polling Group showing that 60% of all poll respondents, 85% of Black small business owners and 88% of Latino small business owners reported concerns about access to capital.
This article was originally published on September 22, 2022.