Bill Irwin clowns around with Samuel Beckett at ArtsEmerson. It's fun. Seriously.
"On Beckett" could be described as a conversation with award-winning actor-clown Bill Irwin about his fascination with playwright-author Samuel Beckett.
But that doesn't begin to describe the spellbinding 90 minutes of storytelling, explanation and demonstration on the Emerson Paramount Center's Robert J. Orchard stage — only through Oct. 30 — that reveals so much about this actor and his craft along with the Irish writer and his work.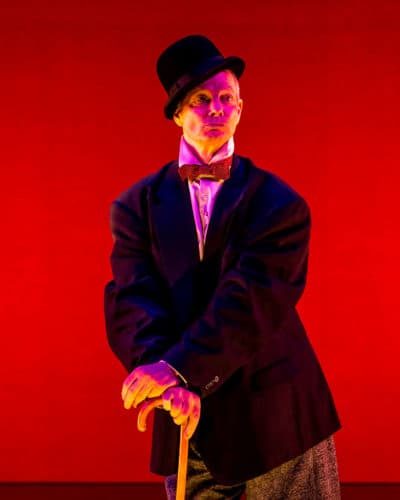 Samuel Beckett's "Waiting for Godot" shook the theatrical world at its premiere in 1952, for its exploration of the search for meaning in an absurd world.  While two men while away the time waiting for a mysterious figure, despair clashes with hope, and kindness with cruelty. The duo is briefly distracted by the appearance of Pozzo and his slave Lucky, adding to their confusion about their own, and anyone else's place in the world. Though filled with simple, direct language, the play, can be inscrutable. Irwin happily shares his experiences in several productions over the years that included Steve Martin, Robin Williams, F. Murray Abraham and Nathan Lane, among others.
Broadway pedigree notwithstanding, "Waiting for Godot" demands total immersion from its performers and attention from its audiences. Without that, Beckett's works, including "Watt" and "Texts for Nothing," two other pieces Irwin performs and discusses, are consigned to the corners of intellectual discussion with comments about how enigmatic the texts are. But Irwin, while admitting that some are beyond him (he's not touching "Endgame"), delights in the precise yet undefinable contradictions in Beckett's characters.
Rather than taking a deep dive into the "meaning" of the texts, Irwin confesses his approach is from the perspective of an actor. Of course, Irwin isn't just any actor. He's a Tony award-winning performer who triumphed in both the searing drama, "Who's Afraid of Virginia Woolf?" and the clowning caper, "Fool Moon." Talk about range.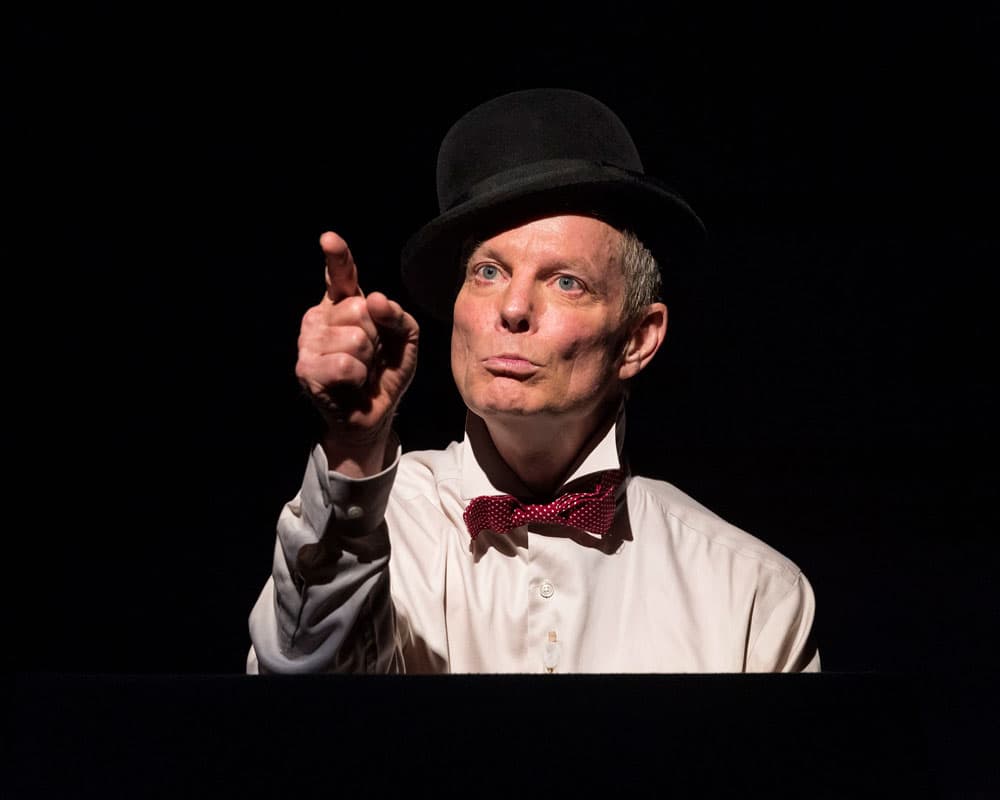 Irwin brings all of his skills to the ArtsEmerson stage for "On Beckett" helping us to understand the "particular crackle" of Beckett's writing and the "character energy" that creates the dramatic tension in his work. With the help of only a podium and a rectangular block (to rest or climb on), Irwin affably reveals the tricks of his trade — baggy pants, floppy shoes, bowler hat — and then deftly disappears into his characters. He slips and trips, shrinks and grows, shuffles and shakes with loose-limbed aplomb, even working in a brief display of his hat and cane routines – "clown business," he calls it. His revelations about how it's done only make the transformations more enchanting.
Suddenly, Irwin is not only infusing meaning into some of Beckett's words from "Texts for Nothing," he is illuminating the ways in which actors bring themselves, their history, their training, to words that seem mysterious on the page. Something happens, he says, when actors commit words to memory, until, for him with some of Beckett's work, "the words begin to feel like home." As he illustrates the impact of his skill on a selection of "Texts for Nothing," it's impossible not to lean in and feel the theater fall away and breathlessly watch one man, sinking, shrinking, clinging to the edge, determined, maybe even desperate to go on.
The beauty of "On Beckett" emerges not only out of the enormous affinity Irwin has for – at least some – of Beckett's work, but in the vulnerability and effort that goes into an actor's delivery of a believable performance, that is also, mind you, honoring the playwright's words. The opportunity to see this actor at work and share his "infection," not "obsession" with Beckett, is a master class in performance and a new appreciation for the drama of Samuel Beckett.
"On Beckett" continues at ArtsEmerson's Robert J. Orchard Stage through Oct. 30.