Bluegrass Tuesdays resume after relocating to Kendall Square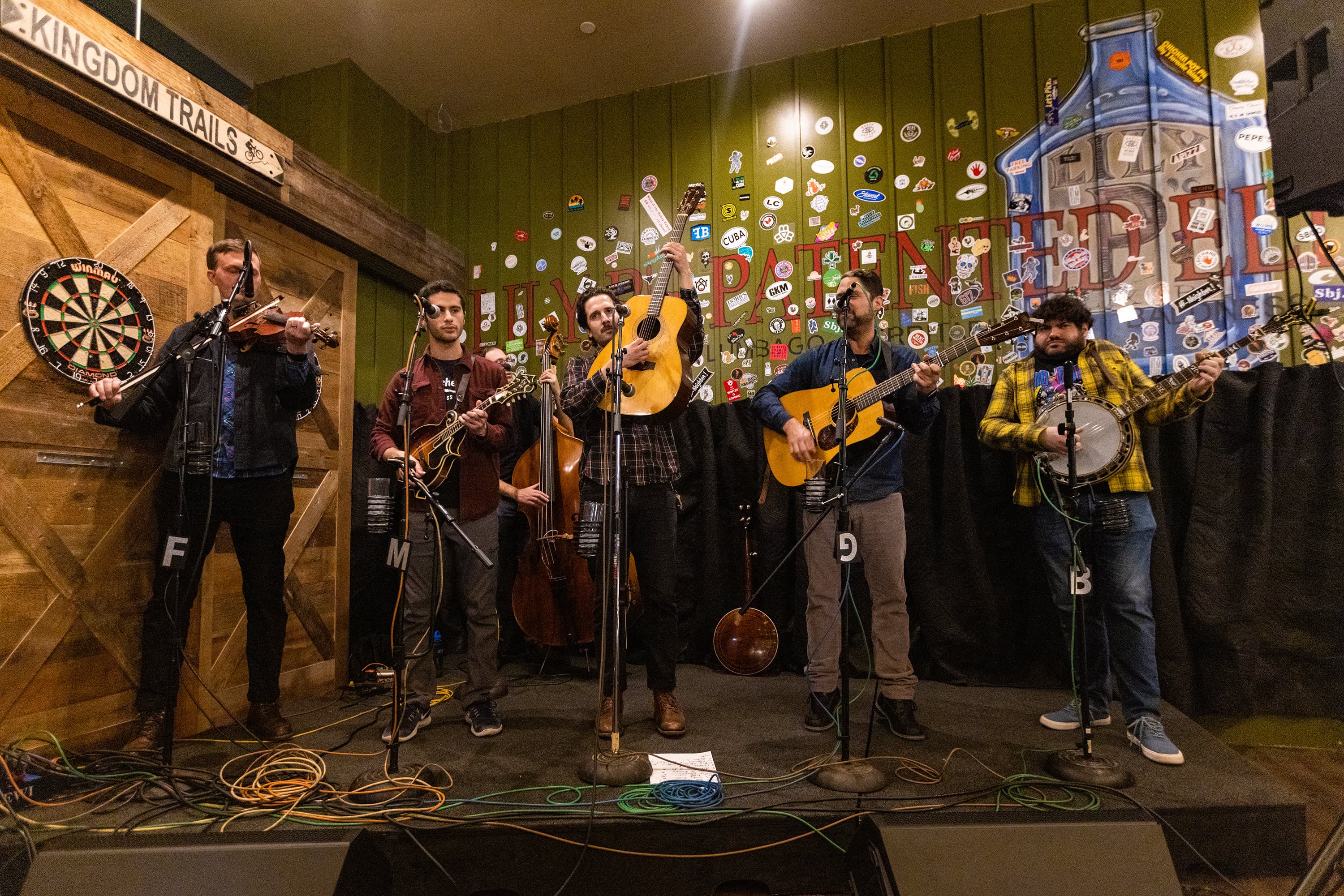 The six-piece bluegrass band on stage at Lily P's Fried Chicken and Oysters in Kendall Square last Tuesday featured virtuoso musicians who've toured the world. But as their set progressed, many members of the audience took out their own instruments and headed towards the other side of the venue to start a jam session.

They weren't being rude. Such a scene is commonplace in bluegrass, where the line between the audience and the players is often blurry. For 27 years, that mix of stage performances and informal picking made the Cantab Lounge in Central Square a bluegrass mecca every Tuesday under the guidance of Geoff Bartley. Bluegrass Tuesdays now has a new home at Lily P's, and a new host in Tony Watt, but it's still a focal point of the Boston bluegrass scene.
In 1993, Bartley had already been hosting a folk open mic on Mondays for two years when Cantab owner Richard "Fitzy" Fitzgerald suggested he start a second night at the dive bar. "I had learned there was a large bluegrass community in greater Boston that would appreciate having a night of their own, so I gave it a shot," recalls Bartley. "It was slow for a few years, and then all of a sudden – bang! — we started getting a lot of people."

The growth of bluegrass studies at Berklee and New England Conservatory helped, as did the popularity of the bluegrass soundtrack to "O Brother, Where Art Thou?" Musician and engineer Dave Rizzuti remembers Boston bluegrass mainstays like Steve Watt (Tony's father) and Eric Levenson "playing to an empty room back in the 90s. Then you had this younger generation of Boston bluegrass players come up, and they started getting all kinds of Grammy nominations — like Tony's wife Laura Orshaw --  and the Cantab was the launchpad for a whole new New England bluegrass scene."
Well-known bluegrass names like the late James King would sometimes be booked for the Cantab's upstairs stage. Molly Tuttle, who was recently nominated for a Best New Artist Grammy, is just one of the many major figures in acoustic music who spent considerable time honing her craft at the Cantab's downstairs jam sessions. But during the COVID shutdown the Cantab closed and was sold. Before it reopened Lily P's owner Chris Parsons, a banjo player and occasional Cantab picker, approached Bartley about moving the bluegrass night to his restaurant if a new home was needed.
When the new owners of the Cantab resumed Bluegrass Tuesdays last December, Bartley decided to retire from the weekly grind. He tapped Watt, a tireless educator and advocate for the music, vice president of the Boston Bluegrass Union, and organizer of various picking parties, as the new host.

Like many cultural institutions, Bluegrass Tuesdays found that turnout didn't automatically return to pre-COVID once restrictions were lifted. After what Watt characterizes as a mutual and amicable agreement to take a summer break from the Cantab, Bluegrass Tuesdays resumed this fall at Lily P's, which is now its permanent home. The format remains the same: sets from two bands followed by the "third set," an on-stage jam session led by Levenson and Steve Watt. The width allows for simultaneous multiple jams, and Watt gets excited whenever pickers discover a new nook or cranny in which to play.
Last Tuesday's featured band was led by innovative banjo player Gabe Hirshfeld. The Newton native, who discovered bluegrass when he heard the theme to WBUR's "Car Talk," toured widely with the Lonely Heartstring Band. For Bluegrass Tuesdays, he put together an informal collective of friends he calls Daft Plunk. "We just rehearsed for 20 minutes in the hallway," he explained. "And our fiddler got the flu, so I called Bobby Britt, one of the greatest fiddlers in the world, and he was happy to come play with us."

Bluegrass Tuesdays was where Hirshfeld first performed on a stage.  "I remember going there and realizing there was this community. I would go every single week. When you go to festivals like the Joe Val there are people who come from all over, but at the Cantab, I realized there was this in-town bluegrass community. It's a big family that is accepting no matter how good or bad you are. It's about being there to have a good time and make music together. On Tuesdays, all the stress from the rest of the week melts away because you can make music with your friends."
"Bluegrass has a repertoire that is shared by players worldwide," explains Bartley. "They know the words, the chords, the harmony parts, where the solos come in, and it is very social music for that reason.  People are able to jump into it easily."
"Because it is all-acoustic you can just show up in a hallway and start jamming, you don't need to set up amps and drums and pedal boards," adds Watt, who'll perform at Bluegrass Tuesday on Dec. 20 with his wife and father in the band True Life Bluegrass. "People who have never met before can immediately play bluegrass together. And while the entry bar for playing the music is incredibly low, the heights you can reach with bluegrass are incredibly high."
---
Bluegrass Tuesdays happen every Tuesday starting at 7 p.m. at Lily P's Fried Chicken and Oysters. Admission is free with donations accepted for the featured band. A ticketed concert series will begin on Saturday, Feb. 4 with Danny Paisley and the Southern Grass.