Audrey gets really tawdry with Ryan Landry at the 'Little Shop' controls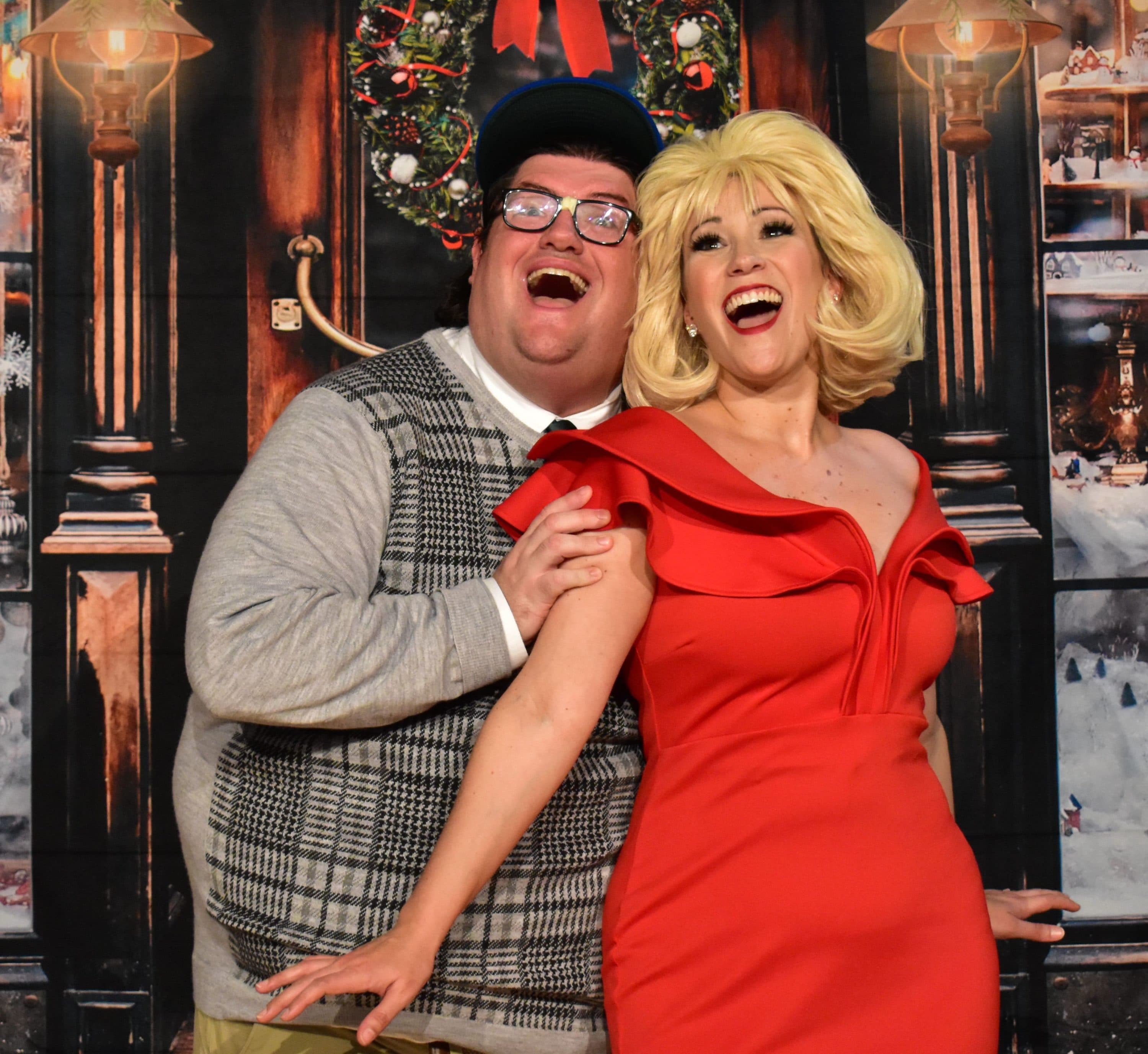 The din of conversation and Christmas cheer fills the Lithuanian Citizens Association Hall in South Boston. The space, filled with folks and teeming with decorations galore, feels like a not-so-corporate holiday party just getting revved up. There's a wall with a giant Grinch on it in the back of the room where small groups mill about and, in the front, there's a stage flanked with multiple performance areas. On the left side of the stage there's a building and a window that mimics a store front and to the right there's an area with microphones for three.
The crowd has gathered to watch Ryan Landry's Gold Dust Orphan's annual Christmas show. This year's production, "Little  Christmas Tree Shop of Horrors" (through Dec. 23) featuring Landry's long-running character Mrs. Hermione P. Grinchley, did not disappoint. In Landry's tale, part of the original gist stays the same, except a hungry Venus-fly trap plant gets swapped for an overly demanding Christmas tree and Seymour and Audrey are Norbert (Tim Lawton) and Tawdry (Taryn Lane).
With faced-paced direction from Kiki Samko, the show starts with a bang. There's singing from a hilarious, big-haired, foul-mouthed trio — The Revere Sisters — who change costumes more often than Diana Ross does at her concerts — and high-octane energy from passersby in the neighborhood outside Mrs. Grinchley's shop, which is a dollar store in Revere, Mass., and tons of spirited choreography by Briana Scafidi.
The House of Martino, who did the set and costume design, did some pretty innovative work in effectively using the space and outfitting the cast — especially the singing sisters (Tad McKitterick, Tori Dowd, Lizette Morris) in memorable gear ranging from two-piece velvet ensembles to black and gold sequined fringed dresses and white and gold angel-getups complete with wings. Gina Carmela's clever props like blow-up dogs, what I think was a bubble maker for snow and other effects make the show both beautiful and fun to watch.

Landry's engaging script is filled to the brim with puns by the always-randy Mrs. Grinchley. Those unfamiliar with Landry's brand of comedy might be in for a bit of a shock, but if the Gold Dust Orphans' trademark all-out bawdiness is your thing, don't miss it. There are also sword fights and divine remakes of songs such as Debbie Gibson's "Electric Youth" and "Grease Lightning."
Lane's fabulous Tawdry (who has a bright, lovely vocal timbre) works at the store. Tawdry is dating Barb (Carmela), an abusive Dunkin' manager — who has her grisly plans — but what she wants is someone to be kind to her and not blacken her eye or break her arm. Norbert, her shy work colleague, likes Tawdry but thinks she's out of his league. In the meantime, the tree grows taller as it feeds on humans and Norbert gets famous.
The acting in the show is exhilaratingly over the top. The talented Carmela, who doubles as Barb and a leopard-suit-wearing TV show host eager to get the scoop on Norbert's tree, along with the muscley milkman Joey C. Pelletier and Landry as Mrs. Grinchley, are hilarious.
"Little  Christmas Tree Shop of  Horrors" is the antithesis of the super saccharine family Christmas movies and TV shows that flood the big and small screens during the holiday season. Not that super sweet doesn't have its place. But for those who like to see plays that push the envelope in multiple ways and beg patrons to laugh from their bellies (and sometimes boo if it goes too far), Landry made this just for you.

"Little Christmas Tree Shop of Horrors," runs through Dec. 23 at the Lone Wolf Theatre at the Lithuanian Citizens Association in South Boston.