For EVs to take off, Boston needs more equitable placement of chargers
Play
Nicole Mushero bought her Chevy Bolt a year-and-a-half ago to do her small part to tackle climate change. But she lives in a condo in Jamaica Plain without an easy way to install a electric vehicle charger.
She said there's only one public charging station within walking distance to her home —  with Level 2 chargers that can take up to 10 hours to recharge —  and the spots fill up fast. So Mushero got up early on a Saturday to snag a spot; when she arrived at 9 a.m., she got the last available plug.
"There really needs to be a lot more charging stations to support that need that already exists, never mind that we want to grow," Mushero said.
Currently, most EV charging happens at home. But people who can't afford to install an EV charger, don't have a driveway, or rent a home without a charger will have to rely on public charging.
Boston has pledged to make sure every household is "within a 10-minute walk of an EV car-share facility or a publicly accessible charging station by 2040." And by 2025, Boston is aiming for 1,055 Level 2 plugs and 320 DC fast chargers, which take about 20 minutes to an hour to charge to 80%.
As of September 2022, the city has 924 chargers, 95% of which are Level 2. But across the city, the distribution among neighborhoods has not been even. Most of the city's 182 charging locations are in Central Boston, Seaport, Fenway and Beacon Hill.
Far from downtown, other neighborhoods could be considered charging deserts: Mattapan, Hyde Park and Roslindale have two EV charging locations each, and West Roxbury has one public charging location. Large swaths of Roxbury, West Roxbury, Dorchester, South Boston, and some areas in Brighton, Charleston and East Boston (excluding Logan Airport) are without charging locations. That's according to Visualizing Energy, a project from Boston University Institute for Global Sustainability that analyzed data from the Department of Energy.
In Roxbury, residents living close to Malcolm X Park would have to walk an average of 20 minutes to get to the nearest charging locations. For someone in Dorchester Center, the walk would be 25 minutes to the nearest charger and 35 minutes to the next two nearest chargers.
"Unless we deal with the legacy of racism in planning and in zoning, we are never going to get to a place where the disparities don't look the way they do today," said Sofia Owen, an attorney for Alternatives for Community and Environment (ACE), a group advocating for environmental justice.

David Hsu, associate professor at the Department of Urban Studies and Planning at MIT, said the city should give everyone access to charging infrastructure, regardless of income.
"The city definitely should provide equal access to services to everybody," Hsu said. "There are barriers to doing that, but the government's job is to overcome those barriers for everybody."
Filling in the market's gaps


Part of the challenge in ensuring an equitable rollout of EV technology is that, so far, much of the charger installation has been driven by market demand. As a result, many chargers are concentrated downtown, where EV charger companies have greater guarantee to make a profit.
"We are looking at the total market potential when considering a charger installation, including the EV adoption rate in the community," said Mike Battaglia, chief revenue officer at Blink, one of the companies that has installed chargers in Boston.
And it isn't only private companies: Early state grants also went to areas with high traffic and more early EV adopters: More than $430,000 was used to fund 62 charging locations in Boston, mostly downtown and in the Seaport.
Jascha Franklin-Hodge, Boston's chief of streets, acknowledged that relying on the market to drive equitable rollout of EV chargers has its limits.
"Our job right now is to kind of catalyze the adoption cycle, monitor how this infrastructure is being deployed and, if it is necessary, start to find ways to fill in gaps," he said.
To address the inequities, Boston is installing chargers in city-owned parking lots in underserved areas. The city also now requires developers to include chargers in 25% of parking spots — and electrical capacity for future chargers in the remaining spots — for all new buildings.
The city hasn't created a policy for encouraging existing buildings to add chargers. A law called "Right to Charge" ensures that condos cannot forbid owners to install chargers. The roadmap says Boston is considering expanding the rule to rental properties, but it hasn't proposed any new legislation yet.
Currently, the city has installed 58 Level 2 chargers distributed across 13 of its public parking lots, with plans to develop six more locations in 2023. All of them are located in the neighborhoods where the BU analysis found fewer chargers: Roxbury, Brighton, Allston, Jamaica Plain, East Boston, Roslindale, Dorchester, South Boston, Hyde Park, West Roxbury and Mattapan. The city also plans to install fast chargers in four municipal parking lots in Allston, Roslindale, Hyde Park and Dorchester by 2023.
"When we think about placement, one of the reasons our municipal lots are such an attractive location is that they are very well distributed throughout the city, especially in some of our lower income neighborhoods," Franklin-Hodge said. "So it gives us an opportunity to kind of get a head start on placing chargers in places that might be late in coming for more of the private investment."
Still slow to add faster chargers


It's not just where the chargers go, it's how fast these power sources get a driver back on the road. Currently the city is lagging behind its fast charging goal, with only 42 fast chargers installed.
Fast chargers are a key part of encouraging EV adoption. They help address "range anxiety" — fears that a car will run out of juice before reaching another charging option — boosting confidence for people to transition to electric cars. It's particularly important for those who live in rented properties, those who need to travel long distances or more frequent drivers such as ride-share operators.
Franklin-Hodge said he expects private companies will start installing fast chargers in places that would work "almost like gas stations."
He and Oliver Sellers-Garcia, Boston's Green New Deal secretary, pointed out that, while most of the federal Inflation Reduction Act (IRA) funding for charging infrastructure is being directed to fast charging along highways, they expect there will also be funding for fast charging in urban areas.
More than EV charging needed for equity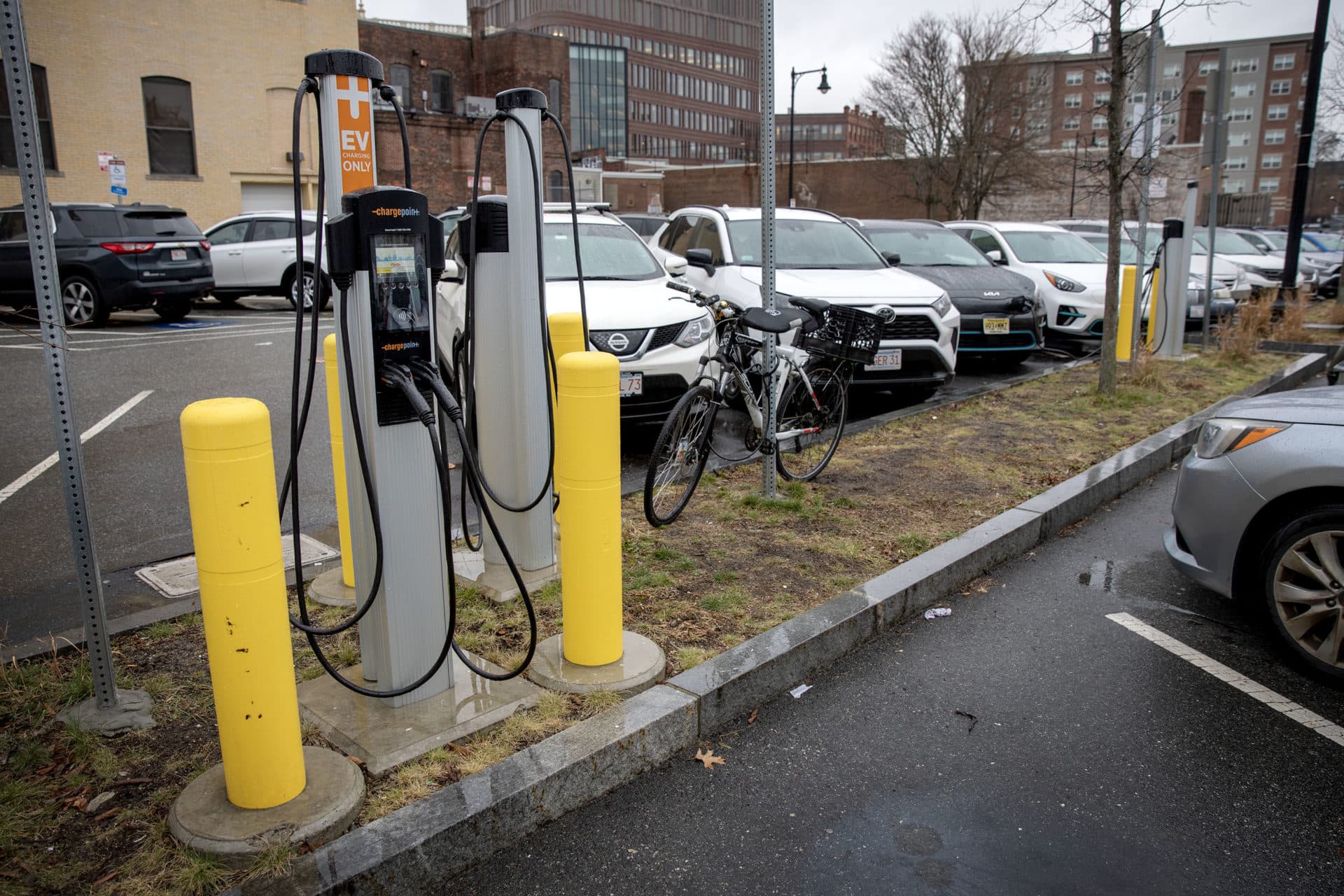 Not everyone is convinced the city's plan is adequate.
"Having the city say they're going to fill in the gaps sounds great on paper, but what does that actually look like in practice?" asked Owen, from ACE. "It is not clear to me that this will benefit Roxbury residents unless and until some of these baseline things that impact who has access to electric vehicles in the first place are changed."
Owen said many people can't afford to buy even used electric cars, and the state and federal rebates don't bring the cost down enough. Most people who have taken advantage of the rebates for purchasing an EV through the state's MORE-EV program live in the wealthier zip codes.
While the adoption of EVs can reduce air pollution in communities burdened with environmental justice issues, neighborhood advocates are also concerned about gentrification.
"[The] other thing that we hear from folks in the community is that often new charging stations or updates in a park or a playground or a fancier T station even is going to mean that property values will increase, that whiter and wealthier folks will move in and that the community will be displaced," Owen said.
Transportation counts for about a third of emissions in Boston, with cars and SUVs  representing 65% of those emissions.
Offering EV charging infrastructure is much cheaper than decarbonizing a house, according to MIT's Hsu.
"It would be extremely effective for energy savings and greenhouse gas emissions reductions to have for everyone to have access to an electric vehicle charger wherever they live, regardless of whether or not they own their home or if they are a renter or they live in a multi-family building," he said.
What's next?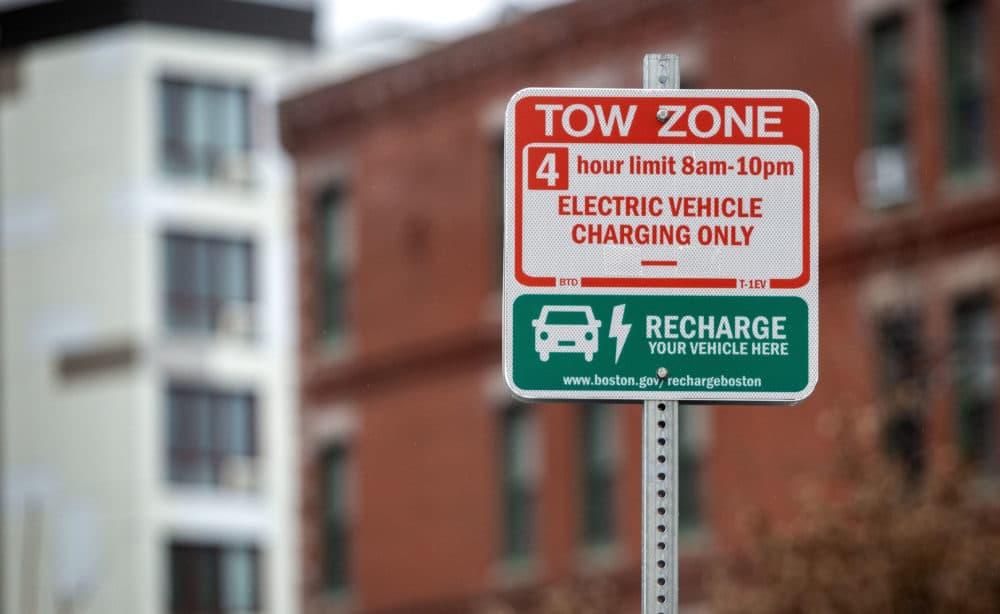 More funding for EV infrastructure is coming. On Dec. 30, the Massachusetts Department of Public Utilities approved a $395 million plan to install tens of thousands of new chargers, with more than half allocated to public and workplace charging. This funding eclipses the other grants, according to Anna Vanderspek, electric vehicle program director at Green Energy Consumers Alliance, an organization that worked closely with DPU reviewing the plan.
"This will allow Boston to build out more charging, but only if people within Boston and institutions within Boston step up and apply for the funds," Vanderspek said. "And the faster you do that, the better, because we know there's a lot of demand for this."
She said the city could encourage Eversource customers, like landlords, to apply.
"I think you're going to see a sea change really happening in the next 24 months," said Kathleen Connors, president of Voltrek, a charger installation company that has worked with the city. "Everybody was waiting for a very long time on this next phase of utility money." 
That change can't come fast enough for residents like Mushero. In all, she left her car charging for over three hours on Thomas Street to nearly fill her battery. The lack of other options was typical for Boston's more residential areas.
"That is very consistent with structural inequities that exist already and it's just reflecting that and the prioritization of places that have wealth get more resources poured into them," she said.
To produce this story, WBUR partnered with the Visualizing Energy project at the Boston University Institute for Global Sustainability and the Justice Media Computational Journalism co-Lab, a collaboration between the Faculty of Computing & Data Sciences' BU Spark! program, the College of Communication, and the BU Hub Cross-College Challenge. Contributing students were Tobin Gedstad, Emma Glassman-Hughes, Imandi Herath, Melina Nguyen, Ashley Soebroto, Karri, Vaishnavi, Michelle Voong, Artemis Huang, Weining Mai, Sukanya Mitra, Arin Wang and Kaiyan Xu, with assistance from professors Brooke Williams and Langdon White.
This segment aired on February 2, 2023.