51 Mass. workers died on the job in 2022, report finds
There were 51 workplace deaths in Massachusetts last year, according to a new report by the nonprofit Massachusetts Coalition for Occupational Safety and Health (MassCOSH) and the Massachusetts AFL-CIO.
This was a decrease from 2021, which had 62 workplace deaths, according to the report. But the report noted that many workplace deaths are preventable.
Of those deaths, 39 were from traumatic injuries suffered at work, and 12 were from work-related disease, the report said. But the numbers may not reflect the true volume of work-related deaths because the data does not include people who died after contracting COVID at work, the report noted.
The federal agency that oversees workplace safety, the Occupational Safety and Health Administration, does inspect some workplaces, "but sadly,  each year there are workers that die as a result of workplace injury and illness," said Al Vega of MassCOSH.
In 2022, transportation incidents such as vehicle crashes and workers struck by equipment were the leading cause of death from injuries — making up 48% of all worker deaths from injuries, the report said. Workers also died from falls, slips and trips as well as exposure to harmful substances or environments, and injury or violence from another person. Additionally, there were 25 suicides and overdoses on the job, according to the report.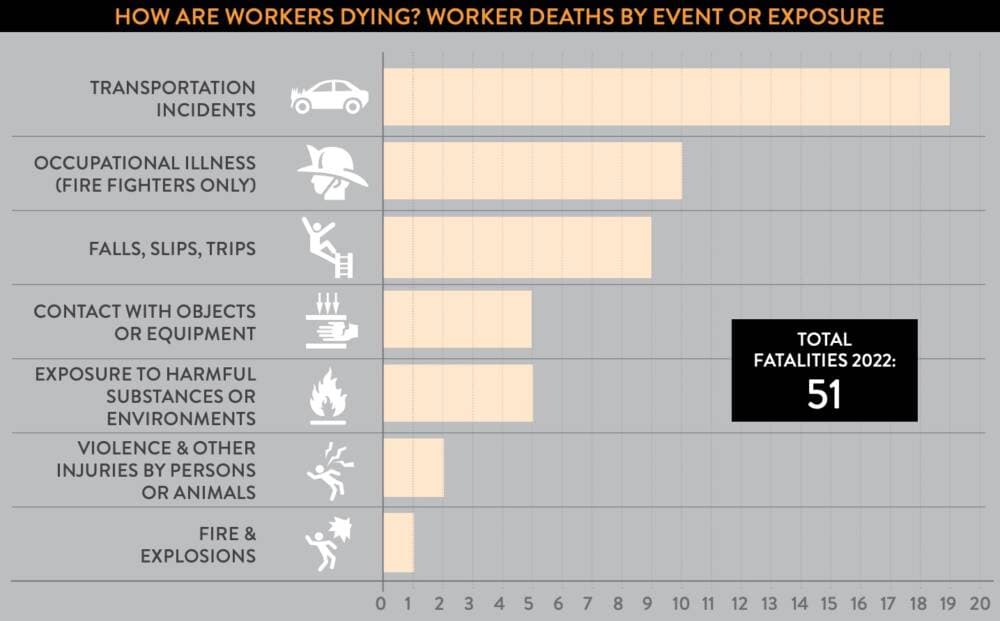 The average age of the workers who died by fatal injury was 48 — the youngest was 21, and the oldest was 80 — according to the report. There were 33 men and eight women among those who suffered fatal injuries, the report said.  And, the report noted, 20% of workers who died due to injuries were immigrants hailing from Cape Verde, the Democratic Republic of Congo, Ecuador, El Salvador, Saint Kitts and Nevis, and the United Kingdom.
Construction was the most dangerous sector when it came to fatal injuries — nine construction workers died in 2022, according to the report. Meanwhile, most of the deaths from work-related illness were among firefighters. Ten firefighters died from occupational illnesses including cancer and cardiac arrest, the report found.
According to the report, OSHA issued citations of $30,000 or more to 69 companies in the state, but the report stated that there aren't enough inspectors to visit every workplace in the state. Vega said local, state and national policies and enforcement need to be strengthened to protect workers and hold employers accountable.
"A lot of businesses feel like it's cheaper for them to leave conditions as is and deal with these fines and citations as opposed to actually investing in the proper training equipment, [personal protective equipment] that might be needed to actually protect workers," Vega said.
The report calls for more protections for workers, including addressing staff shortages, increasing funding and training for the department of labor standards, and denying public contracts and permits for companies that have a record of safety violations.
The report also calls for better health and safety practices and oversight in specific industries such construction as well as the emerging cannabis industry — highlighting the death of Lorna McMurrey, who died after inhaling ground cannabis dust at a Holyoke cultivation facility.
"We have to be in the mindset that every worker should be protected on the job," Vega said. "They should be able to go to their job and return in that same condition every day. And that, sadly, is not the case in our country."
The report lists the names of all workers who died in 2022, including Peter Monsini who died after a parking garage collapsed in Boston last March, and Fabio Pires who died from a blast at a worksite near the State House in July. All Massachusetts workers who died or were injured on the job will be honored Friday at a memorial event at the State House.