SpeakEasy Stage takes audiences to 'The Prom' in comedic fashion
Broadway actor Dee Dee Allen and co-star Barry Glickman are on cloud nine. It's the opening night of their play, "Eleanor! The Eleanor Roosevelt Story," and a red carpet and red velvet ropes have been set before a large banner featuring the former first lady's face to welcome the crowd. Post-show, Dee Dee, portrayed by Broadway actress and singer Mary Callanan, and Barry, a very funny Johnny Kuntz, gather to read the media's reactions. But a review from a New York Times critic that trashes the show results in its quick closure. And with that, we're off to SpeakEasy Stage Company's production of "The Prom" (through June 10).
The shuttered show is the impetus that sets Dee Dee, Barry and castmates Angie Dickinson (Lisa Yuen) and Trent Oliver (Jared Troilo) on the hunt for showbiz relevancy and redemption. Chad Beguelin and Bob Martin's zany, fun musical is based on a concept by Jack Viertel with music from Matthew Sklar. "The Prom" debuted on Broadway in 2018 at the Longacre Theatre, was nominated for several Tony Awards, and won a Drama Desk Award for Outstanding Musical in 2019. The show has been staged internationally and was adapted for the screen for a film directed by Ryan Murphy that premiered on Netflix with an all-star cast that included Meryl Streep, Nicole Kidman and Kerry Washington.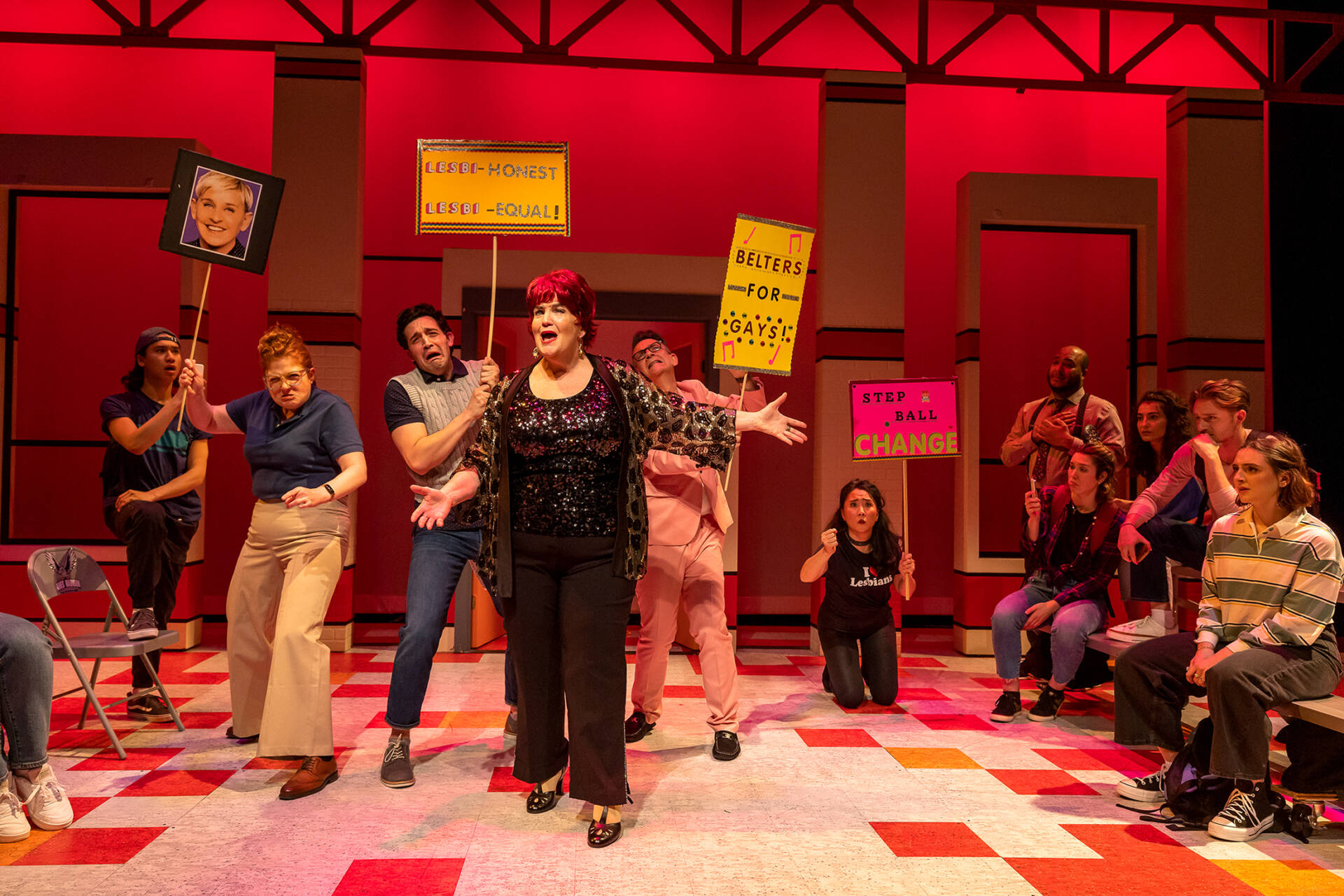 In the show, Dee Dee and Barry's hard-working PR person, Sheldon Saperstein, an excellent Meagan Lewis-Michelson, finds out on social media that a teen, Emma Nolan (Liesie Kelly), wants to take their girlfriend to the prom in a small town in Indiana. But the local PTA is so against it, that the town decided to cancel the prom altogether. Recognizing the golden opportunity to appear as do-gooders, the self-serving celebs head to Edgewater to save the day and Emma's prom.
Though it's not a perfect play, what works for this show is that "The Prom" boasts a talented ensemble skilled in this particular brand of schticky, physical comedy. Callanan's delivery and Kuntz's wonderfully over-the-top portrayals shine. Troilo's Trent, a proud graduate of The Juilliard School, lets everyone know of his educational pedigree at every turn, name-dropping the institution in conversations or shoving his school-branded tote bag for all to see. Trent's desperation is excruciating in the best way, and his relentlessness makes for shoulder-shaking hilarity. Not to mention, Trent played Jesus Christ a few times, had 15 minutes of fame in an old TV show "Talk to the Hand," and performed a three-episode character arc in "Grey's Anatomy."
The intelligent direction from Paul Daigneault, jubilant choreography from Taavon Gamble, and the multi-use moveable set design by Jenna McFarland Lord (built by Waltahm's Wooden Kiwi Productions) that takes viewers from the high school to the 7-Eleven parking lot to a monster truck event ties the show together nicely and makes the great use of the small stage. The live orchestra, with music direction from Paul S. Katz, helped keep the energy up and perfectly punctuated the cast's movements, especially during Barry's solo number about going to prom.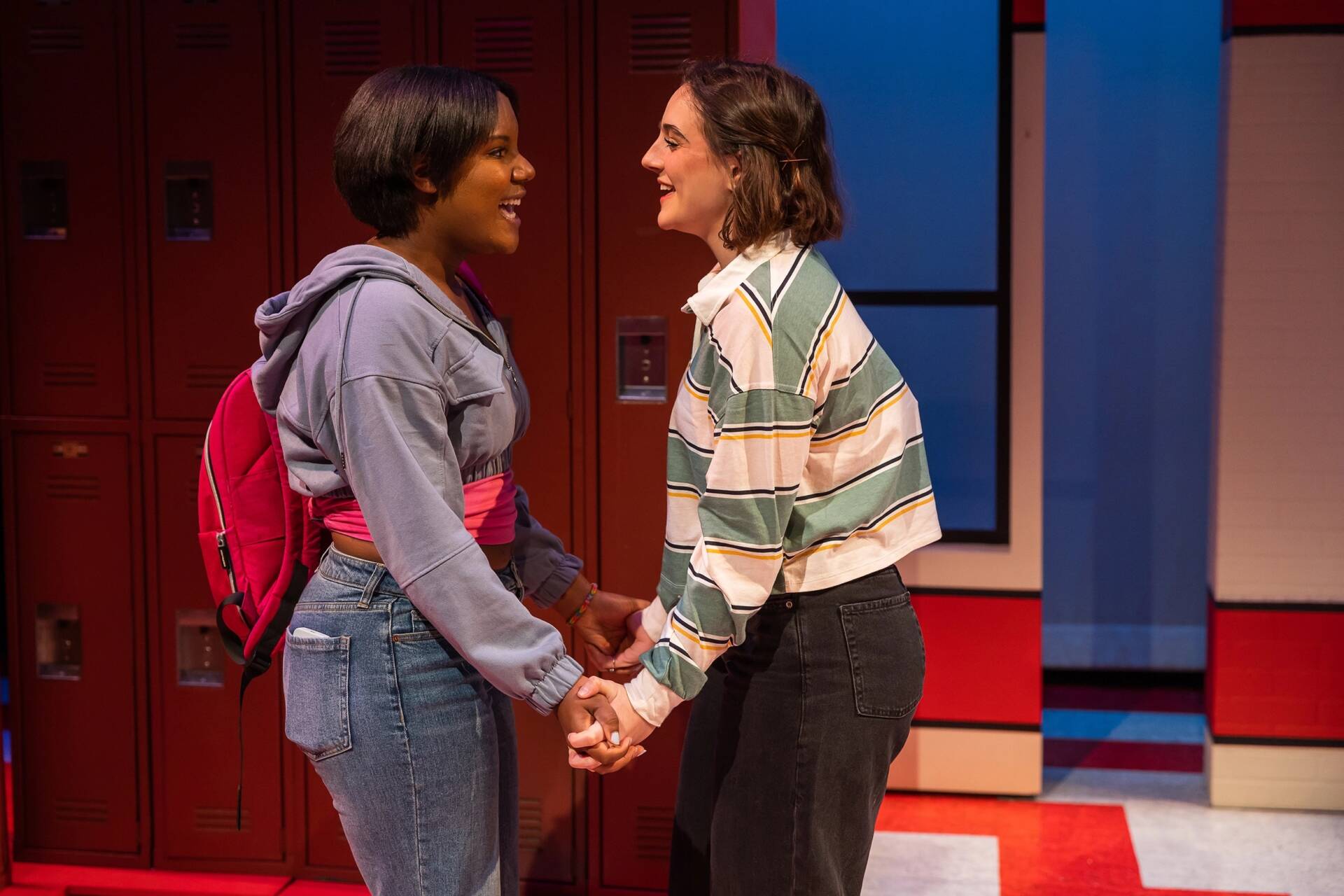 However, I did struggle to hear some of the ensemble members' low notes during a few songs due to the microphones, and the show lasted a lot longer than it needed to. Still, nothing could stop Kelly's Emma and their girlfriend, Abriel Coleman's Alyssa Green — their gorgeous vocals piercing through in solos and duets.
By confronting conservatism, religion, and their narcissistic ways, the celebrity click who started off trying to save their careers ends up helping Emma find the courage to continue fighting even when it's hard. But they also end up saving — or rather finding — themselves along the way.
---
SpeakEasy Stage Company's "The Prom" runs now through June 10.