Elliot Norton Awards embrace 'K-I-S-S-I-N-G,' SpeakEasy, Huntington, Front Porch
It's been a long three years for the theater industry. Shuttered doors due to the pandemic and a slow, often disrupted return to the stage have fostered a challenging environment.

Despite the odds, theater-makers and playwrights brought complicated, nuanced, beautiful works to Boston audiences, from Matthew Lopez' "The Inheritance" to August Wilson's "Seven Guitars" and Lenelle Moïse's new work "K-I-S-S-I-N-G" to name a few.
On Monday night, the Boston Theater Critics Association's Elliot Norton Awards celebrated the work of this community with more than 130 nominations in more than two dozen categories and awarded the Elliot Norton Prize for Sustained Excellence to Bobbie Steinbach. Steinbach is a long-time actor, director, and acting coach, who has helmed or starred in numerous highly-regarded plays and musicals throughout the Boston area and beyond.
WBUR critic at large Ed Siegel recalled how her performances as Madame Armfeldt in "A Little Night Music" symbolized everything that Steinbach delivers: "She was wise, wry, witty, empathetic, compassionate, irreverent, laugh out loud funny and literally drop-dead tragic, at least in terms of the character."
A few organizations, such as The Huntington Theatre Company and SpeakEasy Stage Company, dominated this year (often with multiple productions in the same category). And a younger theater company, The Front Porch Arts Collective, often a co-producer on many of their works, was also saluted for making its mark on Boston's theater scene.  They also ended up with two and sometimes three nominations in a number of categories and won in the Outstanding Production Small Theater category for their first solo-produced play, "Chicken & Biscuits."

The big winner of the night was Lenelle Moïse's "K-I-S-S-I-N-G," a co-production of the Front Porch and Huntington about a teenage love triangle. The play won multiple awards, including Outstanding Production Large Theater; the lead actor in the play, Regan Sims, won for her outstanding performance; Ivan Cecil Walks for his outstanding featured performance; and Dawn M. Simmons, co-founder of the Front Porch, for her outstanding director. Moïse won for outstanding new script for "K-I-S-S-I-N-G," a category teeming with original narratives such as Inda Craig-Galván's "Black Super Hero Magic Mama," Francesca Da Silveira's "can i touch it?," Ryan Landry's super fun "Little Christmas Tree Shop of Horrors," and John Minigan's "The Legend of Sleepy Hollow."
This year's acting awards were not gender-specific for the first time in the association's history.
Maurice Emmanuel Parent, a co-founder of the Front Porch, was nominated for his riveting performance in "Joe Turner's Come and Gone" and won for his direction of Actors' Shakespeare Project's "Seven Guitars."
"On Beckett," starring Bill Irwin and presented by ArtsEmerson, won for outstanding visiting play, and performer Travis Alabanza for outstanding performance in the visiting play "Burgerz," also presented by ArtsEmerson. Gavin Creel was awarded for his outstanding performance in the visiting musical "Into the Woods," presented by Ambassador Theatre Group.
SpeakEasy Stage Company's production of "The Inheritance" won in the Outstanding Production Midsize Theater and Outstanding Ensemble Performance categories. It's been an excellent year for SpeakEasy, with the theater bringing diverse stories of identity, transience, conservatism, racism, immigration, and more, including "Fairview," "Heroes of the Fourth Turning" and "English."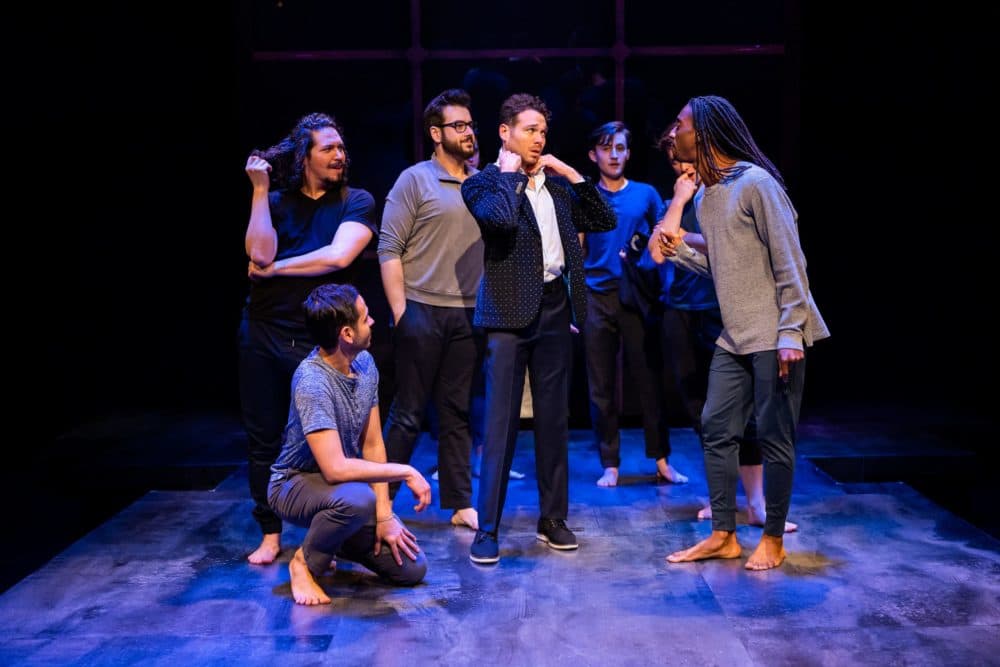 "The Orchard," produced by Cherry Orchard Festival in association with Arlekin Players Theatre and (zero-G) Lab, Groundswell Theatricals, and ShowOne Productions, won the Outstanding Visiting Design category, Outstanding Scenic Design Large category winner was Wilson Chin for "Clyde's," co-produced by The Huntington and Berkeley Repertory Theatre and for the Mid-Size/Small Category, Jon Savage won for "Ain't Misbehavin'," produced by The Front Porch Arts Collective, the  Nora@Central Square Theater and Greater Boston Stage Company.
The Boston Theater Critics Association members are Jacquinn Sinclair, Ed Siegel, Bob Nesti, Kilian Melloy, Joyce Kulhawik, Nancy Grossman, Iris Fanger, Christopher Ehlers, Carolyn Clay, Terry Byrne, Jared Bowen and Don Aucoin.
List of winners 
Elliot Norton Prize for Sustained Excellence
Bobbie Steinbach
Outstanding Visiting Play
"On Beckett," a production by Octopus Theatricals presented by ArtsEmerson
Outstanding Visiting Musical
"Into the Woods," presented by Emerson Colonial Theatre
Outstanding Visiting Design
"The Orchard," produced by Groundswell Theatricals, Arlekin Players Theatre and (zero-G) Virtual Theatre Lab in association with the Cherry Orchard Festival, ShowOne Productions, Valentine Talland & Nagesh Mahapantha, Jenny and David Jadow, Leah Michalos & Jessica Sporn
Outstanding Visiting Performance in a Play
Travis Alabanza, "Burgerz," presented by ArtsEmerson
Outstanding Visiting Performance in a Musical
Gavin Creel, "Into the Woods," presented by Emerson Colonial Theatre
Outstanding Play, Large Theater
"K-I-S-S-I-N-G," The Huntington and The Front Porch Arts Collective
Outstanding Play, Midsize Theater
"The Inheritance," SpeakEasy Stage Company
Outstanding Play, Small Theater
"Chicken & Biscuits," The Front Porch Arts Collective
Outstanding Musical
"Ain't Misbehavin'," The Front Porch Arts Collective, The Nora @ Central Square Theater, and Greater Boston Stage Company
Outstanding Leading Performance, Large Theater
Regan Sims, "K-I-S-S-I-N-G," The Huntington and The Front Porch Arts Collective
Outstanding Featured Performance, Large Theater
Ivan Cecil Walks, "K-I-S-S-I-N-G," The Huntington and The Front Porch Arts Collective
Outstanding Leading Performance, Midsize Theater
Anthony T Goss, "Seven Guitars," Actors' Shakespeare Project
Outstanding Featured Performance, Midsize Theater
Mishka Yarovoy, "The Inheritance," SpeakEasy Stage Company
Outstanding Leading Performance, Small Theater
Ramona Lisa Alexander, "Black Super Hero Magic Mama," Company One Theatre, presented in collaboration with American Repertory Theater, Boston Public Library and Boston Comics in Color Festival
Outstanding Featured Performance, Small Theater
Schanaya Barrows, "can i touch it?," Company One Theatre, produced in partnership with the City of Boston's Office of Arts and Culture
Outstanding Leading Performance in a Musical
Neil A. Casey, "A Gentleman's Guide to Love and Murder," Lyric Stage Company of Boston
Outstanding Featured Performance in a Musical
Anthony Pires, Jr., "Ain't Misbehavin'," The Front Porch Arts Collective, The Nora@Central Square Theater and Greater Boston Stage Company
Outstanding Musical Direction
David Freeman Coleman and Dan Rodriguez, "Ain't Misbehavin'," The Front Porch Arts Collective, The Nora@Central Square Theater and Greater Boston Stage Company
Outstanding Choreography
Misha Shields, "K-I-S-S-I-N-G," The Huntington and The Front Porch Arts Collective
Outstanding Director, Large Theater
Dawn M. Simmons, "K-I-S-S-I-N-G," The Huntington and The Front Porch Arts Collective
Outstanding Director, Midsize Theater
Maurice Emmanuel Parent, "Seven Guitars," Actors' Shakespeare Project
Outstanding Director, Small Theater
Mariela López-Ponce, "Don't Eat the Mangos," Apollinaire Theatre Company and Teatro Chelsea
Outstanding Scenic Design, Large Theater
Wilson Chin, "Clyde's," The Huntington in a co-production with Berkeley Repertory Theatre
Outstanding Scenic Design, Midsize or Small Theater
Jon Savage, "Seven Guitars," Actors' Shakespeare Project
Outstanding Lighting Design, Large Theater
Jorge Arroyo, "K-I-S-S-I-N-G," The Huntington and The Front Porch Arts Collective
Outstanding Lighting Design, Midsize or Small Theater
Kat C. Zhou, "The Chinese Lady," Central Square Theater in partnership with CHUANG Stage
Outstanding Costume Design, Large Theater
Karen Perry, "Clyde's," The Huntington in a co-production with Berkeley Repertory Theatre
Outstanding Costume Design, Midsize or Small Theater
Scott Martino, "Little Christmas Tree Shop of Horrors," Gold Dust Orphans
Outstanding Sound Design, Large Theater
Anna Drummond, "K-I-S-S-I-N-G," The Huntington and The Front Porch Arts Collective
Outstanding Sound Design, Midsize or Small Theater
Abe Joyner-Meyers (soundscape) and Dewey Dellay (music), "Seven Guitars," Actors' Shakespeare Project
 Outstanding Solo Performance
Paul Melendy, "The Legend of Sleepy Hollow," Greater Boston Stage Company
Outstanding New Script
Lenelle Moïse, "K-I-S-S-I-N-G," The Huntington and The Front Porch Arts Collective
Outstanding Ensemble
"The Inheritance," SpeakEasy Stage Company