One year into school improvement plan, state official grades Boston's progress 'incomplete'
Tuesday marks exactly one year since Boston city and school leaders signed a consequential agreement with state education officials.
By accepting the so-called "systemic improvement plan," Boston Public Schools avoided formal state receivership, which some had feared.
But it committed the state's largest school district to rapid change in a number of areas, including more reliable bus transportation, more inclusive special education, more robust school safety measures, more data transparency and better-kept facilities — for the most part with clear deadlines attached.
One year in, the state's top K-12 education official expressed frustration with the city's progress to date.
"At best, we can say their grade would be 'incomplete,'" Jeff Riley, commissioner of the state's Department of Elementary and Secondary Education, said Tuesday.
Reading from prepared remarks at a meeting, Riley noted that key leadership positions remain unfilled and that planned, school-level training in the resolution of parent complaints, for example, was never scheduled.
Riley reserved his harshest words for the city's rollout of big changes like the planned relocation of a city exam school, saying it caught the state off guard.
He added that he expects the district to make further progress this summer before he can offer the board "a [deeper], comprehensive dive" into Boston's progress in September.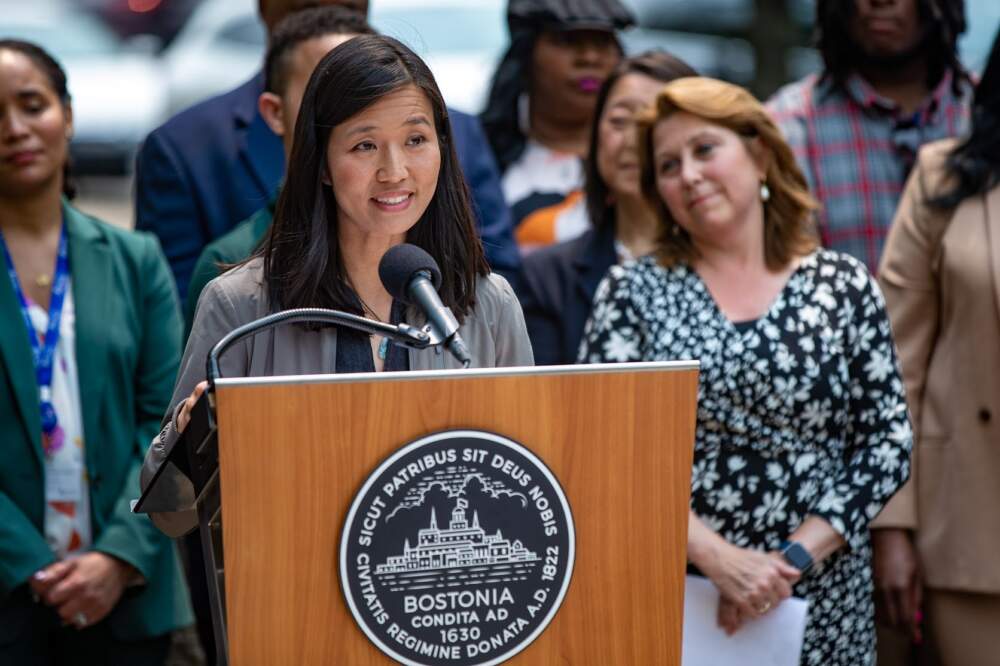 The June 2022 improvement plan was signed by Riley; Jeri Robinson, the chair of the Boston School Committee; Mayor Michelle Wu and the district's then-superintendent Brenda Cassellius. Cassellius was succeeded in the role by Mary Skipper last fall.
The agreement has a fixed end date of June 30, 2025. But during that time, district staff are expected to present "regular reports" on their progress to the public — and to meet with DESE officials starting on a monthly, then a bimonthly basis.
The state did seek to help the district comply with the agreement. DESE committed specialized training, technical assistance and a grant of $10 million over three years to facilitate rapid improvement.
"I believe we upheld our end of the bargain. I'm not sure BPS, at this time, has upheld all of theirs," Riley said to the state's board of elementary and secondary education.
Some board members questioned how that money is being spent.
Russell Johnston, a senior associate commissioner at DESE, said this year's funds were spent on audits that were either required under the plan or key staff who can "jumpstart" the work.
In a statement provided to WBUR Tuesday, BPS spokesman Max Baker said that district leaders have pursued "immediate progress on some of our most urgent issues."
Baker added that the district meets monthly with the state's Department of Elementary and Secondary Education to discuss progress, but that officials "cannot do this work overnight or alone if we truly want to create the lasting change that our students, families, and staff deserve."
Here's a closer look at the state of play one year into the agreement:
Unmade plans, missing staff
Most of the systemic improvement plan is concerned — not with bathrooms or buses — but with administrative change. It requires BPS's central office to grow in both size and focus, stepping up its formal planning and building up its internal systems.
The hope is that those changes will, eventually, improve the experience of the district's 46,000-plus students, especially its English learners and students with disabilities.
But according to Riley, the district still hasn't filled key leadership roles, like "coordinator of problem resolution" — who would focus on school safety and parent concerns — as well as a senior staffer focused on special education.
BPS drafted a plan to better serve English learners, Riley said, but he faulted the district for missing a November 2022 deadline to submit a separate plan to more fully include students with disabilities in general education classrooms.
In her comments last week to the Boston school committee, Skipper — who inherited the improvement plan after stepping into the superintendent role last fall — suggested that an inclusion plan is forthcoming.
She said her team has "launched inclusion planning teams" at over 20 schools and worked with the union and school leaders to develop a plan for implementation at every school with a focus on kindergarten, grade 7 and grade 9, starting in the 2024-25 school year.
"Blindsided" on O'Bryant move
When it comes to upgrading school facilities, Riley said Tuesday the district failed to make some renovations required under the plan, which calls for overhauling school bathrooms in at least 15 schools in the 2023 fiscal year.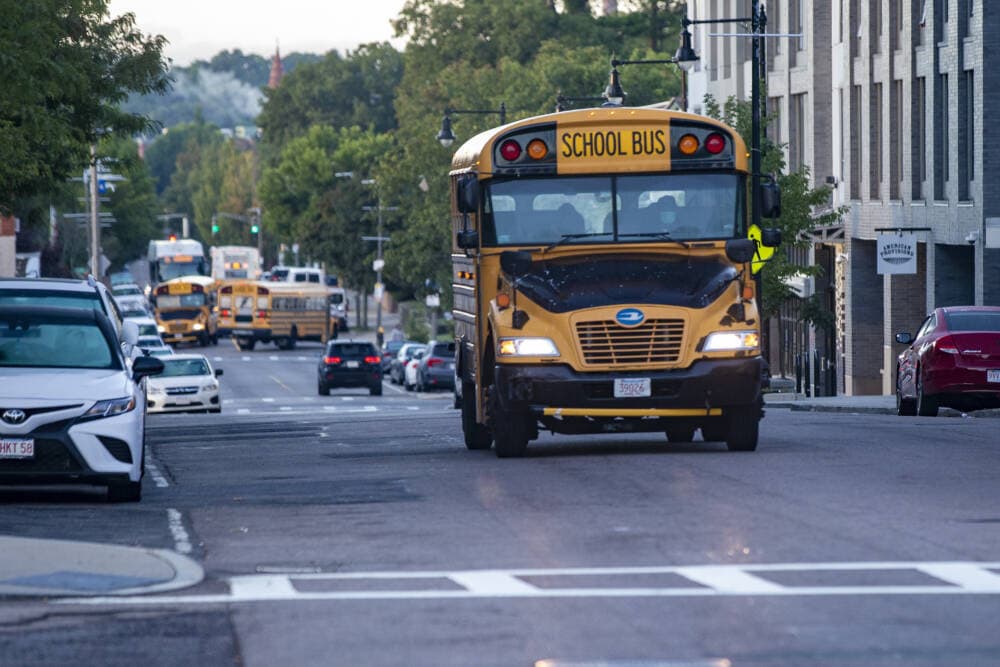 But Riley reserved special attention for Wu's announcement earlier this month that she hopes to move the John D. O'Bryant School of Math and Science to the former West Roxbury Education Complex. The move would allow Madison Park, the city's only vocational-technical high school, to expand into the O'Bryant's building and be renovated.
The commissioner said Tuesday his office was "candidly blindsided" by the announcement — as some parents and teachers at the exam school say they were, too.
Calling the plan "half-baked at best," Riley raised concerns about the state of repair of the West Roxbury complex, which was deemed to be unsafe in 2018.
Riley estimated that the renovation of Madison Park could cost between $800 million and $1 billion, while the overhaul of a new building for the O'Bryant might cost another $300 or $400 million. He also questioned the logistics of transporting students from across the city to a relatively remote corner of West Roxbury.
The systemic improvement plan requires BPS to submit a "comprehensive, long-term master facilities plan" to the state by the end of 2023. But it doesn't explicitly require the city to apprise state education officials of individual facilities decisions.
On WBUR's Radio Boston Monday, Wu acknowledged "a bit of panic and frustration from different communities" about the O'Bryant proposal. But she said the city plans to discuss it further and address concerns, noting that "the community process has just begun."
"Bright spots"
Riley offered some qualified praise for measures taken by BPS.
While Boston did not achieve an on-time bus arrival rate of "95% or better each month," as specified in the plan, he noted the district has made progress in hiring drivers and that the buses' rate of on-time arrival has improved since Skipper took over.
Skipper herself said at last week's school committee meeting the district has hired over 170 bus monitors over the year and that Transdev, the district's main bus vendor, was fully staffed with bus drivers as of early June. She added they will "over-staff," or train and hire excess drivers, in preparation for the start of the next school year.
"The district has continued to make progress in implementing system-wide improvements including a focus on hiring to address bus driver and monitor staffing shortages," she said.
Riley also commended the district for supporting its so-called "transformation schools," identified by their relatively low academic performance, with additional central-office staff, as the plan requires.
With additional reporting from WBUR's Carrie Jung.