Company One favorite Idris Goodwin returns with Jimi Hendrix (sort of) in tow
Imagination, determination, dedication. Playwright Idris Goodwin's "The Boy Who Kissed the Sky" frames his aspirational story around these three pillars. The Company One Theatre production at Dorchester's Strand Theatre (through Aug. 12) is their third collaboration with Goodwin after "How We Got On" and the award-winning "Hypeman." Summer L. Williams directs this production, with outstanding musical backup from a four-piece band, supporting the story by shifting the focus as needed from the quiet conversations between a 12-year-old boy and his dad to the mind-blowing adventure through his family history, his musical heritage and the possibilities ahead.
We meet The Boy — an earnest and unpretentiously impressive Errol Service, Jr. — as he sketches colorful flying saucers and musicians from an intergalactic band to stave off loneliness, hunger and fear. When his father leaves for another long workday, The Boy cleans the modest rooms they call home while hoping for a visit from his absent mom. A strum on his broom, however, conjures J Sonic, a spirit and leader of that imaginary band, who helps The Boy gain confidence in his creativity.
Martinez Napoleon as J Sonic cuts an imposing figure as he guides The Boy through musical ideas of harmony, disharmony and feedback as a response and an opportunity. We travel back in time with J Sonic and his backup singers The Feedback (Cedric Lilly, Yasmeen Duncan, Kiera "Kee" Prusmack, James Turner and Adriana Alvarez), all of whom morph into several roles, to find the boy's connections to the sounds of his ancestors, including the blues of Muddy Waters and Koko Taylor; his grandparents' work in vaudeville; and his parents' love of music and dance. We are led through time and space with the help of original compositions by Divinity Roxx and Eugene H. Russell IV, which tap into the blues, swing and some iconic Jimi Hendrix Fender Stratocaster riffs, while providing transitions from one scene to the next.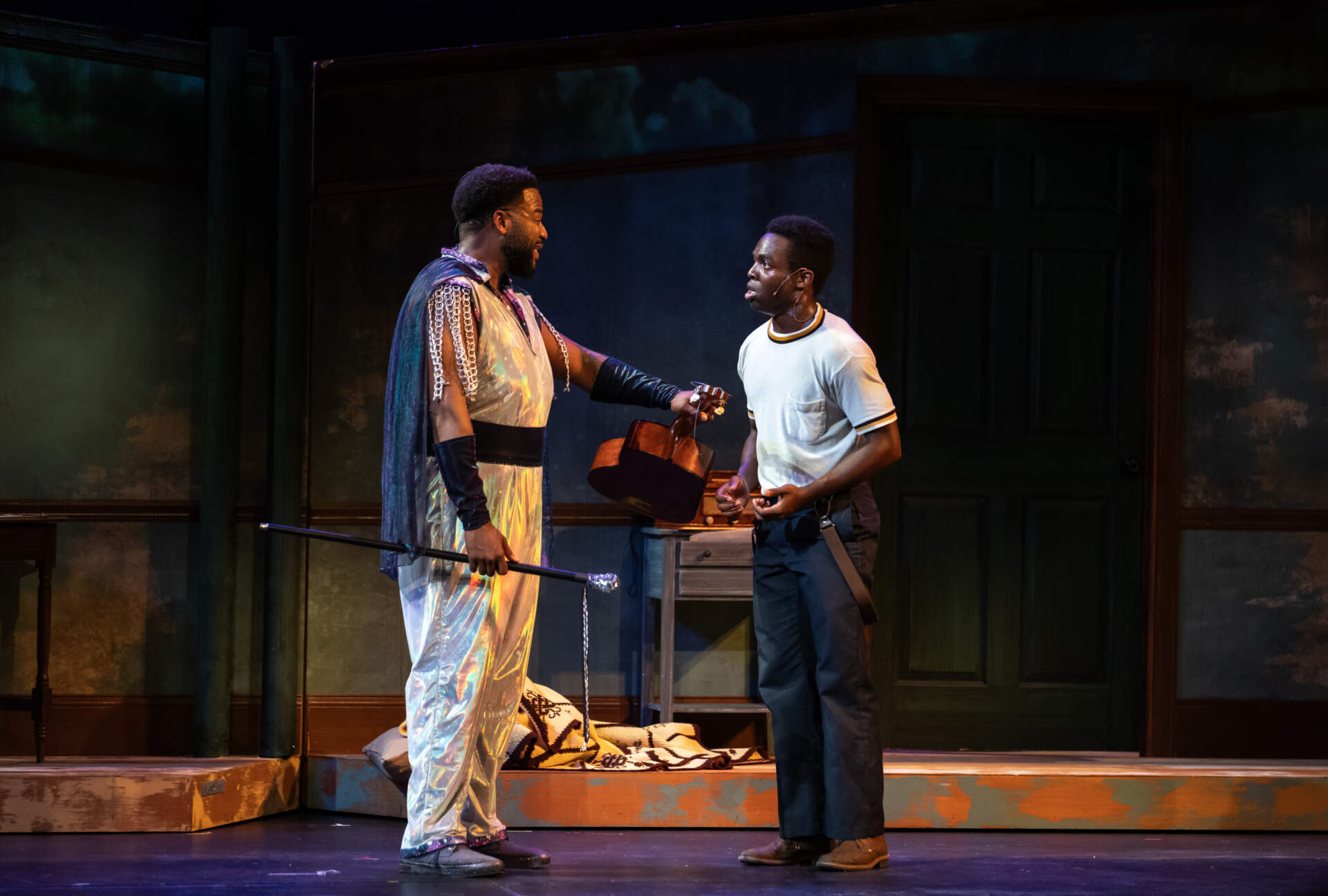 Danielle Delafuente's imaginative modular set design illuminates both the cramped rooms where The Boy and his father live, but also literally splits in two, opening the story up to the universe of sound and sense that help spur the boy's commitment to expressing himself through music. Simply by spinning the two pieces around, we travel to the backstage area where vaudeville acts gathered and the dance hall where the boy's parents met and fell in love.
To connect the boy's rich musical ancestry with the community that supports him in the present, we meet a kindly neighbor (Prusmack) who is equally annoyed and enchanted by his constant practicing, offering him a castoff guitar with only one string and inviting him for dinner so he won't go hungry.  The Boy tells us he worked extra hard to earn the money to purchase one new guitar string at a time, and he refuses to be discouraged when his father brings home an electric guitar but no amplifier.
Goodwin's tale is set in Seattle, and The Boy and the music are inspired by Hendrix, one of that city's famous former residents. The script soars during poetic monologues delivered by The Boy, when he talks about drawing images of "enough to go around" in an effort to improve his family's situation; when he recalls a dream of his mother chasing the colors of a rainbow that melts and swallows her up (an analogy for substance abuse); when his father (Lilly, a standout in every role he takes on) talks about calluses as a sign of hard work; and by J Sonic when he talks about vibrations and sounds and how they connect us all.
At the same time that Goodwin mentions Seattle landmarks to anchor the story in a particular place, he also weaves in mentions of racism in vaudeville and the US military, poverty and child welfare services, as well as substance use disorder and the value of hard work. But in trying to cover so much territory, and so many topics, Goodwin skims too lightly over all of them.
Luckily, both Service and Napoleon dig into their roles, finding nuance and empathy where possible. And in this family-friendly production meant to offer something for everyone (where tickets are "pay-what-you-can"), my 7-year-old companion was enchanted by J Sonic, whose humor leavens some of the story's serious topics, while I was impressed by the band – led by David Freeman Coleman, with Sahil Warsi, Hector Saint-Hilaire and especially the lead guitar of David W. Prout, who effortlessly delivered iconic chords and that inviting feedback.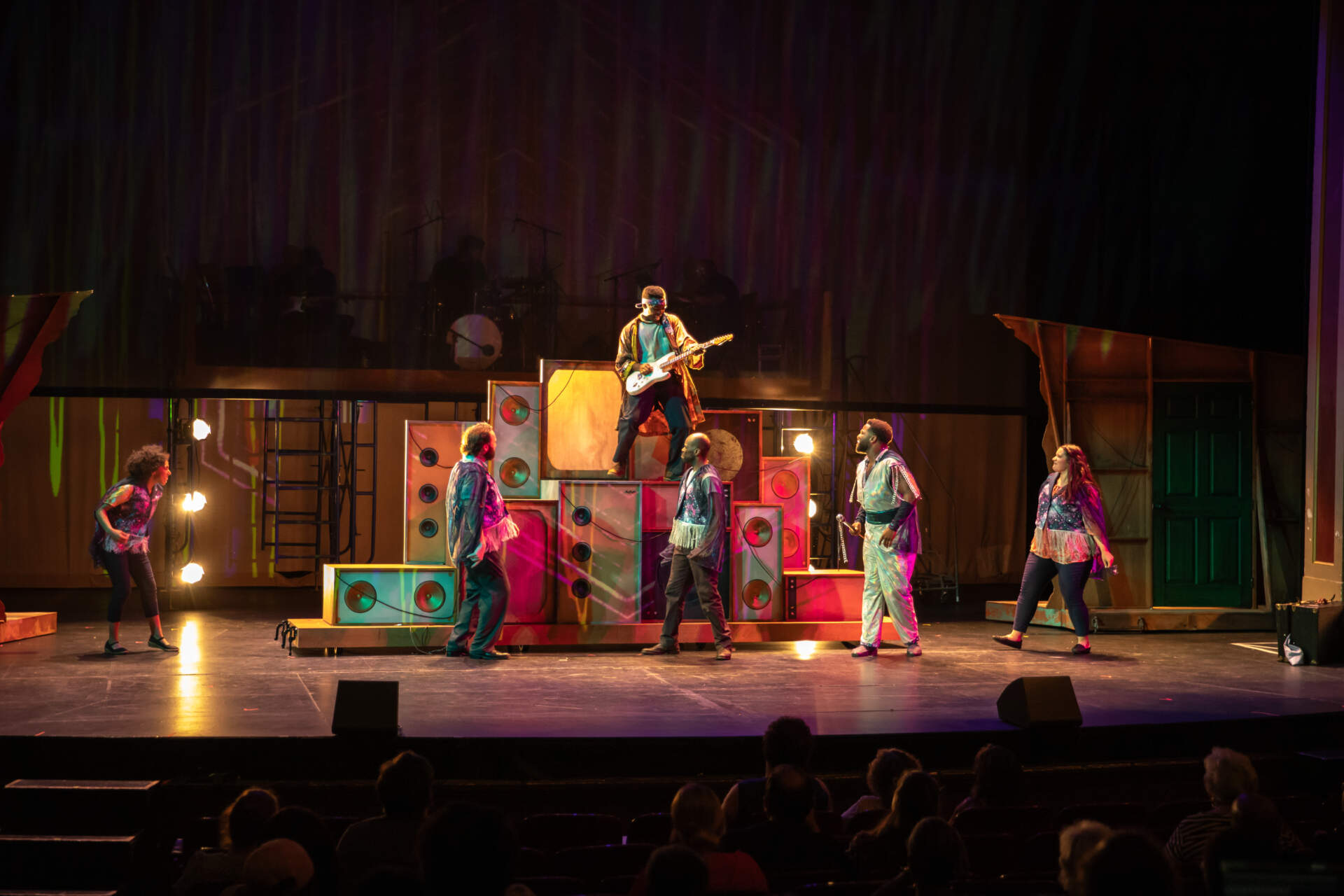 ---
Company One Theatre's production of "The Boy Who Kissed the Sky" continues at the Strand Theatre through Aug. 12.