5 things to do this weekend, including 'Macbeth' on the Common and the Roxbury Poetry Festival
Did you also feel that kick of energy and optimism when that heat broke last weekend? I was no longer counting down the hours until I could peel off my lowest layer of clothing, and I felt that I could enjoy this time of year more properly. The heat may be coming and going, but there are plenty of events during these dog days of summer. Here are a few calendar items to help keep you cool when everything else is hot hot hot.
Saturday, Aug. 5
Speaking of "dog days," did you know that the term referring to the hottest days of summer derives from ancient astronomy? It's understandable to assume that it's due to the way dogs pant and lounge in the summer heat, but it's from ancient Greek and Roman terms referring to the summer appearance of Sirius — otherwise known as the Dog Star or the brightest star in Earth's sky.
One of my favorite parts of these summer days is how the nights are often the most comfortable time to spend outside, and astronomy is a fantastic nighttime activity! Several times each summer, a group of Arlington astronomy enthusiasts set a time to gather in Robbins Farm Park and view the stars together, but what's nice about this activity is that you can do it from anywhere outside the city lights. So if you happen to be away from the tall buildings and urban glow this weekend, remember to look up!
---
'Macbeth' on Boston Common
Through Sunday, Aug. 6
Commonwealth Shakespeare Company has been producing Shakespeare in the Park shows since the '90s, and it's a treasure in the city. This weekend is your last chance to see this summer's production of Macbeth — with a militaristic flair. With the weather easing up, this is where you want to be on a cool summer evening. Going to see a show in a great outdoor space with a massive group of strangers is an ancient art form, and it taps into something deeply human. Get there early with a picnic blanket, as these performances can draw crowds. And that's part of the fun of these Shakespeare in the Park shows; it's not just a theatrical event but a community one as well. [Read theater critic Terry Byrne's review of the show here.]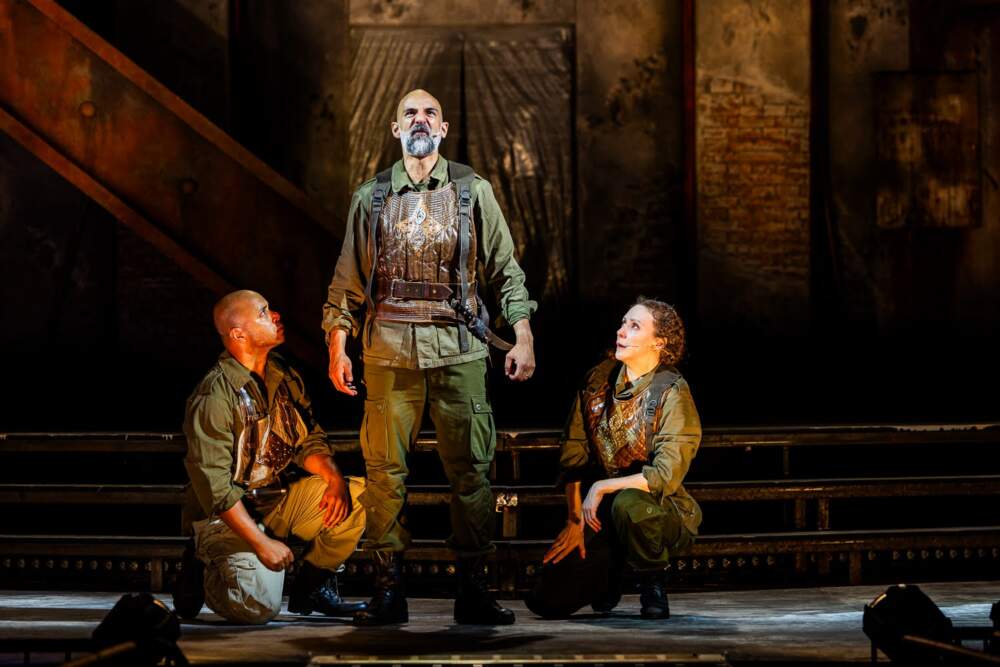 ---
Saturday, Aug. 5
Organized by Boston Poet Laureate Porsha Olayiwola, the Roxbury Poetry Festival is a gathering of poets young and old. The day is filled from 10 a.m. to 9 p.m. with more workshops, panels and performances than one person could attend. There are workshops on wordplay, songwriting and more. WBUR's Cristela Guerra will even be on hand to discuss journalism. The festival's headliners are Hanif Abdurraqib and Nate Marshall, and the day will crescendo with a two-hour-long poetry slam. In addition to being a physical gathering, much of the festival is accessible virtually. So if you can't make it to Roxbury, log on and check it out from your computer.
---
Saturday, Aug. 5
If you're like me, once you appreciate a piece of art, you want to pick it apart and understand how it was put together. You want to watch 8-minute practical effects tests from the 1939 "Wizard of Oz" or hear Caroline Polachek talk about how listening to Celine Dion while on an acid trip in Italy inspired a song on her new album.
Going to an open rehearsal for the BSO offers that kind of insight into how the symphonic sausage gets made. It's still the BSO, so with some of the finest musicians on Earth, this performance will likely sound close to a finished product. But if you're lucky, you'll hear the conductor pause, give notes and repeat a section with different emphasis. That's the kind of artistic process that fascinates me; it can be even more satisfying to witness than the finished product. Saturday morning's event will be a rehearsal of Berlioz's "Symphonie fantastique" and a piano concerto by Felix Mendelssohn — the perfect music accompaniment for a summer picnic on Tanglewood's lawn.
---
Through Saturday, Aug. 12
If "Afro-futuristic meditation on Jimi Hendrix's early days" doesn't pique your interest, perhaps some of the warm post-show reactions in the video below will. This play marks another collaboration between Company One and playwright Idris Goodwin. "The Boy Who Kissed the Sky" is a pay-what-you-can production at the Strand Theatre in Dorchester, and you can reserve tickets here. Audiences have called it an inspirational performance, especially for budding creatives. Stick around after the show on Aug. 3 for a conversation about healthy neighborhoods. [Read theater critic Terry Byrne's review of the production here.]