The North End: A Boston neighborhood guide
With its Italian flavor and massive summer festivals squeezed into narrow streets, the North End is often called a little slice of Europe in Boston. It's also one of the oldest parts of the city, filled with historic stops like Old North Church and the Paul Revere house.
Then there are the restaurants: The North End is brimming with places to eat. And while the fare definitely skews Italian, in recent years the neighborhood's menu has diversified to include cuisine from around the world. Mix that good food with buzzy crowds and the brick-and-cobble aesthetic, and you can see why it's a draw for tourists and couples seeking a fancy date night.
But stray a bit from Hanover Street and you'll find a neighborhood populated by long-time residents and newcomers alike who want to live in the middle of the action. Surrounded on three sides by water, you can criss-cross the North End in no time, getting in your steps while scarfing down a cannoli from the shop of your choice.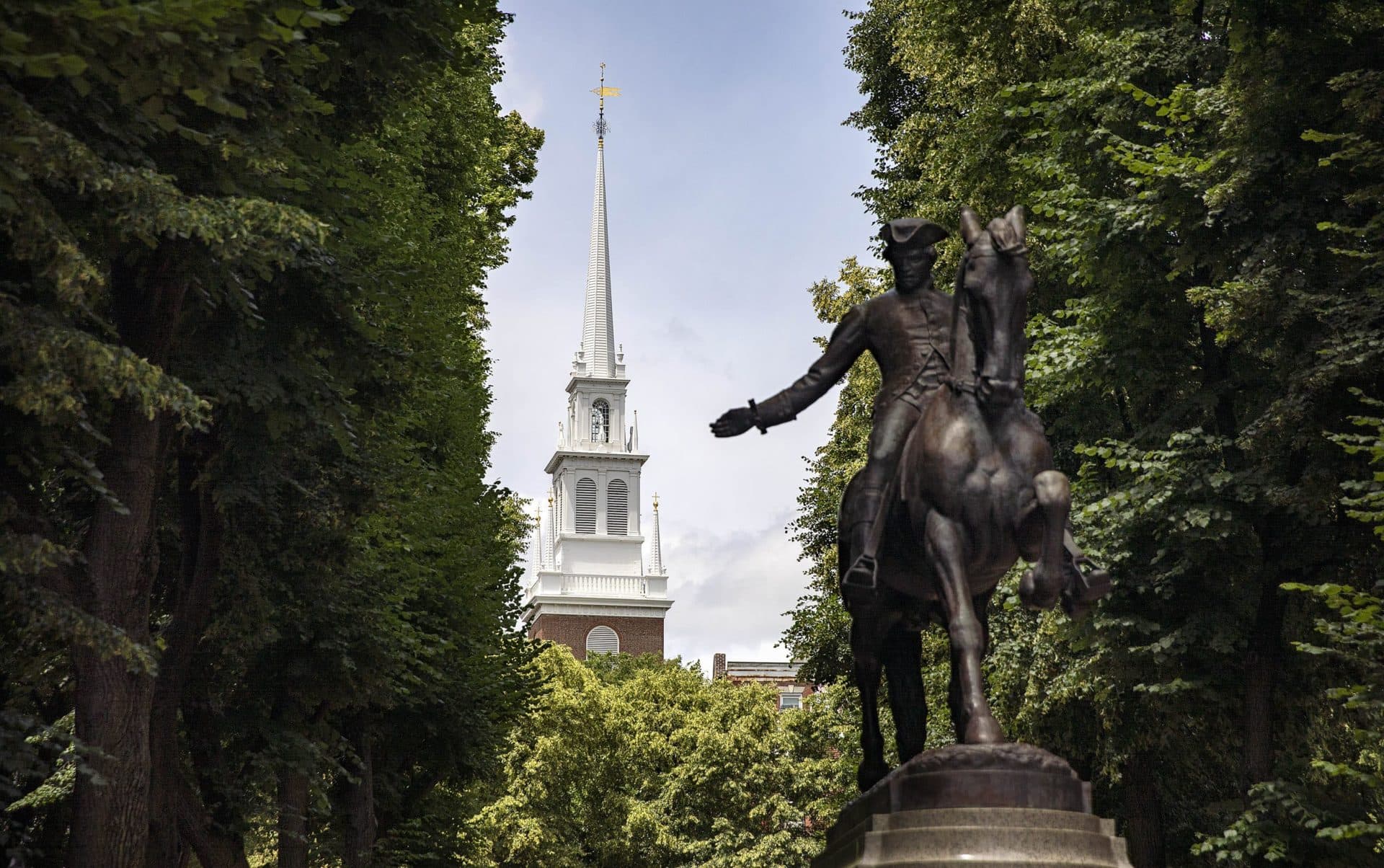 The North End isn't Boston's northernmost neighborhood (just like the South End isn't the southernmost. We know, it's confusing). The name derives from the city's infancy, before Charlestown (across the Charles River) and what's now East Boston (across the inner harbor) were incorporated into Boston's borders.
Take the short climb up to Copp's Hill Burying Ground for stunning views of these northern neighbors and the harbor beyond. While you're there, take in the cemetery itself. The burying ground at downtown's King's Chapel may be older, but Copp's features scads of "death's head" gravestones, engraved with winged skulls that would be right at home in a Tim Burton movie.
Walk down the hill and you'll find Langone Park, filled with bocce ball courts, basketball courts and baseball fields, plus the nearby Prince Street Park tennis courts. You'll also spot a plaque about the deadly Great Molasses Flood, one of the stranger sad incidents in the city's history.
Then walk down Commercial Street, which horseshoes around to Christopher Columbus Waterfront Park. It showcases a gorgeous central trellis and a picturesque harbor view, framed by Long Wharf and several North End piers.
It's close quarters (even for Boston), but that's half the charm. The tourists can be tiresome, but you can't blame them for wanting to take in the incredible landmarks and unending food options. And if you're someone who absolutely has to own a car and expects free and easy parking, well, maybe we could interest you in a more suburban part of town. But if you want your urban living to come with a brick-built backdrop and European flair, it's hard to find a better place than the North End.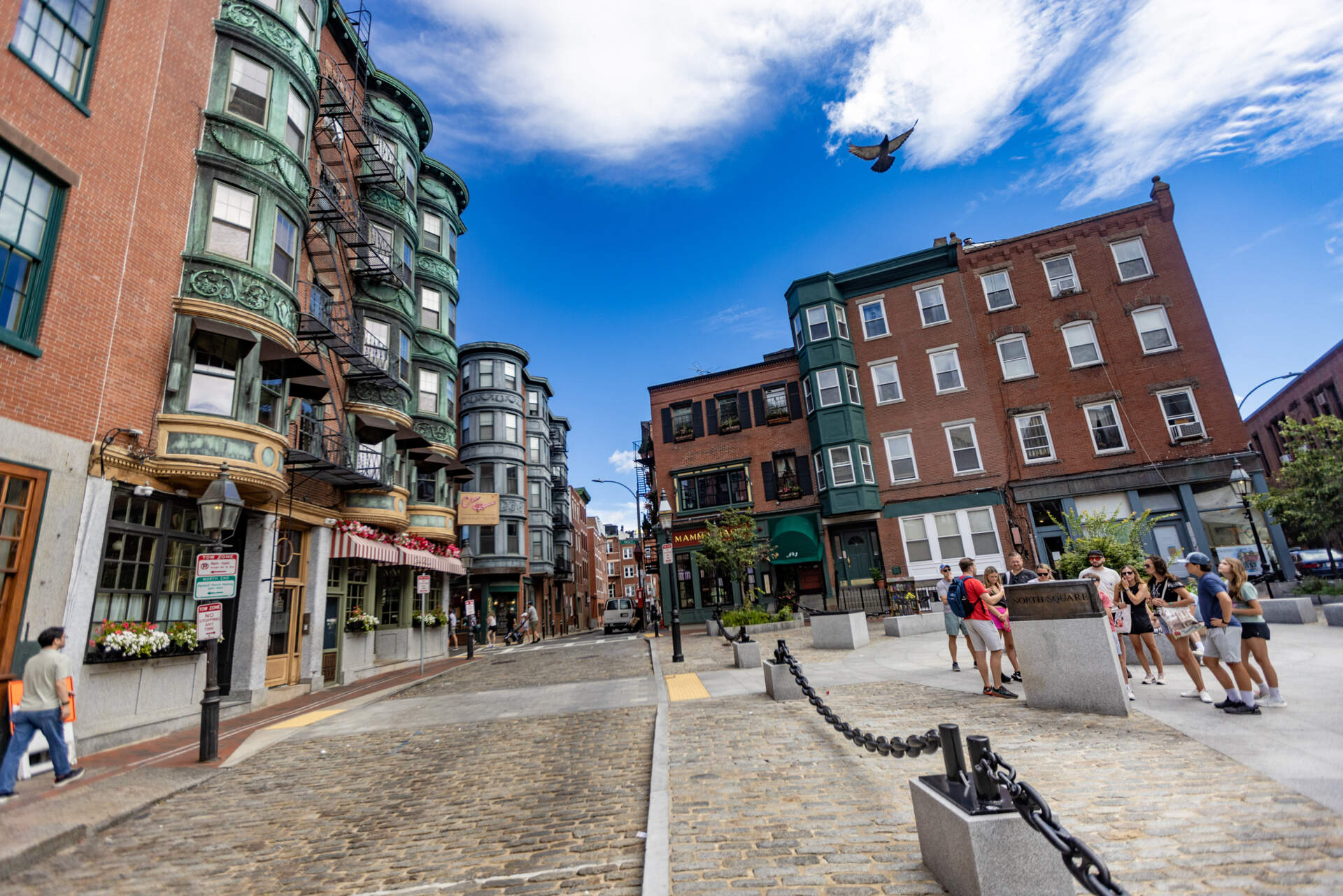 ---
The North End by the numbers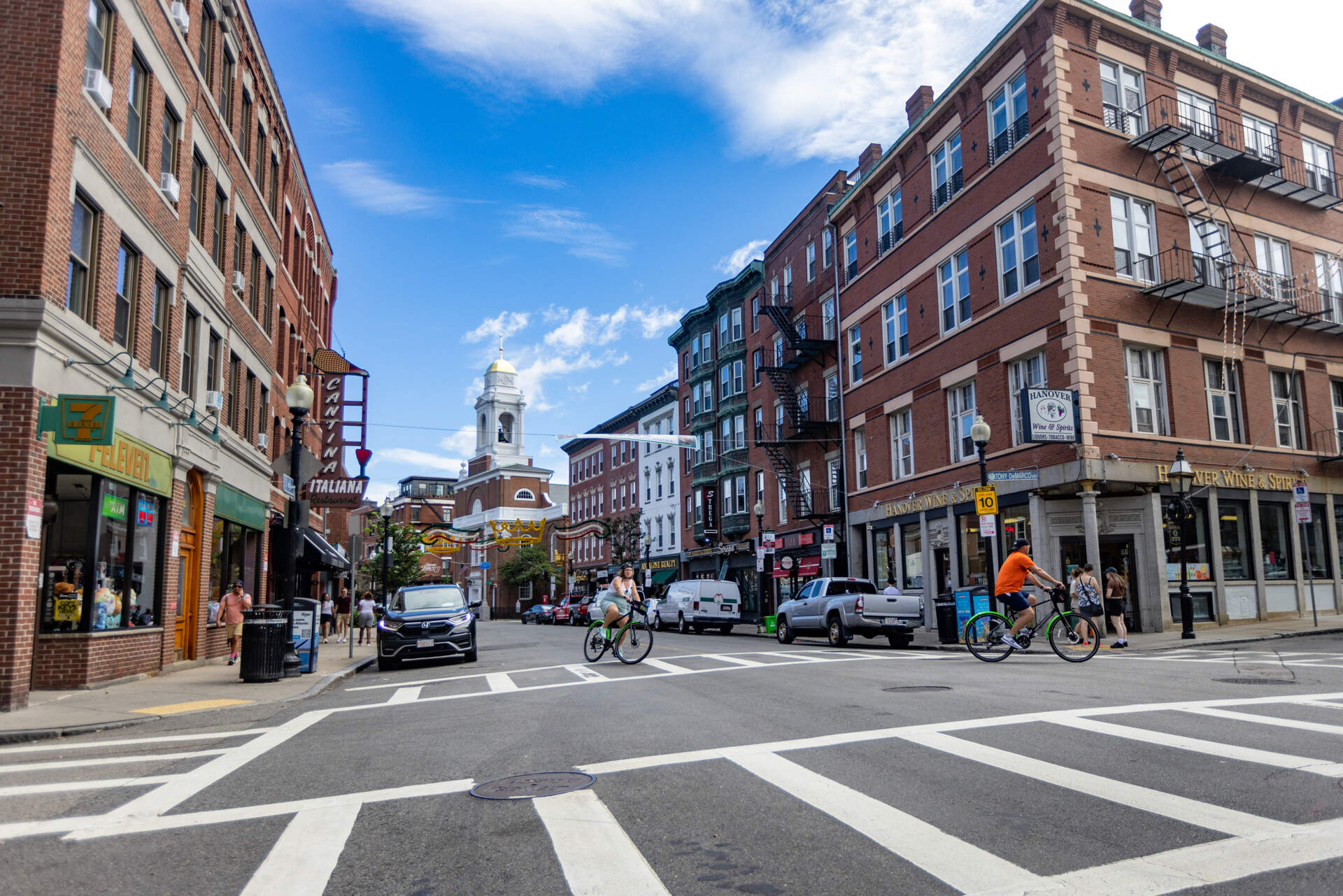 ---
What locals say about the North End
Walking her dog with a friend, Emma Waligory stopped to speak with some firefighters near the fire station on Hanover Street. Waligory, who is in her mid-20s, has lived in the neighborhood for a year and loves the close-knit culture.
"This just feels like you're actually a part of a community," she said. "You see the older people that have been here forever. And I love cooking and Italian food, so when we leave for runs, it smells like garlic and olive oil — and I don't think there's anything better than that."
A couple of blocks away at Mangia Mangia on Endicott Street, Blake Pesek was enjoying a day off from his job as an airline pilot. The North Ender of more than three years lives next door to the breakfast and sandwich shop. In fact, Mangia Mangia's owner, Gary Forziati, helped Pesek find the apartment he lives in.
"The North End is more than just a 'Friday-night, special-occasion' place," Pesek said. "It's a lot of people's homes. The guy who lives next door to me has lived in that apartment for 26 years — and they've spent their whole lives here. It's a good place to be."
"The North End is more than just a 'Friday-night, special-occasion' place. It's a lot of people's homes."

Blake Pesek
Frankie DeStefano's family has lived in the North End since about 1913, when his grandmother immigrated from Italy. When the weather is nice, he said, he likes to head out to Endicott Street and catch up with some of the older Italian neighbors he grew up with. Something they talk about is how much the neighborhood has changed.
"It's not mostly Italian anymore. ... The most Italian thing about it is the restaurants. It's terrible," he said. "All our lives, from the '60s and '70s to the '80s, it was just us. The property wasn't worth a lot of money. People didn't want to come here."
DeStefano, who is in his mid-60s, said you can still find long-time North Enders down Endicott, Prince and North streets though.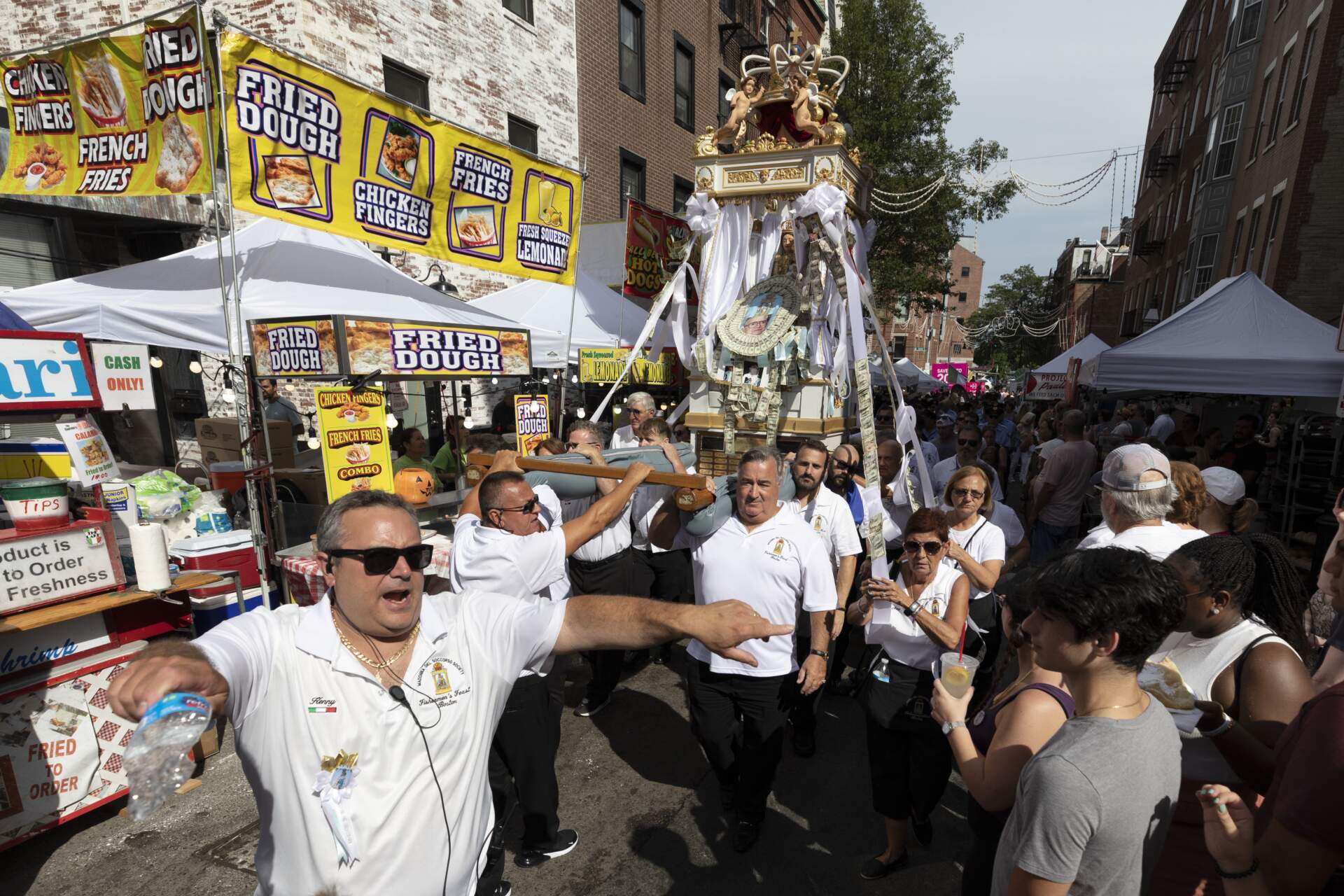 ---
Neighborhood haunts
The North End is famous for its restaurants and pastries, and the compact community also features a surprising amount of park space and community amenities. Here are a few that the residents we spoke with mentioned:
Pastries: We aren't foolish enough to try and recommend just one pastry shop for you to try. Just go and get some pastries; you'll thank us. You've perhaps heard about the great cannoli options, but these are bona fide Italian bakeries, making ungodly good pastries and bread. Go find something you aren't gonna get in a grocery store. And then brag that you know how to pronounce "sfogliatella."
Table Mercato: Residents said this is the spot if you're in the mood for a great Caprese sandwich.
Langone Park: What's better than bocce? How about bocce with a waterfront view? Players at Langone Park get a direct view of the USS Constitution and USS Cassin Young docked at Charlestown Navy Yard, with the Bunker Hill Monument in the distance.
Tenoch: Feel like some Mexican? Two brothers from Veracruz, Mexico, opened this spot for standout tortas with telera bread and garnachas about a decade ago — distinctive in what is otherwise a sea of Italian food.
St. Anthony's Feast: Party like it's 1919. Every year, the North End hosts Italian feasts throughout the summer, though the most famous celebrations happen in August. The biggest of all is St. Anthony's.
The Fisherman's Feast: Or party like it's 1910! This feast was started by immigrants from Sicily. Each year, a neighborhood girl is selected as the "Flying Angel," who swans over the crowd on a rope before delivering a prayer and flying back up to her second-floor perch.
Tell us: Did we miss your favorite spot or hidden gem in the neighborhood? Let us know here, and it may appear in a future version of this list.
---
WBUR's Roberto Scalese wrote this guide, with reporting from WBUR's Simón Rios and Jacob Garcia.